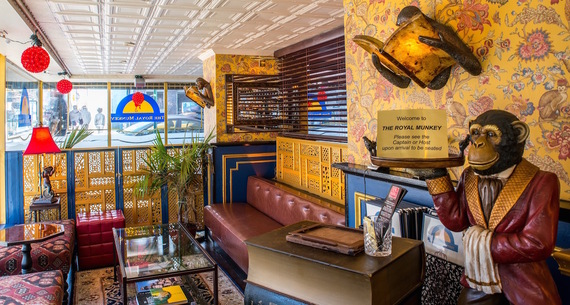 "Curry Hill" is the name given to Manhattan's Indian neighborhood (among several in other boroughs) where you'll find a slew of good Indian restaurants, groceries and sweet shops catering mainly to a local clientele. So when Arum Mirchandani and partners Raju Mirchandani and Chirag Chaman decided to open a different kind of Indian restaurant, they did so far from Curry Hill. The Drunken Munkey is way up on East 92nd Street, and now there is a branch called The Royal Munkey in Kips Bay, both featuring a menu derived from the colonial days when the food cultures of Europe and India melded.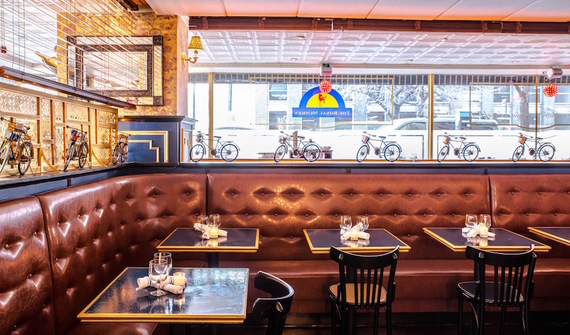 "The Royal Munkey strives to recreate, and pay tribute to, the legendary flavours, style and the ambience reminiscent of the famous cafes, bistros and supper clubs of 'Old Bombay,' while showcasing a touch of the old Raj," reads the restaurant's announcement of intent, all of which you will observe in the fascinating collection of Anglo-Indian artifacts and monkey-related imagery in the lamps, coat hooks, telephones, sculptures, chandelier and wallpaper. Bollywood movies play above the bar. Bartenders wear Nehru jackets, the servers wear Indian chudidaar kurtas, the dangling earrings called jhumkaas, and sport red bindi dots on their foreheads.
The two-level dining room does have the look of a bar where British diplomats and Indian royalty might hob-nob to drink "panch," a Hindi word for "five," referring to the five original ingredients used--lime, sugar, spices, water and a sap called arrack, which was later transformed to the alcohol-based punch concocted by British soldiers in the early 17th century. At The Royal Munkey there is a "panch of the day," as well as an array of other cocktails, including one called the Patiala Peg (from Punjab), along with rums, single malts and whiskies.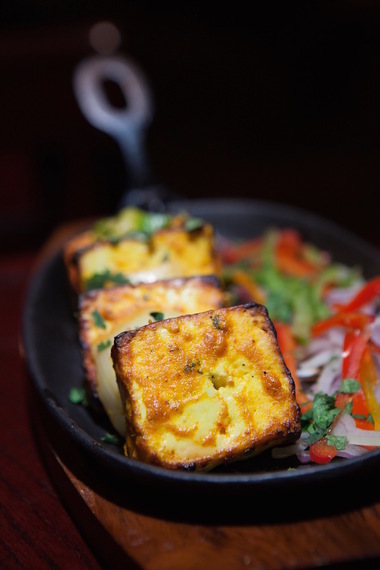 Both of the Munkey restaurants have Derik Alfaro as Executive Chef (formerly of Fatty Crab) and Royal Munkey has Chef de Cuisine Chetan Patil (from Tulsi), while the final say is left to Arum Mirchanani's mother. So, while you can order the usual Indian dishes like butter chicken tikka masala ($18) and lamb rogan josh ($19), I urge you instead to go for the many specialties of the kitchen, which in addition to having a tandoor oven also has a smoker that adds luster to many dishes.
"Chilie cheese toast" evokes the kind of fare served in the military mess halls, in this case Pullman toast and melted cheddar spiked with green chilies, cilantro and red onion, kind of a turn on Welsh rarebit. "Street snacks" include crisp "Dahl (yogurt) Puri and Paani (water) Puri" of flour puffs filled with potato and chickpea chaat with spiced yogurt and tamarind mint water, coming to the table looking like snails or broken duck eggs. Crispy okra ($5) is to be popped in the mouth as a palate stimulant. Deliciously creamy paneer tikka is suffused with herbs and spices, Bell peppers and onions, colored with turmeric.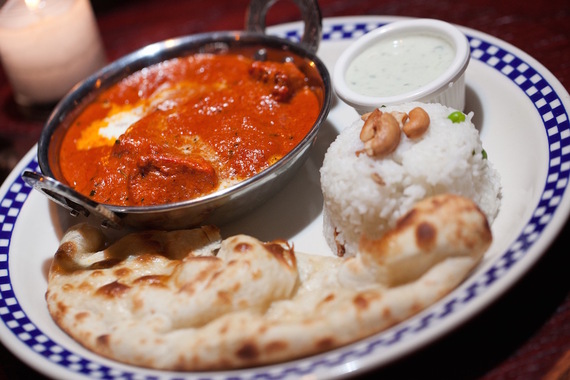 "Railway Chicken Curry" ($19) is an echo of the kinds of dishes the British made a part of their own gastronomy, adding tomato, onion, mustard seed and curry leaf. It seems everybody's favorite at Royal Munkey--and it was mine, too--are the tandoor-grilled Bombay lamb chops ($27), marinated in five spices, served with lightly sautéed green beans, and mint-spiced potatoes (aloo) with apple-butter chutney. Bagara Baigan ($14) was superb--a lush preparation of colorful roasted eggplant in a peanut and sesame curry and rich ghee buttered rice with naan bread.
As is so often the case in Indian restaurants, the steamy, smoky breads exceed their humble place on the table as simple accompaniments. They are irresistible here.
The desserts here go a bit beyond the usual, and are all made on premises, including gajar halwa, a pudding of sliced, long-cooked carrots whose own sweetness mingles with the flavor and texture of crushed pistachios; the too-heavy "Cricket Rum-Ball" is a dark rum-soaked chocolate cake, while the warm and comforting seviyaan vermicelli noodles are caramelized with coconut milk and brown sugar and spiced with cardamom.
Royal Munkey would be a destination for its unique take on Indian food alone, but adding in the raffish look of a Bombay club replete with its namesake simians makes it doubly appealing for an entertaining night out.
The Royal Munkey is open for lunch and dinner daily 11a.m.-2 a.m., with brunch on weekends. The dinner prix-fixe is $34 and includes a choice of cocktail or wine.
THE ROYAL MUNKEY
438 2nd Avenue (near 25th Street)
646-863-2249
www.royalmunkey.com.