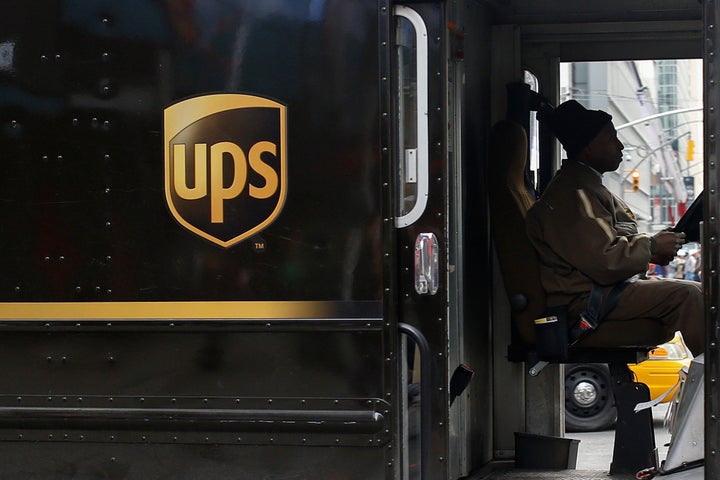 Pretty soon there may be a new kind of delivery driver working alongside Ken Smith at his UPS facility in Tempe, Ariz. ― drivers who do pretty much the same work, only for less pay and over the weekend.
Smith's union, the Teamsters, is negotiating a new five-year collective bargaining agreement with UPS that will cover a whopping 260,000 workers. The tentative agreement that's been reached would create a new class of "hybrid" drivers who would have two duties: sorting packages at UPS facilities and delivering them out on the truck. Their work week would include Saturdays and likely Sundays as well.
The new classification would grant some relief to harried drivers like Smith who want to avoid weekend work and help UPS become more nimble in the hyper-competitive age of Amazon. But it comes with a big catch.
The new employees would work on a lower pay scale than current full-time drivers, starting and topping out at lower hourly rates. They also wouldn't enjoy the same limits on forced overtime, opening them up to long work weeks. The way Smith sees it, those factors would essentially make the new drivers second-class within the union and potentially drive down the standards for everyone over the long term.
"What's the job worth if there's a guy next to me making six bucks less an hour? This devalues the job of a driver," said Smith, a 22-year UPS veteran. "We should be pulling everyone else up, which is allegedly what unions helped do in the past."
This new classification of worker has stirred intense debate among UPS workers, many of whom aren't pleased their union may create what they consider a two-tier work system. Both the union and UPS have recently hosted nationwide calls with drivers trying to sell members on the contract. Although a date has not been set, it's likely Teamsters members would vote on the tentative agreement sometime within the next two months.
The contention over the new drivers underscores the wrenching tradeoffs the union must consider as shipping companies get squeezed more and more in the age of Amazon.
Working for UPS has always been seen as a good blue-collar job. Drivers can pull down six figures in a year with overtime if they're willing to bust their asses and miss their kids' soccer games. The physical demands can be brutal ― drivers now have to deliver just about everything a Google search offers, from batteries to trampolines, out of a brown truck packed to the roof ― but the reward is middle-class pay.
Under the proposed contract, full-time drivers would top out above $40 per hour at the end of the contract; the ceiling for hybrid drivers would be $34.79.
"What's the job worth if there's a guy next to me making six bucks less an hour?"
In other words, our thirst for next-day and same-day delivery is already devaluing the job of a driver. The question is how long the Teamsters can maintain the relatively high industry standards they've set for decades through UPS contracts.
For some drivers, the compromise in the tentative agreement is definitely worth making.
John Kycek, 39, is a 13-year driver and a union shop steward at his UPS building in Minnesota. Although he acknowledges the concerns other drivers may have, Kycek said establishing the new driver class would encourage UPS to move part-timers into new full-time roles, which would pay a better hourly rate than what they're currently making. The move would also give current full-timers more time with their families, particularly during the holidays, when everybody gets slammed.
"It just seems like a great opportunity to offer," Kycek said. "There are a lot of people not wanting to work 55 hours a week. The more drivers we get on the ground, the better it's going to be for everybody."
UPS has been experiencing some of its fastest growth in years, thanks largely to the e-commerce boom. The huge volume of parcels helps make up for the fact that there's less money in running door to door with single packages as opposed to doing bulk business-to-business deliveries. Last week, the company reported net income of $1.49 billion for the second quarter.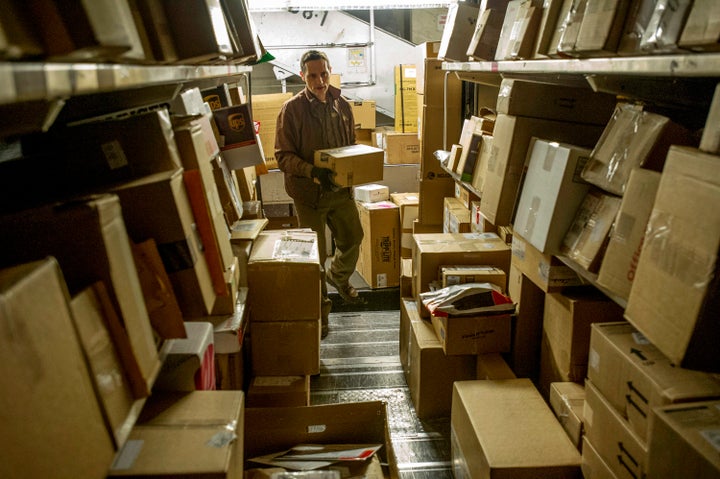 Steve Gaut, a UPS spokesman, said the introduction of a new class of drivers would help the company get a bigger piece of the booming residential delivery market that has creeped into weekends. The company has already rolled out Saturday delivery in much of the country; Sunday could soon be in the works. (The U.S. Postal Service has been delivering packages on Sundays for Amazon for years.)
"This would be the flexibility we need if we decided to move to that," Gaut said, noting that the hybrid drivers would have the same defined-benefit pension and health care plans as other drivers. "It also allows UPS to continue to deal with the competitive challenges we face in the industry today. If we look at the other people we're competing with ― the Postal Service or Amazon or FedEx ― their driver rates are well below [ours]."
Gaut said pay for hybrid drivers would be lower because they would wear two hats ― delivering packages on the road and working inside the package facilities, the latter traditionally being lower-paid work. Under the contract, the number of hybrid drivers a UPS facility could use would be capped at one quarter of the number of regular drivers ― which, at least in theory, should limit UPS's reliance on them.
But several Teamsters said in interviews that they were concerned that the new drivers wouldn't be covered by other contract protections, such as a rule that forces UPS to pay a premium whenever a driver has to work at least 9.5 hours more than two days a week.
"The more drivers we get on the ground, the better it's going to be for everybody."
Some drivers worry that the lower pay rate and weaker protections would make these new drivers irresistible for managers to exploit. And even though the drivers could be used inside or on the trucks, many drivers suspect they'll be funneled toward the latter, allowing UPS to get the high-priced labor done cheaper.
"My feeling is UPS is going to abuse these [drivers]," said one Teamster who asked to remain anonymous to speak freely.
UPS workers like Tyler Binder believe it could have long-lasting consequences for the Teamsters and for delivery work in general. A driver in Wisconsin, Binder posted a video on Facebook three weeks ago breaking down the proposed contract and why he believed members should vote it down. Within the world of UPS drivers, the video went viral, with nearly 100,000 views as of this posting.
Binder, 26, said in an interview that he feared the two separate pay scales could sow division between drivers and fray solidarity, weakening the union over the long term. "If you've paid attention to unions in the past, this is not a good thing," said Binder, whose mother has worked for UPS for 20 years.
In the wake of the financial crisis, the United Auto Workers agreed to a contentious two-tier system with Detroit automakers that put new hires on a significantly lower pay scale. The concession became an anti-union talking point in the UAW's failed bids to unionize Volkswagen and Nissan plants in the South.
Before he became a driver, Binder was a state corrections employee in Wisconsin, where most public employees lost their collective bargaining rights in 2011. Just four years later, the entire state became right-to-work, meaning workers have the option to not pay any union dues, while still enjoying the benefits of a union contract. Binder fears creating a two-tier system could ultimately make it hard to retain union members in his state.
"How am I supposed to convince these part-timers who move into this position to pay their union dues when they're sitting here getting sold out?" Binder asked. "If you continue to treat the next employee worse than the one before and let their rights get eroded, that's not what being in a union is about."
Correction: This story originally misidentified Ken Smith's UPS hub. It is based in Tempe, not Scottsdale.
Popular in the Community