With the uncertain future of the Affordable Care Act, and healthcare reform in flux, patients are more concerned than ever about their insurance and prescription drug coverage. As the benefit election period comes to a close, and deciding between high deductibles or high co-pays becomes a cause of anxiety, there is some good news. The National Kidney Foundation recently announced a new, free prescription discount card that offers savings of up to 75% on brand name and generic medications.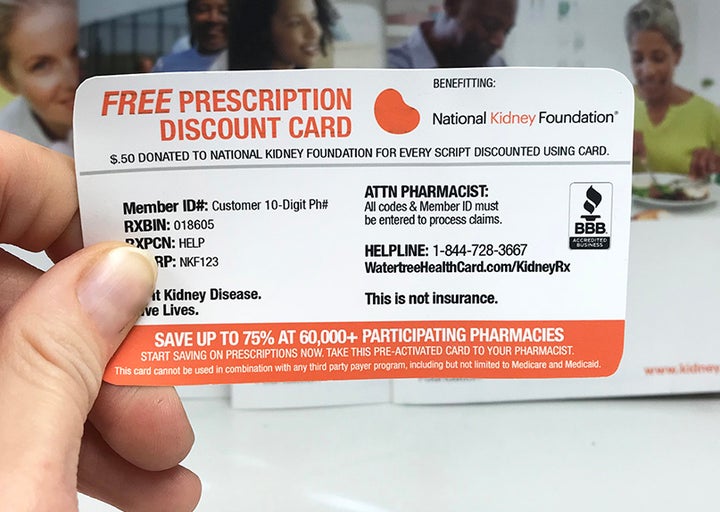 What makes this card especially unique, in my opinion, is that each time a person saves on medication at the pharmacy, Watertree Health, the card's provider, makes a donation to the National Kidney Foundation. The donation ranges from $0.30 to $0.50 and is made at no cost to the patient.
While the card discounts cannot be combined with insurance coverage, the card can still offer significant savings to patients on prescription medication not covered by insurance. Most kidney disease patients in my practice have Medicare and Medicaid coverage, but certain drugs for underlying conditions might not be covered and can come with high deductibles. According to the Centers for Disease Control and Prevention, almost 1 in 10 American adults do not take medication as prescribed due to cost. With the card, patients can now potentially afford lifesaving medication without bearing a high expense. Savings can add up quickly if the card is used frequently.
The National Kidney Foundation promotes the card as a resource for people living with kidney disease, but anyone —uninsured or underinsured, kidney disease patient or not —can get and use this free prescription discount card by going to WatertreeHealthCard.com/KidneyRx, or texting KidneyRx to 95577. Give yourself, friends, and family the (free) gift of savings this holiday season!
Related
Popular in the Community