Part 1 of a three-part series on using owner-entrepreneurship education to win the war on terror. Look for Part II next Monday.
At NFTE France's annual business plan competition, an 18-year-old entrepreneur told me he was "creating a clothing business in order to hire people and help with the unemployment problem in Europe." A Muslim immigrant from Egypt, he lived in a poor suburb of Paris.
"Are you optimistic about the future?" I asked.
"Yes, I am!" he said with a bright smile, showing me his business logo. He proceeded to explain his economics of one unit in great detail. His pride in being a small business owner was obvious.
Extreme poverty and sky-high unemployment rates make low-income Muslim youth around the world vulnerable to recruitment by Islamic terrorists. Yet, I've met many low-income Muslim youth who have told me that they went from feeling hopeless and alienated to being excited about their futures after completing owner-entrepreneurship education programs offered by the Network for Teaching Entrepreneurship (NFTE).
Owner-entrepreneurship education stresses the power of ownership as a means to create wealth. Disadvantaged youth are seldom let in on this secret to wealth creation.
I once asked a leading venture capitalist who has donated millions toward helping low-income children attend private schools, "What about teaching low-income students the ownership skills that made your fortune, so they can become financially independent?"
He responded, only half-jokingly, "But then who would do the work?"
His comment illuminates a core global issue: If only the wealthiest people understand ownership, how can we expect the wealth gap to narrow, or violent extremist groups to lose their appeal?
In NFTE programs, students learn not only entrepreneurial skills like record keeping, sales, negotiation, and marketing, but also the power of ownership. NFTE students learn how to value and sell a business, and how to build wealth by using franchising, licensing and other advantages of ownership.
To fight terrorism effectively, the United States must work with our allies to develop a new foreign policy initiative with owner-entrepreneurship education and small-business incubation at its core. This initiative should also support entrepreneurial eco-systems that connect entrepreneurs to markets and to each other across tribal, religious and national boundaries. This will motivate entrepreneurs to reduce conflict as not in their own best business interests.
To win the war on terrorism, we must win hearts and minds. Owner-entrepreneurship education is an effective weapon in this fight.
Mistakes and Missed Opportunities in Iraq
After Operation Desert Storm, Iraq's economic redevelopment efforts were led by American military officers and bureaucrats with little understanding of, or respect for, Iraqi small business owners. Without warning, they cut off access for Iraqi farmers to the subsidized seeds, fuel and fertilizer on which they relied, for example, fueling the rapid development of tension and resentment.
Under American leadership, Iraq tilted toward exchange and price controls and the distribution of monopolies to relatives and political cronies of Prime Minister Nouri al-Maliki. As a result, the United States failed to become a true political and economic liberator of the Iraqi people.
Carlos A. Bell warned in his 2004 Cato Institute commentary "Pushing Iraq to Socialism or Capitalism?" that U.S. military officials were making terrible economic decisions with serious long-term consequences. "This would be a disaster and a missed opportunity." Bell wrote, adding that "There is a golden opportunity to make every Iraq citizen shareholders in a private Iraqi oil company or companies."
I made a similar suggestion at the 2002 World Economic Forum meeting, where I advocated for using employee stock ownership plans (ESOPs) to turn Iraq's rich state-owned companies over to the Iraqi people. It is not a stretch to envision a more stable and cohesive Iraq today, had such recommendations for empowering the Iraqi people through ownership not fallen on deaf ears.
Today, the U.S. military is taking some intelligent steps to help Iraqi farmers and other small business owners. The military sponsors a micro-grant program that enables military leaders in the field to submit small businesses for grants under $5,000 to help them improve their operations. These have been provided to farmers who need help repairing pumps to get water to their fields, and buying seed and fertilizer.
Train U.S. Military to Support Capitalism, Not Central Planning
It is estimated that only twenty thousand American high school students annually take formal entrepreneurship courses. How can United States soldiers effectively encourage small businesses to flourish in occupied states or in disaster zones, if they are not business-literate?
United States war colleges must train military officers in basic economics so they understand how to encourage markets in countries we assist or occupy, and do not resort to, and inadvertently establish, central planning as an economic model. We must train military personnel and government bureaucrats in owner-entrepreneurship, and revise our military operating manuals to reflect an entrepreneurial mindset.
These efforts must include educating our counter-intelligence and national security personnel in the entrepreneurial mindset, as well, and encouraging them to look for and support pockets of entrepreneurial activity in every country where we seek to make a difference.
Our military and security personnel should also learn the fundamentals of public choice theory, which uses economic theory to predict and analyze political behavior. Public choice theory argues that economic self-interest is the driving force of politics. With a grounding in public choice theory, our personnel will be equipped with a framework for analyzing who benefits and who loses from changes in taxation and government spending in any country where they are stationed.
A Light Bulb Moment
In 1982, I was a failing special-education teacher in the New York City public school system, unable to reach or teach my out-of-control students at the worst high school in America: Boys and Girls High in Bedford Stuyvesant, Brooklyn. One day, on the verge of tears, I stepped out of the classroom to compose myself. In a final desperate move, I took off my watch and marched back in with an impromptu sales pitch for it. To my astonishment, my students were riveted and stayed with me as we calculated wholesale cost, retail price and return on investment.
I had stumbled onto the truth: these kids were far more frustrated than I was. They felt so disconnected from our economic system that they saw no futures for themselves. They had no valid reason to pay attention in class. When I began connecting their classroom lessons to real-world business examples, and helped them start little businesses, the light came on. They became hugely motivated to learn to read, write, use math, and improve their behavior so that they could run their businesses effectively and earn money.
In 1987, I founded NFTE, which has brought owner-entrepreneurship education to more than six hundred thousand low-income youth from Chicago to China. Academics from Brandeis and Harvard who have studied NFTE programs have verified that angry, disenfranchised youth from impoverished neighborhoods around the world can become inspiring, empowered leaders once they've been taught the power of ownership, and have personally benefited from voluntary trade.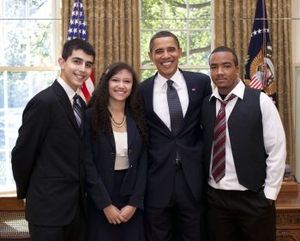 President Obama with NFTE National Youth Entrepreneurship Challenge winners Scott Paiva, Zoe Damacela, Kalief Rollins (l-r)
Entrepreneurship Can Be Taught -- to Anyone
There is no entrepreneurship gene possessed only by a few rare talents. Entrepreneurship can be taught to anyone, even to the most disruptive kids in the worst schools in the world. Especially to them. They know how to hustle, they understand the value of a dollar, and they long to participate in the economy -- but they have no idea how. That is the source of their frustration and acting out, and a critical reason why they are vulnerable to the deadly siren call of drug-dealing gangs or terrorists.
In too many low-income neighborhoods around the world, the primary influences on the minds of young people are criminal gangs or paramilitary terrorist organizations that offer training, discipline and opportunities to earn money.
Pablo Guzman, executive director of Foundacion, NFTE's partner in Mexico City, told me there is no shortage of entrepreneurial energy among Mexico's young people, but that it is channeled down the wrong path. He views owner-entrepreneurship education as a way to break the next generation of young Mexicans away from the lure of quick profits offered by the drug cartels, an attraction that is not dimmed by the rampant violence and high mortality rate of the drug trade. "They prefer five years of being rich to thirty to forty years of being poor," Guzman explains. "That's the mentality we're trying to break."
Owner-entrepreneurship education programs are a legitimate alternative. They meet the same needs for low-income young people, yet nurture a far more constructive entrepreneurial mindset.
Ownership Can Close the Wealth Gap
The wealth gap is also fueling the flames of extremism. Income disparity is a huge problem not only in the U.S. but around the world. In Saudi Arabia, for example, millions of citizens struggle to make ends meet on the fringes of one of the world's richest economies. The Saudi government releases virtually no official data about its poorest citizens. It is estimated, however, that in a nation whose king is worth around $18 billion, between two to four million Saudi citizens are trying to support their families on $500 per month or less. Wealth per capita has fallen by about half within a generation, stoking rage and radicalism among both the poor and the middle class.
If we use entrepreneurship initiatives to cut the rate of new business failure by even one to two percent per year, though, we put the world on a glide path to eliminate extreme poverty. The World Bank has reported that "the number of people living in extreme poverty around the world is likely to fall to under 10 percent of the global population in 2015, giving fresh evidence that a quarter-century-long sustained reduction in poverty is moving the world closer to the historic goal of ending poverty by 2030."
Let's help that process along, for a more stable world.
REAL LIFE. REAL NEWS. REAL VOICES.
Help us tell more of the stories that matter from voices that too often remain unheard.