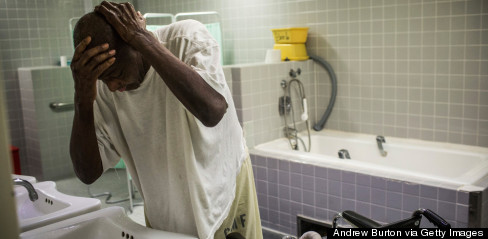 Reviewing the work and activities of the National Black Leadership Commission on AIDS, Inc. (NBLCA) in 2013, I realize just how much we accomplished this year. From our broadcasts of Health Action Radio on WWRL 1600 a.m., to our first annual African-American Hepatitis C Action Day initiative in July, to World AIDS Day events in New York City, upstate New York, Washington, D.C., and around the nation, we have been active on multiple fronts. Our public education and outreach programs, training, technical assistance and capacity building to community and faith-based organizations, and policy and advocacy work, mobilize leaders and communities, giving them the tools and information to fight HIV/AIDS and work toward the goal of advancing social change and achieving an AIDS-free world.
Among our many goals for the year ahead, one key priority is to help our leaders and community members find ways to openly address -- and break through -- the stigma that continues to surround HIV. Shame and fear are barriers to seeking testing and treatment that can prolong life. For too many people in our communities, the shame and fear persist. What can we do about it?
For one thing, we must encourage frank conversations about personal and communal responsibility for HIV/AIDS. At an event at the Apollo Theater in Harlem for World AIDS Day, Magic Johnson was right on target when he spoke so eloquently about his personal journey as an HIV survivor, and his desire to inspire others to break through the fear and stigma surrounding HIV, and learn their status. He stressed that early detection saved his life. Being a role model has been "a blessing and a curse," he said -- a blessing, because more people decided to get tested when he went public about being HIV-positive, but a curse, because young people today see his long-term survival as a reason to be complacent about HIV.
Black communities continue to be ravaged by the spread of HIV, and complacency and denial are dangerous and unacceptable. We must continue to work proactively to ensure that people are educated about HIV prevention, and have access to testing and life-saving treatments that are now available as a result of medical advances. Our faith leaders are talking openly to their congregations about the importance of testing and prevention. We need this kind of open dialogue in order to combat the stigma surrounding HIV infection, which discourages so many people from finding out their status and seeking care.
In 2014, NBLCA will be poised to focus on critical several issues. With the move of our national headquarters to Harlem this year comes a heightened urgency about combating HIV/AIDS in our local community. We intend to address the following issues in our continuing efforts to break barriers:
• Stigma: How can faith-based organizations and churches enhance efforts to support people with HIV/AIDS who have been ostracized from their families and communities?
• Youth: An entire generation of people has grown up infected with HIV/AIDS, and they are falling out of care as they become young adults. Where do they go from here? LGBTQ youth, too, are also aging out, and many are at risk for suicide, HIV/AIDS infection and prostitution. How can the faith-based community ensure the safety of and respect for our youth?
• Hepatitis C: Black Americans are two times as likely as non-Hispanic white Americans to be infected with the Hepatitis C virus (HCV), and three times as likely to have HCV than HIV. Black people are also less likely to be tested, and to receive treatment for HCV. Left undetected and untreated, HCV causes life-threatening liver disease. We must educate and motivate our community to get tested and follow up with treatment options and assistance.
• Men and HIV: HIV/AIDS is an issue not limited to gay and bisexual men. We need heterosexual men in our communities to understand the risks of HIV infection, transmission and their responsibilities to protect their partners and families.
We recently witnessed the passing of the great humanitarian leader, Nelson Mandela, who dedicated his life to ending discrimination and advancing social justice. A passionate HIV/AIDS activist, he advocated for worldwide support to fight the global threat of HIV/AIDS. Mr. Mandela urged the global community to break through the barriers of silence, stigma and discrimination to provide assistance to the millions of people throughout the world who have been shattered by HIV/AIDS. He recognized that HIV/AIDS is not only a devastating public health epidemic, it is a human rights issue.
Mr. Mandela's tireless work to advance social change is an inspiration -- and a legacy we must continue if we are to achieve true freedom. We at NBLCA are committed to keeping this legacy alive by supporting the health of people in our communities, and empowering them in every way possible to be strong, proud and free of the limits that shame and stigma create.
REAL LIFE. REAL NEWS. REAL VOICES.
Help us tell more of the stories that matter from voices that too often remain unheard.