Starting around Labor Day each year and running through New Year's Eve, the booze world is inundated with a flood of new whiskies at every price point, ranging from the sublime to the gimmicky, with a lot of gimmicky-yet-sublime ones in there as well. It's more than one humble boozer can possibly quaff in a mere four months. So in truth, I could just have easily called this "Booze I Never Got Around To Trying In 2017." But hey, these nine whiskies — hailing from Scotland, Ireland, and various regions of the U.S.A. — will help you kick off 2018 by shaking things up a bit, geting you out of your alcoholic comfort zone, and starting your year off right in general. Sure, you can resolve to go to the gym more, or spend more time with your pet parakeet, or finally get cracking on the Great American Novel. But isn't resolving to try new booze much more fun? And, let's admit it, much more feasible?
I can say with reasonable confidence that, if you drink whisky (or whiskey, for that matter), you're going to like at least a couple of these nifty new expressions — some from tried-and-true brands, some from new upstarts, all of which are worth your time and, depending on how much you've got of it, your money. Here's mud in your eye!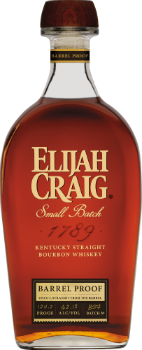 Elijah Craig Barrel Proof Bourbon No. C917 (65.5% ABV, $65). Elijah Craig has been somewhat overlooked (by me if not the bourbon community at large), but as of late it seems to have become the gold standard for quality bourbon that doesn't cost an arm and a leg. EC put out three limited edition barrel proof releases in 2017; the second, also known as B517, was named Whisky Of The Year by Whisky Advocate magazine. As a result, this one might be a little easier to find, and it's also a stellar bourbon. I usually prefer my cask strength booze unadulterated, but ol' C917 comes on a little hot straight up. Add a little water, however, and it's pure magic. It's got the classic caramel-vanilla-corn-oak profile, with all the flavors in perfect proportion. Having been inundated with extra-aged, fairly woody bourbons all year, I love that the sweeter, livelier notes are in the captain's seat, with the wood present but not dominant. Absolutely beautiful, and since each batch is less than 200 barrels' worth of booze, you should stock up now.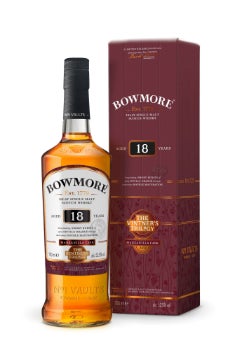 Bowmore 18 Years Old Double Matured Manzanilla Single Malt Scotch Whisky (52.5% ABV, $127). Bowmore is, at 239 years old and counting, the oldest distillery on Islay. But it's not as well known as some of its flashier counterparts like Ardbeg and Laphroaig, perhaps because it doesn't go for the smoky-peaty gusto the way they do. Bowmore's peat game is more subtle and refined, but no less tasty. Like Laphroaig and Ardbeg, Bowmore is constantly experimenting with new expressions; its latest offering is the Vintner's Trilogy, which offers up classic Bowmore whisky finished in a variety of wine/sherry/port casks. This one's aged for 13 years in ex-bourbon casks, followed by five years in Manzanilla sherry casks. Manzanilla is drier and more subtle than Oloroso sherry which is typically used for maturing whiskies. Which is a great thing in this case — the sherry influence doesn't obscure the classic Bowmore salty-sea-air backbone. Rather, it's enhanced with complementary notes of orange peel, milk chocolate, and almonds, along with a light oakiness on the finish. If you're so inclined, it's fun to do a little compare-and-contrast with Bowmore's standard 18 Year Old, another whisky that should occupy some shelf space in your liquor cabinet.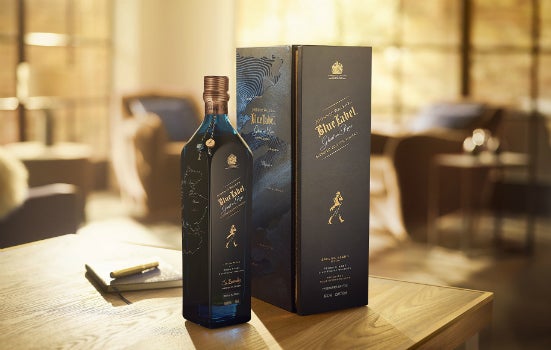 Johnnie Walker Blue Label "Ghost and Rare" Blended Scotch Whisky (46% ABV, $500). For a lot of folks, Blue Label is the last word in fancy Scotch. I happen to think it's overrated – a little too soft, a tad too "easy" to really be memorable. But Ghost & Rare is not your standard issue Blue Label. Blended whiskies can employ up to 30-40 single malts and grain whiskies; Ghost and Rare uses a mere eight — six single malts (which give the blend a bolder, more distinctive flavor) and two grain whiskies (which are used to make the final product smoother and softer). What's more, three of the whiskies used are from "ghost" distilleries, meaning they've been shut down and are no longer distilling. The most noteworthy of the three is Brora, which was mothballed in 1983 (it's scheduled to reopen in 2020). "New" Brora releases, which are now 30-plus years old, sell for thousands of dollars, and with good reason — a 38 year old expression, released in 2016, is one of the greatest single malts I've ever had.
I can't say Ghost and Rare is as life-changing as a dram of unadulterated Brora, but it's definitely got standard Blue Label beat. At a higher 92 proof (regular Blue Label is 80 proof), it's bolder and more assertive, with caramel, leather, dark fruit notes, and a hint of smoke coming to the fore, and dry oak making its presence felt on the finish. It's a lovely blend, and even at $500 it's a couple grand cheaper than a bottle of Brora. This is the first in a series of Blue Label variations — I'm looking forward to seeing what else Master Blender Jim Beveridge has up his sleeve.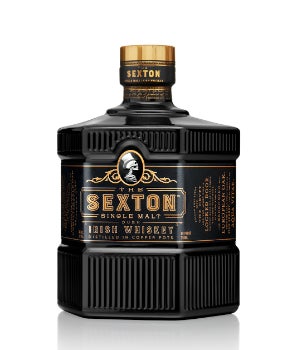 The Sexton Single Malt Irish Whiskey (40% ABV, $28). A delicious Irish whiskey in a beautiful bottle for less than $30? There's gotta be a catch, right? Well, if there is one, I have yet to discover it. Where the stuff is distilled they don't say, though it's rumored to be from the Bushmills distillery. Thrice distilled (I prefer "thrice" to "triple" when I can get away with it, don't you?) from 100% malted barley, the blend is aged for a mere four years in first, second and third-fill Oloroso sherry casks. In this case, four years is plenty; it picks up enough of the wood without being overwhelmed by the sherry. Don't get me wrong, it's quite fruity, with raisins and candied citrus galore, but it's not overdone. You get your money's worth and then some from this bargain. And the dark hexagonal bottle looks gorgeous on any bar, even if pouring from it can get a little messy.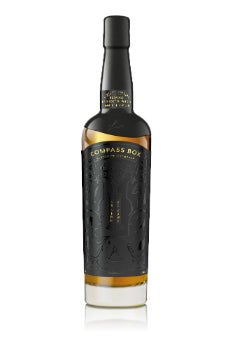 Compass Box No Name Blended Scotch Whisky (48.9% ABV, $125). Hey, it's tough coming up with catchy names for whiskies! Especially if you're Compass Box, whose brilliant blends have monikers like Peat Monster, Hedonism, and my favorite, This Is Not A Luxury Whisky. So let's cut them a little slack with No Name, shall we? An apt but less compelling name might have been "Even Peatier Monster," as this is the peatiest dram Compass Box has ever released. They're not allowed by law to say exactly what's in the blend due to restrictive UK laws, but they've given enough hints for whisky nerds to discern that the lion's share of No Name comes from Ardbeg, the Islay distillery known for its massively peaty whiskies. Sure enough, it's got those gorgeous bonfire-by-the-sea notes, both on the nose and on the palate. But it's not just peat and smoke; it's beautifully sweet and round, with ripe fruit flavors like pear and melon drizzled with honey. No Name lacks the medicinal, iodine notes typical of so many Islay malts, but I don't really miss them — for such a peaty whisky, it's actually quite easy to drink. It'd make a great intro to Islay for a novice, but with only 15,000 bottles to go around, you may want to hoard this one for yourself.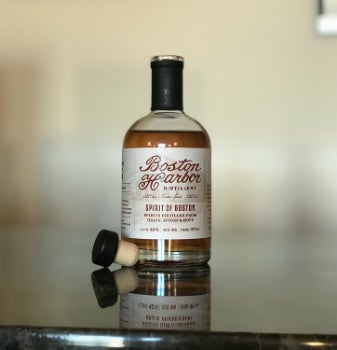 Boston Harbor Distillery Spirit Of Boston: Merry Maker (42% ABV, $35/375 ml bottle). If you've got a distillery near the Samuel Adams brewery, you might as well take advantage of it, right? Whiskey is distilled from beer, but the beer that's created as a stepping stone to bourbon usually isn't particularly palatable (and it's lacking hops in the bargain). So what happens when you use an actual finished beer — and a good one at that — to make your whiskey? In this case, you get something pretty wonderful. Merry Maker is a winter beer, a gingerbread stout that's on the sweet side. Distilled, it makes a gorgeous whiskey — sweet and round and full and warming and gentle, with notes of ginger and clove and allspice. It's winter in a glass, without the windchill and the slush. The hops come through on the finish and linger for a good long while, if you needed a reminder of whence it came. There are three Boston Harbor/Sam Adams collaborations; this is the only one I've tried so far, but if the other two are as good I need to get my hands on them (Boston Harbor also makes other spirits, including a very fine rum).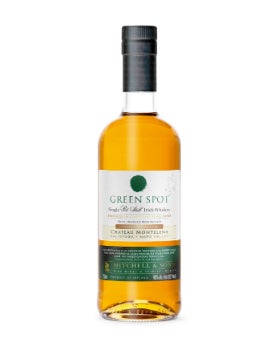 Green Spot Chateau Montelena Single Pot Still Irish Whiskey (46% ABV, $100). The whiskey equivalent of U2 jamming with the Red Hot Chili Peppers? I'm dating myself, aren't I.... Anyway, I am an unashamed fan of a good fruity California Zinfandel. And I'm a big fan of Green Spot, which may be my favorite Irish whiskey of them all. I like Green Spot so much, in fact, that I don't want them to tamper with the classic formula — pot still whiskey aged in ex-bourbon and sherry casks. I liked but didn't love their first experiment with wine cask finishing, 2015's Chateau Leoville Barton, so I approached this one, from one of Napa Valley's leading wineries, with some trepidation. And... I loved it. Gorgeous notes of cherry and plum complement the rich spiciness of the whiskey without overwhelming it. I don't know if I'd drink it over classic Green Spot, but it makes for a great change of pace. Chateau Montelena is an annual release but quantities are limited, so don't tarry.

Fifty Stone American Single Malt Whiskey (45% ABV, $45). This one's not exactly new — it's been around since 2014 — but since most folks outside Fifty Stone's native Maine have never heard of it, I figure it's OK to include it here. Hey, it's better to be late to the party than not show up at all. I'm not the world's biggest fan of American single malts, though there are a few that I love. But what caught my eye about this one was the seaweed. Namely, that part of the barley used to make Fifty Stone is smoked with locally sourced peat and seaweed. Everything about this whiskey is locally sourced, from the barley to the barrels in which it's aged. And that probably explains its distinctive flavor. Up front it's got an almost bourbon-like sweetness, but on the back end it dries out and the peat kicks in, though it's nothing like the Scottish peat you're accustomed to. And yes, you can taste the seaweed and yes, it's delicious. Sometimes local ingredients may not impact the final product all that much, but in this case it really impacts the whiskey in a positive way. Fifty Stone is available in much of New England, and it's said to be hitting New York in short order as well. All the more reason to visit if you're not an East Coaster.
Calling all HuffPost superfans!
Sign up for membership to become a founding member and help shape HuffPost's next chapter
This post was published on the now-closed HuffPost Contributor platform. Contributors control their own work and posted freely to our site. If you need to flag this entry as abusive,
send us an email
.