NERAI
55 East 54th Street, NY, NY
212-759-5554
http://nerainyc.com
NYC is hardly bereft of good Greek restaurants, but the new Nerai is easily the best to have opened since Anthos back in 2007 (since closed). The latter was Chef Michael Psilakis' thoroughly modern conception of Greek food, of a kind it would difficult to find even in the more modern restaurants in Athens.
There are co-executive chefs here -- Chris Christou (formerly at Per Se, Corton, and Ai Fiori) and Ioannis Markadakis (from Vezene in Athens) -- and while they don't take the high leaps Psilakis did at Anthos, their cuisine adapts the finest traditions of Hellenic cuisine and refines them in ways no other Greek restaurant in NYC is currently attempting.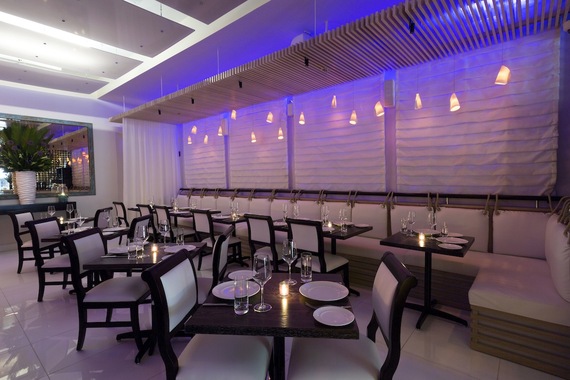 On the night I dined at the elegantly appointed bi-level restaurant, it was with an interior designer friend who pronounced the marine-like décor exceptionally beautiful, especially the aqua-green lighting that played softly from the ceiling onto folds of white drapery-like fabric. But if you look at the attached photo, the lighting is a garish violet color of a kind you'd find in an Atlantic City lounge. I've learned that the lighting can be and is changed from night to night, and I shudder to think of some of the unappealing colors that might obtain. I don't know if they take requests, but maybe you can beg them to turn on the gorgeous blue-green lights.
Upstairs is very charming too, more subdued in décor, and there is a lively bar up front. I cannot help but comment on the hostesses at Nerai, who are as cordial and they are comely. Indeed, every one of the staff is very attentive. When our waiter asked if he could get us anything to begin, I joked that the night air had frozen my fingers and said, "Yes, hot water!" One minute later he brought me a finger bowl of hot water.
The 137-label wine list is 40 percent Greek, with some unusual selections like the Assyrtiko de Milos 2004 from Santorini, a charmingly aromatic white wine.
We began dinner with an array of mezes, including chickpea hummus (below) and tahini flecked with onion; tender fava beans with onion and mastika spirits; and a delightfully spicy feta with paprika and pepper, all accompanied by fine warm pita bread. Olives, curiously, were set on the table cold.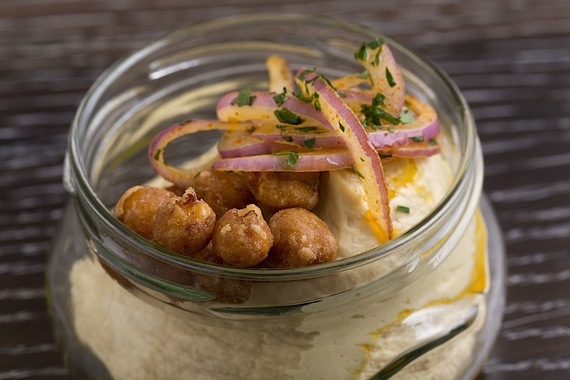 The starters, as is so often the case in Greek restaurants, were wonderfully savory, like the superb duck moussaka with roasted potato and eggplant and creamy bechamel -- the kind of dish that respects tradition while utilizing unexpected ground duck meat. Smoked eggplant with roasted red pepper, ouzo-scented yogurt and sweet parsnip chips showed the same spark, while grilled octopus with chickpeas and marinated cucumbers moved the dial with the addition of a yogurt foam.
A Greek restaurant must be judged largely on its seafood -- which, believe me, in Greece still tends to be overcooked, but Nerai did an impeccable job of grilling a lavraki (sea bass), given a benediction of olive oil and capers. Langoustines -- on the small side -- were cooked with white wine and sweetened by a tomato confit and a little coriander. We were thoroughly pleased by the hearty short ribs with youvetsi (orzo pasta), tomato, aged piave cheese, and the Mediterranean scent of cinnamon.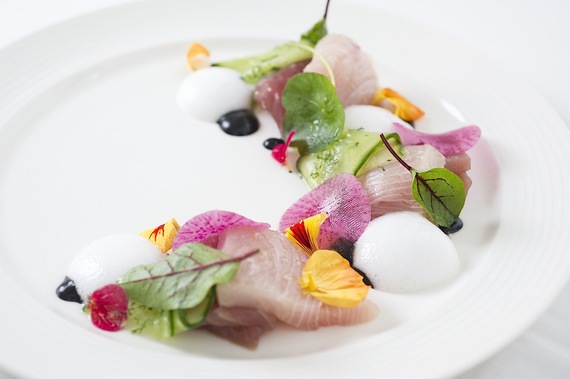 At meal's end one expects the usual flaky baklava and yogurt but Markadakis gives as much attention to desserts as to everything else, rendering a delicious lavender mousse made with yogurt and honey, set on pineapple carpaccio with caramelized pecans. Portokalopita is a sponge cake filo with orange syrup and caramelized hazelnuts, though a dark chocolate sorbet lent nothing to the dish. Saragli are pastries composed of rolled baklava, very crispy, with almonds, pistachio and mastika gelato.
One goes to Nerai for a truly fine dining experience, and one pays accordingly: starters range from $12-$22 and main courses $26-$48, with a lobster pasta for two, with 2 ½ pounds of lobster on squid ink linguine, at $112; whole fish sell by the pound, from $30-$50. Nerai is not a taverna -- without bouzouki players, fish nets or posters of the Acropolis. Instead, Nerai is admirably at the level of an Italian restaurant like Marea or a seafood restaurant like Oceana (whose premises these once were). Quality does not just count, it costs, and Nerai delivers it with a panache unique to Greek restaurants in NYC.