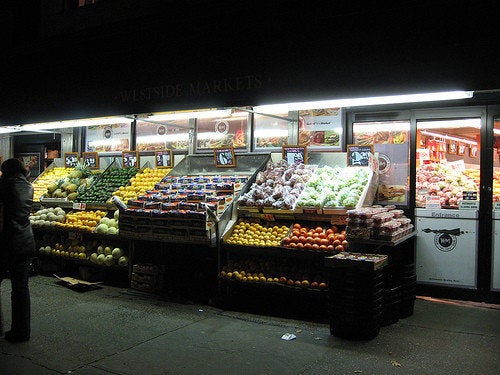 Korean-owned grocery stores are starting to disappear from New York (much like East Village bodegas and these NY landmarks), according to the New York Times. " Rising rents, increased competition from online and corporate rivals, and more scrutiny from city agencies that impose fines" are forcing these staples of New York street-corners out of business, the report says.
Chong Sik Lee, president of The Korean-American Grocers Association of New York, tells the Times that his membership has decreased by half from a decade ago and that "In 10 years, there will be no more Korean mom-and-pop stores."
The phenomenon of the ubiquitous Korean grocer in New York started after 1965, according to City Journal, when the US passed the Immigration and Nationality Act, allowing a steady flow of South Korean immigrants to flood Gotham with small grocery stores that featured sidewalk spreads of fruit and flowers.
The stores opened largely in particularly poor and rough neighborhoods lacking regular grocers, and were often the source of racial tension.
Another, maybe more encouraging reason for the the Korean grocer's decline is, as Gothamist puts it, "The American Dream". The children of Korean immigrants have simply jumped up the economic ladder and are pursuing more profitable lines of work, leaving their parents with no one to take over the store.
In the 70's and 80's it made sense for Korean immigrants to open grocery stores, according to the City Journal. The overhead was low, especially in places like Brooklyn and the Bronx where other retailers had fled because of skyrocketing crime and violence.
But now, with the New York crime rate much lower, and gentrification moving at full-speed, Korean grocers have lost much of their profits to retail and chain stores moving into the neighborhood.
And although many are sad to see these staples of New York vanish, one Korean store owner, Joo Han, understands it might be time to call it quits.
"If I had to do it all over again, I would have sold the business 10 years ago," Mr. Han tells the Times. "This store did a lot for us," he added. "It gave us everything we wanted, everything we could hope for. But, maybe it's time for me to move on."
Calling all HuffPost superfans!
Sign up for membership to become a founding member and help shape HuffPost's next chapter