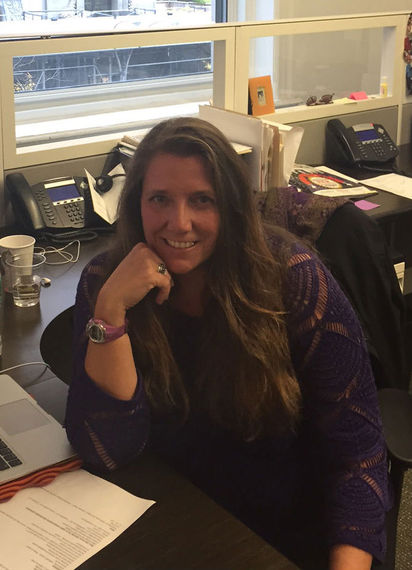 Lori Hoberman is a New York City lawyer, but doesn't look or act like one. She dresses casually, wears her hair long and unfussed, and takes enormous pleasure in hosting events like "Chocolate Night," where she invites everyone she knows in the city's entrepreneurship world (from venture capitalists to newbie business owners) to gather around platters of truffles and steaming fondue pots. Her informality may be one reason why Alley Watch, a blog for startups, named her one of "20 Awesome People in the New York Tech Scene" you need to know about.
So it's perhaps no surprise that Hoberman -- who represents entrepreneurs seeking investment and who has always worked for big firms, most recently Chadbourne & Parke, where partners make north of $1 million a year -- is finally take the plunge: She is leaving the sweeping views of Rockefeller Center behind to start her own law firm (and business incubator) in a loft-like space in New York's Union Square neighborhood.
It's early days still, and Hoberman -- long accustomed to advising entrepreneurs -- is still adjusting to being one herself. "It was pretty scary to leave the mother ship," she says, recalling the day in October when she gave notice at Chadbourne & Parke, a rather stereotypical law firm with a stuffy feel and lots of pinstripe suits. "I was walking up to that office and I was thinking, 'I don't have to do this.'" Hoberman, who has a young son and whose husband is a stay-at-home dad, is the main supporter of her family. But, "I couldn't stay and be satisfied," she says. "I wanted to make my own culture."
Her ability to forge and maintain relationships is already helping her in the startup phase. For starters, one of her clients, BuildingLink, had extra space inside its Manhattan office and is allowing her to set up shop, rent-free. A former associate from Chadbourne & Parke has joined her as her firm's first employee. "I've told him: No suits," she says. And most importantly, all 67 of her former clients have followed her to the new practice, Hoberman Law Group.
Hoberman plans to keep doing what she already does, helping startup entrepreneurs raise and negotiate capital and advising them through the stages of their business, including exits. She will continue to advise angels and other professional investors on their investments.
Her clients over the years have come from a diverse array of industries, from interactive-kiosk maker City Corrider, to autism-treatment company Curemark to women's clothing designer MM LaFleur. And Hoberman specializes in anything tech, from cleantech to adtech to mobile tech. She will charge flat fees or by the hour and plans to pass along her firm's low overhead costs to clients. "Setting up from scratch gave me the ability to do things in a very lean, efficient manner," she says. "I'll miss having a secretary to make my lunch reservations, but not much else."
In January, Hoberman plans to launch a new incubator called IMG Labs (the acronym stands for Innovation Made Good) in the same building as her current office. The current plan is to provide space to up to 100 people working on startups, in exchange for an equity stake in the range of 6% - 8%. Many of the startups will likely be in tech, and a focus will be on women entrepreneurs, who are under-represented in the city's incubators. "It's a passion of mine, so it will be interwoven in some way," she says.
To be sure, there will still be challenges. "The quality has to be impeccable, especially in a small firm," Hoberman says. Not to mention, "some people might want more formal." She's also forgone a salary for the time being, although she anticipates revenue coming in within three to four months. "I'm luckier than a lot of entrepreneurs, who don't have any signs of income coming in for a long time," she says. "I'd made sure I am comfortable financially before I did this."
For now, Hoberman is enjoying the early days of entrepreneurship. "The feeling of freedom and exhilaration -- I didn't expect that," she says. "I'm up every night until 2 a.m. working. But it's for me."
Related