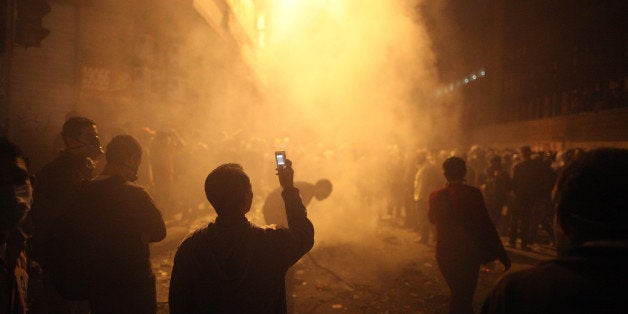 It took several years before people started to realize that Europe's war of 1914 to 1918 was both big and influential enough to be worthy of being called a "World War." So they gave it that grand name, and added "First" two decades later when they fought a second war that was not any less vicious or influential.
People fight wars first and come up with names that suit their grandeur and influence later. Years from now, historians will look at what happened in our region and perhaps won't find a more appropriate name than #WorldWar3, especially since the world will never return to what it once was.
In this region, half of the world is fighting a proxy war against the other half. America, Russia, Israel, international military alliances, old monarchies and dictatorships are all fighting here to preserve or expand their areas of influence. At the same time, armed sectarian, religious, or ethnic groups -- ones that have no face other than that of rage -- fight to abolish all that is old, to create a new map, and perhaps a new world order.
Here, you can bet on anything except that things will remain the same. Labor usually results in new life. But that new life could either be healthy, or cursed with disease.
The future is then open to all possibilities, and our heads are drunk with confusion and pregnant with all types of questions. We are the ones who will gain nothing in this war. We are the ones who dreamt only of living with dignity and justice, and now most are simply concerned with survival. We are those sitting on the couches keeping track of the flying missiles and exploding barrels and dreaming of a ticket to a far-away country, or a miracle that allows life to return once again. We are the ones who don't know: What? Why? How? Where?
The first bullet of war is usually shot at a free press. Then the lights are turned off and the value of human life falls, transforms into a mere number in military records, morgues, political prisons, or a boat packed with refugees facing death on the waves.
In war, dreams and joys die -- or are intended to die. Perseverance, defiance, and a desire to live life are born.
Here we are, in the throes of an internecine war that birthed our new journalistic child, Huffington Post Arabi, full of freedom, challenges and bursting with life and the passion to find answers and solutions, searching for joy wherever it may be -- as all children of war do.
My friends here in the newsroom all belong to a youthful generation that does not favor reinventing the wheel or peddling goods that already flood the markets. They view Iraq as more than a sectarian or ethnic war, and Syria as bigger than a field where exploding barrels are dropped, and Egypt as more than a country facing a crisis of rights and politics; this is the case for all the hot spots across the Arab World. If you are interested in keeping tabs on the number of dead, then this is perhaps not the place for you. But if you are wondering how people plot to survive among the rubble, to smile amid worry and to hope while frustrated, and if you want to know: What? Why? How? Where?, then you are in the right place.
Our purpose here is to present journalism that satisfies your need to cut through the noise and get to the heart of the story; to steal moments of joy and entertainment without being judged; to exchange success stories rather than wailing over what everyone already knows is a failure; and to build bridges of dialogue between camps being eaten up by polarization.
Don't be shocked if you expect one thing and find something entirely different, for surprising you is something the Huffington Post has gotten good at in its 13 other editions. It's this youthful spirit that has made the website a figure in American and international media with over 200 million followers from all over the world, most of which are young people who love freedom and hate "living in the box."
Over a year ago, when I spoke with Arianna Huffington for the first time, she emphasized the positive role that journalism must play in making people's lives better. She spoke to me of the wisdom that is in our region, a region that was once the cradle of civilization and religion, and the need of the world to make use of that wisdom. I in turn believe in the positivity of looking for a way out, and that the inherent wisdom that stems from our history and religious heritage are necessary weapons in this time of #WorldWar3.
This post originally appeared on HuffPost Arabi and was translated into English.
Popular in the Community