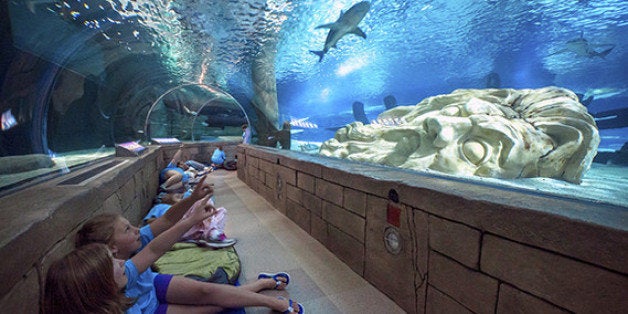 When Airbnb collaborated with IKEA to offer accommodations in a Sydney furniture store last summer, we were pretty excited. How fun would it be to spend the night in a warehouse maze of colorful model kitchens, bedrooms, and living rooms? Sadly, the IKEA lodging was a limited-time offer. But there are other public spaces, from museums to amusement parks to stores, that allow pajama-clad guests to park their sleeping bags beneath dinosaur bones or waterslides and stay until morning. Here are 10 amazing and unusual public spaces that invite you to sleep over.
Spend a Night at the National Archives
Last year, the National Archives hosted its first-ever sleepover, allowing guests to snooze in the famed Rotunda for the Charters of Freedom, where the Bill of Rights, the Declaration of Independence, and the Constitution are housed. Participants get to set up sleeping bags next to some of America's most venerated public documents and listen to guides dressed in period costume tell tales of American history. Dates for future overnights in the space have yet to be announced, but the National Archives' website promises more to come. The events, which are for kids ages eight to 12 who are accompanied by an adult, start at $125 for nonmembers.
Spend a Night in an Indoor Water Park
A German water park in an old Soviet airplane hangar invites you to stay the night. Tropical Islands is an indoor water park housed in an enormous white dome in Krausnick (south of Berlin). A night in one of the park's 133 teepees costs €69 (about $86), but you could also spring for a room in the more luxurious in-park lodges. The overnight visit allows you to play on the park's pools, beaches, and bumper cars—plus the largest waterslide in the country—long after the sun has set. Plus, you'll wake up to a full breakfast buffet. Father and son Casey and Owen Neistat stayed overnight inside the park and caught the experience on camera; watch their video here.
Spend a Night on a WWII Aircraft Carrier
Pack your bags and prepare for battle. The USS Lexington, docked at Corpus Christi, Texas, has virtual battle stations, a flight simulator, and even a giant 3-D theater. The best part? The vintage Essex-class aircraft offers a unique overnight-stay program: Organized youth groups can apply to sleep in the warship's original crew quarters. You'll get to watch movies, take tours, and learn about the Second World War in a totally hands-on way. This program isn't available to individual travelers, but anyone who works with organizations like the Girl Scouts, church groups, or other youth groups is welcome to apply.
Spend a Night Under the Sea
The Sea Life Minnesota Aquarium at the Mall of America offers an overnight slumber party in the absolute best place you could ever have an overnight slumber party: a giant glass tunnel beneath a shark tank. The 300-foot tunnel also runs below tanks where giant turtles, stingrays, and tropical fish float to and fro. (There are a total of four tanks above the aquarium's aptly named Ocean Tunnel.) Set up your sleeping bag and drift off as ocean creatures big and small glide past above you. The sleepover package is available for families and groups only and starts at $65 per person (for nonmembers), not including food.
Camp surrounded by East African wildlife … without leaving the United States. Just head to San Diego, where you can sleep in a luxurious tent (premium tents feature actual beds and electricity) as part of the San Diego Zoo Safari Park's Roar & Snore Safari program. You'll enjoy special tours and animal encounters, and you can nod off to the soft sounds of nearby elephant footsteps. Rhinoceroses, giraffes, wildebeests, and gazelles are some of the large creatures that roam near the campsite. Both adults-only and family-friendly dates are on offer, but the program isn't cheap. Adult tickets start at $140 per person for the most basic tent option.
Spend a Night in the Stone Age
Are you and your loved ones fascinated with longships, horned hats, and everything Viking? We have just the ticket: Spend the night at Denmark's Land of Legends, living, in every feasible way, just as prehistoric people did. Land of Legends in Lejre is a historical recreation of Iron Age, Stone Age, and Viking Age life. It's an open-air museum populated with Iron Age villages, Viking markets, farm animals, artisan workshops, and even a sacrificial bog. Dressed in Iron Age apparel, you'll forage for food, tend to livestock, and talk to visitors about your primeval lifestyle. Essentially, you'll become a part of the exhibition. Families or groups of six to eight people (including at least two adults) may apply for a week-long or weekend stay in the village.
Spend a Night in a Toy Store
London's luxurious and historical Hamleys toy shop lends itself out for lavish overnight parties. Be warned: They cost a pretty pound. With rates starting at £4,500 (about $7,132) for groups of 10 children, Hamleys' "Dream Sleepover Party" isn't exactly for the budget-minded. But an overnight in the flagship seven-story toy mecca would be a dream for sure. The package includes a photographer, invitations, a cake, dinner, snacks, entertainment, and, most importantly, total access to the entire store for one very special night. Hamleys doesn't say whether it offers adults-only overnights, but we imagine it might if the price were right.
Spend a Night at the Museum
New York's American Museum of Natural History—the institution featured in Night at the Museum—sometimes hosts overnight events for adults. This is one of the few museum sleepovers we've spotted that really caters to the grown-up set. The $350 price ($300 for museum members) covers live music, Champagne, and the chance to explore a world-famous museum without the crowds. A midnight viewing of the Neil deGrasse Tyson-narrated Dark Universe at the Hayden Planetarium is also part of the deal. See a list of future sleepover dates on the museum's website.
Spend a Night in a Research Library
Could you unlock the secrets of your family history in just one night? With the aid of a good library and large quantities of pizza, perhaps. Every year, Auckland's Central City Library invites folks to spend one special night investigating their family history. Known as the Annual Karen Kalopulu Family History Lock-In, the program was founded by family-history librarian Karen Kalopulu, who first came up with the idea in 2004. Created in partnership with the New Zealand Society of Genealogists, the lock-in features a tour, a how-to seminar on researching family history, and 12 hours of overnight access to the tomes lining the shelves at the research library. Snacks and drinks abound, and piping-hot pizza is served at midnight.
The Chabot Space & Science Center in Oakland offers a very cool and affordable Slumber with the Stars program for kids and adults alike. The overnights happen on designated dates, and each one has a unique theme. You'll most likely sleep in an exhibit, but the actual sleeping spot varies. (We're partial to the planetarium!) There are lots of activities on the docket, from a private telescope viewing of the night sky to a planetarium show. A late-night snack and breakfast are provided. Prices start at $90 for nonmembers.
Related