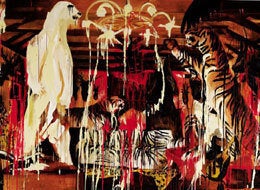 If I had to use an experience to describe the paintings of Rosson Crow, it might start with a peck on the cheek, but then unexpectedly turn into a prolonged french kiss, then a utensil-less meal of cracked crab and artichoke after which everyone sits somewhat intoxicated at the table with their faces flushed with wine and glistening with melted butter. In her recent series "A Night at the Palomino," Crow recreates bars, clubs, and saloons of Los Angeles and Paris. Her palette is luscious and dripping; she channels and recreates lost spaces of familiar places, imbuing them with the "aching charm" Victor Hugo refers to in Les Miserables when he says: "Those places we no longer see, perhaps will never see again but still remember, have acquired an aching charm; they return to us with the melancholy of ghosts."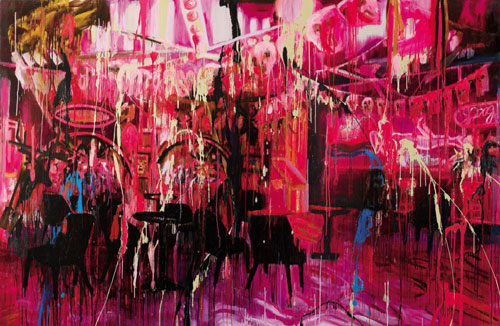 Rosson Crow, "Five Minutes Late and Two Bucks Short at the Cha Cha", 2007, Oil, enamel, spray paint, and acrylic on canvas, 90 x 132 inches
Kimberly Brooks: Do you like cracked crab?
Rosson Crow: I actually don't, but I like the IDEA of it. Haha. KB: So these paintings of nightclubs from days gone by feel like you're seeing everything that ever occurred. What inspired you to paint them in the first place?
Rosson Crow: It's not as mythic as it might seem. Usually I just visit a place that seems like it would be worth painting, or I come across an image in my research that seems interesting. Often I combine many sources to create one painting, so it is not usually one particular experience or moment that leads to its creation. I think most artists are just open nets and catch all sorts of inspiration along the way of our daily lives, and that all comes to together in strange and different ways in the studio.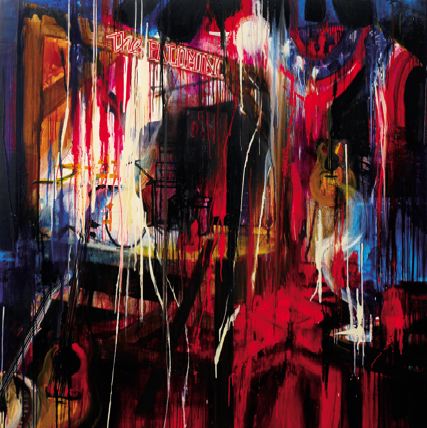 Rosson Crow, "Night at the Palomino", 2007, Oil, enamel, and acrylic on linen, 84 x 84 inches
KB: Your palette and brushwork take over the subject matter. Do you work out your palettes before you start painting or does it occur 'on the fly' as it appears?
RC: I generally do work out my color pallette before I start working, but it is also very improvised, I will change it if I feel necessary at any time.... I do want them to feel very spontaneous....
KB: What inspired you to paint the now closed Palomino Night club in North Hollywood?
RC: This was an infamous honky-tonk that opened in the 1950's and closed in the early 1990's. It was here that many great country acts made their beginning, and great legends performed intimate club shows. I am fascinated by lost spaces, especially those in Los Angeles. I painted the Palomino according to a few photographs that I had come across, but mostly it was from imagination. I enjoy taking on these historic spaces that no longer exist and reviving them for my own purposes... as well as other's enjoyment. I am a huge country music fan, so this particular space had a lot of meaning for me. I also appreciate the rock n' roll decadence of the Palomino.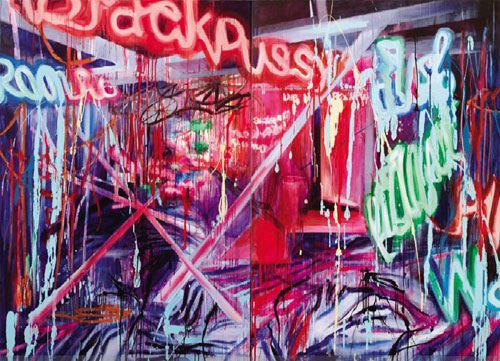 Rosson Crow, "Live in the Black Pussy", 2007, Oil, enamel, spray paint, and acrylic on canvas, 84 x 144 inches
KB: For some reason, you don't strike me as a huge country fan. I was thinking more punk or glam rock. Tell us about your process and how you work.
RC: My process of working is not really that unique. I like to paint during the day, and block out large chunks of time with which to work. I prefer to work on a painting in a few swift passes, and not fuss over it. I think that the work needs to have an energy to it that can't be accomplished if one is adding a few strokes everyday. Once a piece is done, I don't work on it anymore. I hate fussy.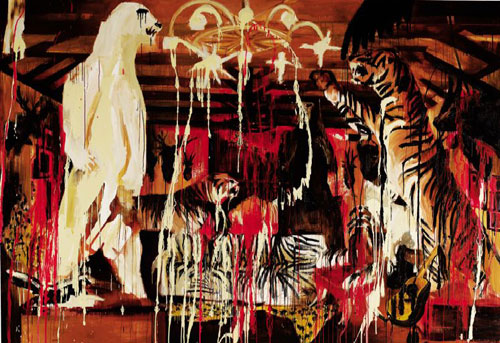 Rosson Crow, "Buck Owens Trophy Room", 2007, Oil, enamel, and acrylic on canvas, 90 x 132 inches
KB: How old were you when you started painting? What did those early paintings look like? When did you style become what it is today?
RC: I seriously started painting in undergrad at art school...maybe my 3rd year. At first the paintings had figures in them, but they were always referenced from history.... Historical sources were always and still are important to my work.... I just decided to take the figures out because I was more interested in the spaces they existed in. The spaces became there own identities when void of people. I guess I started painting spaces when I was in my senior year of undergrad.
KB: It is a gift to know when not to fuss and capture that energy. Sometimes, my gallerist steals paintings out of my studio so I don't overwork them. What's the ultimate reaction that you seek?
RC: I want the viewer to be overwhelmed. I want the space to feel like it is caving in on the viewer and that they are forcibly entering the world of my paintings. I want there to be a feeling of overpowering decadence to the work, that is almost too much to take. I don't want them to be subtle....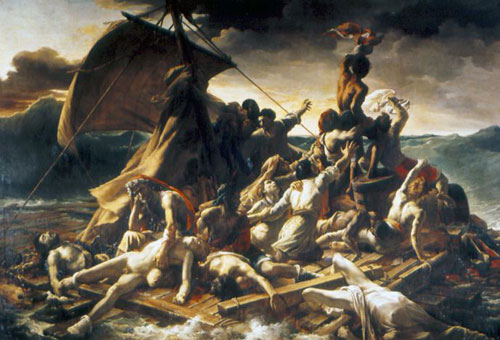 Theodore Gericault, 1818-1819, Oil on canvas, 491 × 717 cm, 193.3 × 282.3 in, Musée du Louvre, Paris
KB: Indeed, you succeed. Is there a work of art that inspires you from art history?
RC: One of my favorite paintings is Gericault's "Raft of the Medusa". It is so powerful, and it is masterfully painted. I could look at that painting for hours and marvel at his deft use of color and composition, not to mention the social implications of the work.
Rosson Crow was born in Dallas, Texas in 1982. She received her BFA from the School of Visual Arts in New York in 2004 and her MFA from Yale in 2006. Crow completed a residency at Cite Internationale des Arts in Paris in 2006 and has had solo exhibitions at Honor Fraser, Los Angeles; CANADA, New York, and Galerie Nathalie Obadia, Paris. Crow lives and works in Los Angeles. For more information please visit www.honorfraser.com.
Popular in the Community