We arrived at the airport around a quarter to six. The sun had just set, so I could see his private plane landing in the distance. Outside the airport gates were two blacked-out Mercedes Sprinter vans, a Lamborghini Gallardo and a Polaris Sprinter.
A few minutes later the airport exit doors opened. Out came the subject of our story -- along with several of his celebrity friends -- ready for the night. We exchanged greetings, hopped into our rides and began our descent on the Las Vegas strip.
It was about to be a wild night.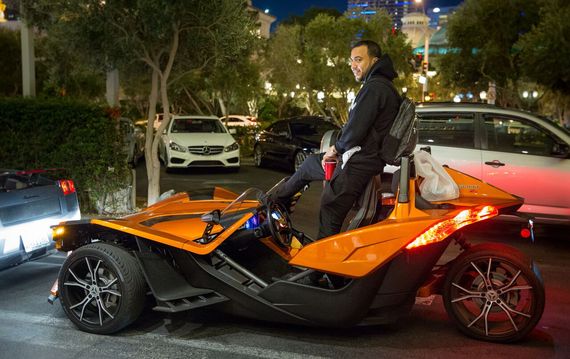 After a heart-pounding ride, we made our first stop of the night at Caesars Palace. From the valet we went to a private elevator that could only be accessed via keycard. As soon as the elevator doors opened, something became very clear to me.
Normal people don't stay in rooms like this.
The penthouse was vast. Adorned with floor-to-ceiling marble, dark wood furnishings and high, expansive ceilings, the place was fit for royalty. Cathedral-sized doors led to the bedrooms. At the rear of the penthouse was an infinity pool overlooking the entire Las Vegas strip. Plates of shrimp, calamari and other high-quality finger foods were in abundance.
And the night hadn't even started yet.
It was the last place you'd expect a kid raised in the South Bronx to end up. But here he was anyway: 31-year-old Moroccan-born Karim Kharbouch, better known as French Montana, had made it. Judging by the surroundings, his days hustling Cocaine City DVDs back in 2002 feels like lifetimes ago.
After getting ready for the night, French, Belly and I made our way toward the lobby en route to JLo's debut "All I Have" show at Planet Hollywood's AXIS theatre. On our way down the escalator (with bodyguard in tow), French and I spoke about his upcoming album, Mac and Cheese 4, who to expect on it and when it'll be hitting shelves: "We don't have an exact date. But expect it in March. Max B hosting it. Chinx Drugz on there. Lil Wayne. Styles and Kiss. Miguel."
But new music isn't the only thing Montana has in the pipeline.
In the past few years, Montana appeared on television shows such as Wild 'N Out, Keeping Up with the Kardashians and MTV's Ridiculousness. Now the rap star is set to make his first appearance on the big screen. He'll be in the upcoming movie Perfect Match alongside Terrence Jenkins, Paula Patton, Cassie and a slew of other stars.
By the time we arrived at Planet Hollywood, JLo was well into her show. Our cameras weren't allowed in, but rest assured that the lights, sets, dancing, music -- and, of course, the star of the show -- did not disappoint. Ja Rule and Prince Royce were also welcome surprises for all the fans in attendance.
But the biggest treat was the after-party in Martorano's Restaurant at the Paris hotel. Admission was invite-only and blinds were set up outside the restaurant so as not to reveal the guests' identities.
Passing by, you'd never know that behind the curtains were Jennifer Lopez, Ja Rule, French Montana, Belly, Beau "Casper" Smart, DJ Enuff and a dozen of other big names. With steak on our plates and Ciroc flowing, the music started and the dancing soon followed. Speeches from both French and Ja Rule congratulating JLo followed shortly thereafter.
"You set goals so big... and make those dreams happen... it's an incredible accomplishment... congratulations on the residency!" Ja Rule finished.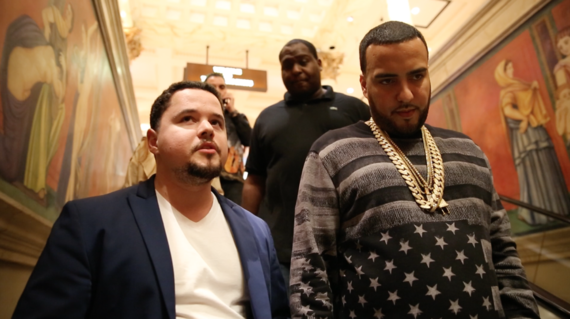 As the night came to close I asked French about his way up in the industry. How he's come such a far. He was quick to cite his relationships with Diddy and Rick Ross. "Ross and Puff both my big brothers," French said. "They're my mentors. Ross helped me when I was coming in, and somebody like me, coming where I'm from, that means everything to me. They're my brothers that showed me the game and how to become a legendary artist. An artist that'll live forever."
It was definitely a special night. Well, unless you're French Montana.
Then it's just another day in the life.
Brian Roberts is a writer from New Jersey. Alex Ratajczyk is a professional photographer living in New York City. Giovanni Martinez, a videographer from New Jersey, also contributed to this story.
Popular in the Community