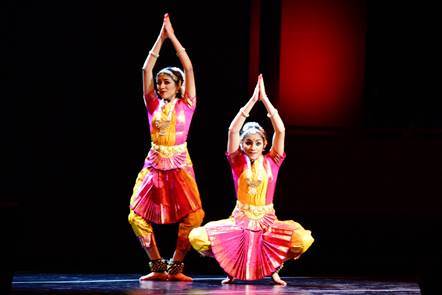 Imagine waking up one morning knowing that, in just a few hours, you'll be performing in front of thousands of people in an event you have prepared for during more than half of your life. For 15-year-old twin sisters Sara and Riya Kapoor, that became their reality on December 12, 2015 when they wowed the audience at Lincoln Center's Rose Hall in a one-of-a-kind, revolutionary performance known as Rangapravesh, or Night of Moves, which is an on stage debut serving as their stepping up ceremony. During this performance, the girls combined traditional Bharatanatyam dancing in conjunction with a Carnatic Orchestra and a New York Jazz Quartet. This is something that simply has never been done, and these girls perfected it.
The performance incorporated nine core emotions of love, joy, wonder, peace, anger, courage, sadness, fear and disgust and was done with heroism, peace, and laughter, which are all part of the traditional Indian dance. I had the opportunity to sit down with the girls and talk with them about their lives, their process, and their aspirations for the future.

Jazz Girard: Tell us a little bit about yourselves. What are your interests? What are you passionate about?
Sara Kapoor: We were born and raised in New York. We've been going to the Trinity School since we were in kindergarten. My interests over the years have been music, and I also play squash. I've really been into music for a while, so I think that's what sparked the entire Night of Moves change in music.
Riya Kapoor: I'm a dancer, and I have been dancing at Alvin Ailey since I was seven. This Indian dance is really the only thing we've done together since our interests are so different.
J.G: How did you guys manage the process? What were some of the eases/difficulties you found in managing dance, school, socializing, etc.?
R.K: It was a little bit easier for me since I knew I was passionate about dance. As the event approached, we practiced for over 25 hours a week, so dealing with school was a bit tricky. When I was at Alvin Ailey, I did just about every dance under the sun, and one of the things I learned in terms of the difference between Alvin Ailey and traditional Indian dancing was that, in traditional Indian dancing, it's a lot about learning important life lessons, meaning our teacher by the end
kind of became a maternal figure as well. She helped us balance everything between work and school.
S.K: One of the main questions we got after this performance was, "How did you memorize all of the dance moves?" Honestly, it was a 10-year process. It wasn't so much about the moves as it was about learning necessary skills like focus and discipline. I think it's great that we also had fun.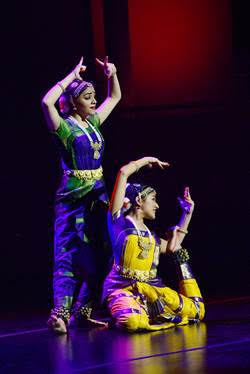 J.G: What was the '10 years in the making' aspect of the performance?
R.K: This was something our mom did as a kid; it was very important growing up and doing traditional Indian dance. This was her way of passing on the cultural baton. We started class at the age of four with 30 other people, and by the time we were 10 years old it was just the two of us. This is when it was hinted to us that we had potential. Our relationship with our instructor was a lot like the one in the movie The Karate Kid. One time we were in class, and we had to spend an entire hour or two staring at candles in order to practice focusing. As the Night of Moves performance approached, our struggle was to bring both halves of our cultural identity together for this performance. It was more difficult at the end combining jazz and traditional Indian dance. Your cultural identity is so much of who you are, and we have two feet stuck in two doors; one in India where our traditional dance originates, and one in New York where we were born and raised. I think that that was one of the most important things we learned throughout this 10-year process.
J.G: Where do you see yourself in the next few years?
SK: I will continue to dance. I am passionate about music, so if I choose to pursue singing or acting, it's still a major part of the process. I'd also like to use this as an opportunity to retain tradition but to also evolve and expand on it. This is such an amazing way to bring different communities together.
RK: I'd like to think of what we did during this Night of Moves as our small contribution to a field of creative expression that is constantly evolving and constantly changing. Nobody has ever really done what we've done before by fusing two very different styles of dance and music. I learned especially from Alvin Ailey that you can combine different cultural dances and turning that into something beautiful.
Wow, these amazing young ladies spent most of their lives preparing for one night! They preserved traditional Indian dance and moved it forward in a contemporary way that still respects its origins. Their confidence, grace, and skill were a delight to watch as they performed. They changed the way viewers saw traditional Indian dance and jazz music. I can't want to see what the future holds for Sara and Riya!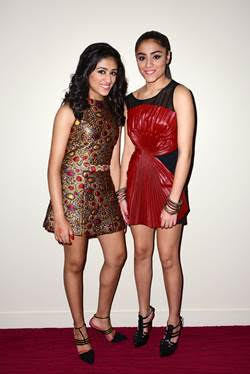 All photos courtesy of : Aurora Rose/PatrickMcMullan.com
Calling all HuffPost superfans!
Sign up for membership to become a founding member and help shape HuffPost's next chapter