Before we finish eating breakfast each morning, we have already depended on more than half of the world.
Martin Luther King Jr.'s words remind us we are not only what we eat, we are what we wear, and we are everything we are thanks to the world's work.
We already compose a full circle of global citizenship and interdependent community, now it's time to bring the economy full circle too.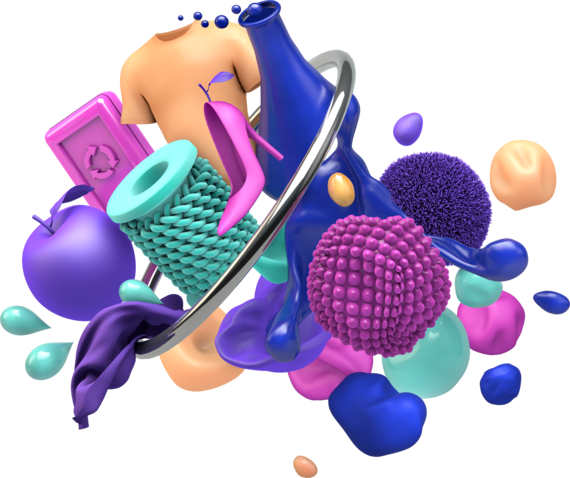 As the second dirtiest industry in the world after oil, the fashion sector is the key to advancing sustainability globally. Fashion needs to take bold action to "close the loop" from "cradle to grave", from production in the labs and factory floors to the personal production on our selves in the way we wear, use and re-use our garments, in order to slow down the degradation of our environment.
H&M has made unprecedented commitments to sustainability and to shape the future by relentlessly challenging the status quo of the present.
"Just as when my grandfather founded H&M in 1947, we are a company with a long-term view and strong values. Our sustainability commitment is deeply rooted in our culture. We are well aware of what a gift it is to grow up and live in a democratic state that respects the environment and human rights, and it is in this spirit that we also want to operate globally - today and tomorrow," Karl-Johan Persson, CEO Hennes & Mauritz.
The Persson family hails from Sweden where less than 1 percent of waste ends up in the garbage. As the first EU green capital (Stockholm) and one of the most environmentally progressive nations in the world, sustainability is a core social and family value for Swedes and an inspiration for Swedish companies to maintain a harmony between man and land in the way they do business.
In this spirit, Stefan Persson founded the H&M Foundation, a global, privately funded non-profit with a mission to marry passion and values, sustainability and innovation, with solutions to change our world.
Sweden is the land of Alfred Nobel, and a quest for great ideas and empirical excellence remains interwoven in the social psyche. Like Mr. Nobel who believed that even if only one out of thousands of ideas is good then the time spent was worthy, Mr. Persson and his family have invested equally in the quest for great minds and new approaches.
Last year, the H&M Foundation launched the Global Change Award, one of the world's biggest challenges for early stage innovation and the first such initiative in the fashion industry. Akin to the Nobel Prize for fashion, the award seeks to disrupt the industry by selecting the best early stage ideas and incubating them toward the goal of a circular fashion industry.
"Moving towards a circular fashion industry is of immense importance. Even though it's challenging, it also opens up great opportunities, and makes clear business sense," Karl-Johan Persson.
The circular approach represents a shift from the linear "take, make, waste" production and consumption model to a model where products and valuable resources are being used in closed loops, according to the H&M Foundation.
The Global Change Award seeks new concepts that can speed up the shift from a linear to a circular fashion industry, with the ultimate goal of protecting people, the planet and ameliorating our living conditions.
Nominees for the award are selected, and narrowed down by an esteemed expert panel which includes supermodel and environmental activist Amber Valetta, Vikram Widge, Head of Climate and Carbon Finance at the World Bank Group, and more leading sustainable fashion experts.
Winners receive a 1 million euro grant, distributed among them through a public online vote, and a yearlong accelerator program provided by KTH Royal Institute of Technology and Accenture.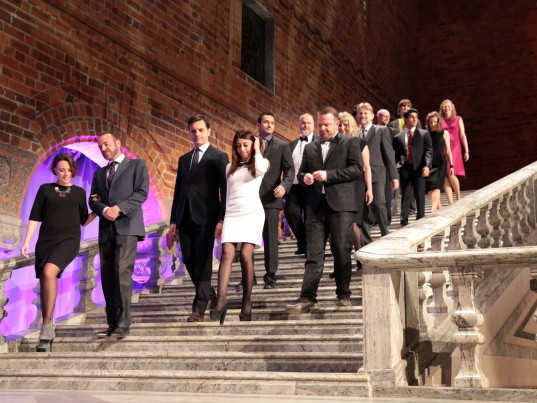 Winners walking down the historic stairs of Stockholm's famous Stadshuset, City Hall, where the Nobel Prize Gala is held.
Last year, the selected awardees included innovators using citrus plants and green algae to make textiles, converting waste cotton into reusable materials, and using microbes to recycle polyester waste, all ground-breaking ideas that could change the industry for good.
"Sharing new ideas is key for the fashion industry to become circular. By selecting and promoting the projects of brilliant, creative and concerned people, the Global Change Award is making a significant contribution to accelerating this beneficial change." Franca Sozzani, Editor-in-Chief Vogue Italia and GCA jury member.
Fresh ideas are the foundation for change, but scaling and growing them is an enormous challenge in every sector. It takes a Goliath to help shine light on the strength of David. Fortunately, this is where only a company with the global reach of H&M and the heart and drive of the H&M Foundation comes in.
"We know for a fact that winning the Global Change Award opens a lot of heavy doors and it will give you a boost through funding, coaching, access and validation that you probably can't find elsewhere. If you want to reinvent one of the largest industries in the world, this is the place to go," Erik Bang, Project Manager for the Global Change Award.
In today's era of modern communications, attention and audience building can be more valuable than investment and financing. All five of last year's winners credit the Global Change Award with giving them the public awareness, access and network that would have taken them a lifetime to achieve, if they were lucky.
"The grant of course was welcomed, but the attention we have received from this award has played a very important role. When you work in a lab, you can be doing great things that no one ever sees or cares about. Winning the Global Change Award puts our work on display and raises awareness," Michael Hummel, Aalto University Helsinki and 2015 GCA winner.
Creativity, consideration and consumption need to learn to live in symbiosis. We need to leverage a mass movement toward quality not quantity, goodness and humanity not purposeless consumption and instant gratification.
A new generation is demanding fashion to be an agent for change and H&M is hearing that siren call loud and clear. The Global Change Award is the platform for positive social change that will help build the groundwork for the heroes of tomorrow.
Listen to the 2015 awards ceremony and exclusive interviews with Amber Valetta, jury members and winners from on Stand Out podcast with Natalia Brzezinski.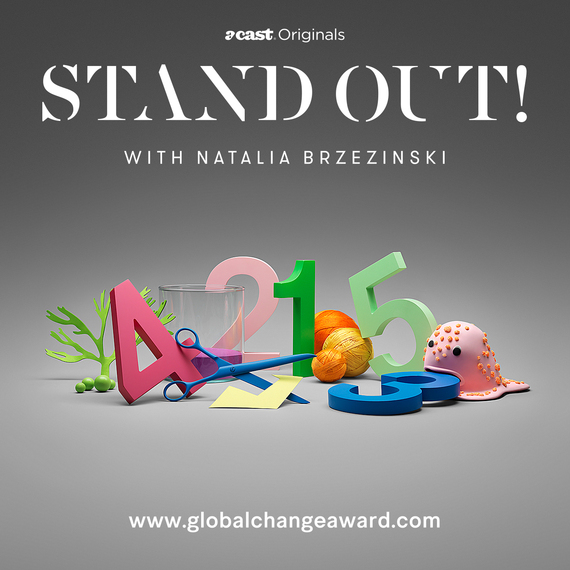 Follow the Global Change Award: Facebook: Global Change Award, Twitter: @glblchangeaward, Instagram: @globalchangeaward Hashtags: #gca2016, #HMFoundation.
YouTube channel