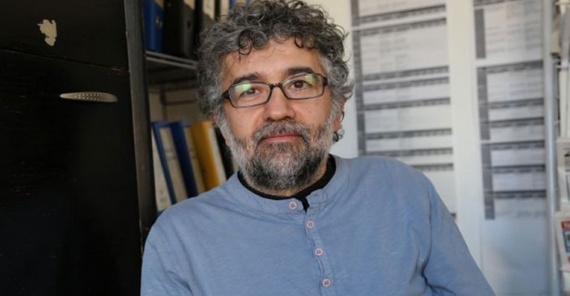 I have known Erol Önderoğlu for ages.
This gentle soul has been monitoring the ever-volatile state of Turkish journalism for ages, more regularly than anybody else. His memory, as the national representative of the Reporters Without Borders (RSF) has been a prime source of reference for what we ought to know about the state of media freedom and independence.
On June 20, we all witnessed, perhaps not so surprisingly, Erol being sent to pre-trial detention, taken out of the courtroom in Istanbul in handcuffs.
Erol was subjected to a legal investigation together with two prominent intellectuals, author Ahmet Nesin, and Prof Şebnem Korur Fincanci - who is the Chairwoman of the Turkish Human Rights Foundation - because they had joined a so-called 'solidarity vigil', as a 'one-day long editor', at the pro-Kurdish Özgür Gündem daily, which has has been under immense pressure lately.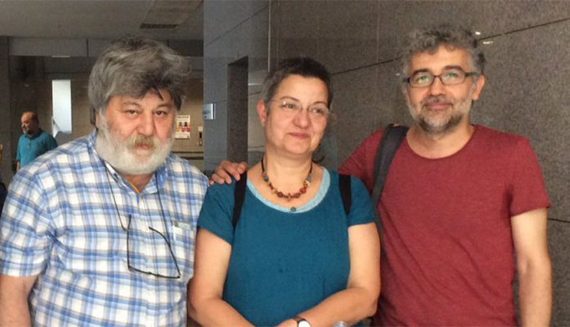 This 'vigil' had assembled, since May 3, more than 40 intellectuals, out of which 37 have been probed for the same charges. One can now only imagine the magnitude of a crackdown underway, if the courts copy-paste detention decisions to all of them, which is not that unlikely.
The gravity of the event had also to do specifically with Önderoğlu as a symbol - a rigorous monitor of the state of the media in Turkey, a respected personality whose judgments count as prime source reference in international circles.
Journalism has, without the slightest doubt, become the most risky, and endangered, profession in Turkey. Because it is essential to any democracy, its demise will mean, simply, its end as well.
It is now a country - paradoxically, a negotiating partner with the EU on membership - where journalism is criminalized, where its exercise equals to taking a walk on legal, political and social minefield.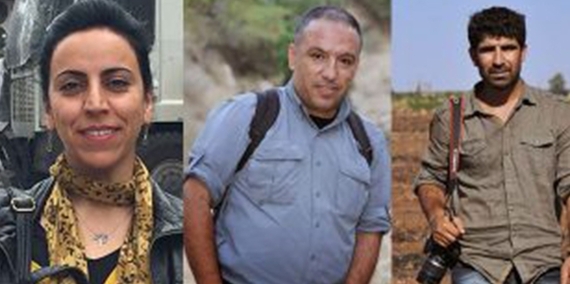 'May God bless the hands of all those who beat these so-called journalists' tweeted Sait Turgut, a top local figure of AKP in Midyat, where a bomb attack in June 8 by the PKK had claimed 5 lives, leaving more than 50 people wounded.
Three journalists - Hatice Kamer, Mahmut Bozarslan and Sertaç Kayar - had come to town to cover the event. Soon they had found themselves surrounded by a mob, and barely survived a lynch attempt.
Most recently, Can Erzincan TV, a liberal-independent channel with tiny financial resources, but a strong critical content, was told in writing from TurkSat satellite board, that it will be plugged off from the satellite, due to 'terrorist propaganda'. How? Because some of the commentators, allowed to express their opinion are, perceived as affiliated with Gülen Movement, now declared as a terrorist organisation by President Erdoğan.
That the AKP figures from top down demonize journalists this way is commonplace.
Harrassments, censorship, criminal charges and arrests are now routine.
Detention of the three top human rights figures, the event in Midyat or the case of Can Erzincan TV are only snapshots of an ongoing oppression, which with a huge magnitude is aimed at exterminating the 'Fourth Estate', media, as we know it.
The lethal cycle to our profession approaches its completion.
While journalists in Turkey - be them Turkish, Kurdish or foreign - feel less and less secure, the absence of truthful, accurate, critical reporting has become a norm. To report stories such as ''Panama Papers'' (which indicates hundreds of Turkish business people, many related with the AKP government) or the emerging corruption case of Reza Zarrab, an Iranian businessman, (indicated as closely related with the top echelons of the AKP) seems unthinkable, due to dense self-censorship.
Demonisation of the Kurdish Political Movement and the restrictions in the Southeastern region has made it an extreme challenge to report fairly the tragic events unfolding in the mainly Kurdish provinces which left, according to Amnesty International, around 500.000 to leave their homes, becoming displaced.
Journalism in Turkey now means being compromised in the newsrooms, facing jail sentences for report or comment, living under constant threat of being fired any moment, operating under threats and harassment. A noble profession has turned into a curse.
While fewer and fewer people are left with any doubt that the case of Turkey is one about full concentration of power in a single person, who claims supremacy before all the state institutions, the state of its media is one, now, without any editorial independence and diversity.
President Erdoğan, copying like-minded leaders such as Fujimori, Chavez, Maduro, Aliyev and, especially, Putin, did actually much better than those.
His dismay with critical journalism surfaced fully from 2010 on, when he was left 'unchecked' at the top of his party, alienating other founding fathers like Abdullah Gül, Ali Babacan and many others who did not have an issue with a diverse press.
Soon it turned into contempt, hatred, grudge and revenge.
He thought, obviously, that series of election victories gave him legitimacy to launch a full-scale 'power grab' campaign that necessitated a mass-scale 'media capture'.
His multi-layered media strategy began with Gezi protests in 2013 and exposed his autocratic intentions fully.
While his loyal media groups helped polarize the society, Erdoğan stiffly micro-managed the media moguls with a non-AKP background (whose existence depended on the lucrative public contracts) to exert constant self-censorship in their news outlets, which they due to their greed willingly did.
This pattern proved to be successful. Newsrooms abandoned all critical content. What's more, sackings and removals of dignified journalists peaked en masse, amounting now to approximately 4.000.
By the end of 2014, Erdoğan had conquered the critical mass of the media.
2015 up to now we saw more drama. The attacks against the remaining part of the critical media escalated in three ways.
Doğan group, the largest in the sector, was intimidated by pro-AKP vandalism last summer, and brought to its knees by legal processes on alleged 'organized crime' charges involving its boss. The result is now a journalism, whose teeth have been pulled out.
Meanwhile, police raided and seized the critical and influential Koza-Ipek and Zaman media groups, within the last 8 months, terminating some of its outlets, turning some others pro-government overnight after appointing trustees over them, firing more than 1.500 journalists.
Kurdish media, meanwhile, became a prime target as to the conflict grew and more and more Kurdish journalists found themselves in jail.
With a sector now up to 90 % under direct or indirect control of President Erdoğan, a 'genetically modified medya' at the service of his power drive, decent journalism is left to a couple of minor TV channels and a handful newspapers with extremely low circulations.
With 32 journalists in prison and its fall in international press freedom indexes continuing uninterruptedly to new all-time lows, Turkey now has a public stripped of its right to know, its ties cut off from public debate.
Journalism gagged means not only an end to its democratic transition, but also all bridges of communication with its allies collapsing into darkness.
I am now left with one image; that of Erol being taken out from the courtroom that day - in handcuffs. I shall never ever forget that snapshot.
Nothing else could symbolise the way the top authority in Turkey regards the messengers of truth.
A noble profession, always at the service of democracy, anywhere, has now turned into a curse in Turkey.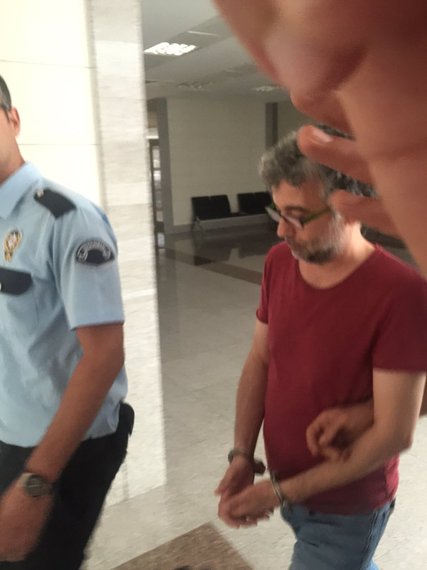 Calling all HuffPost superfans!
Sign up for membership to become a founding member and help shape HuffPost's next chapter