Sundance Film Festival, Utah: It's complicated to be cool. That's one of the lessons I've learned from an eye-stuffing week of movie-watching at Robert Redford's 2015 Sundance Film Festival.
Everybody knows what Sundance is, more or less -- the nation's premiere independent film festival. But other than film industry insiders and Sundance groupies, almost nobody understands how to navigate the ticket thicket for the annual January film fest based in beautiful, ski-and-snowboard-friendly Park City, Utah.
And so, to share with other plebian, non-film industry folks what I've learned about sampling Sundance's extraordinary roster of indie films, panel discussions with story-tellers extraordinaire and related events, here's a non-insiders guide to getting tickets to the estimated 650 public screenings at the consummate insiders' event: the Sundance Film Festival.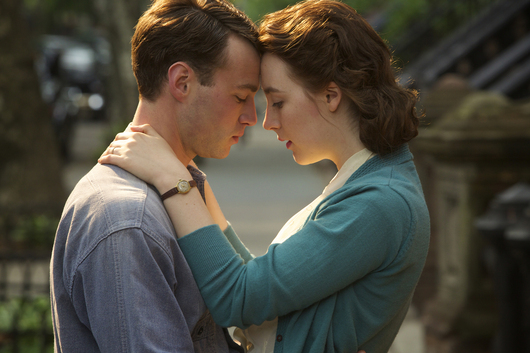 The film "Brooklyn" premiered at Sundance 2015. Photo courtesy of Sundance Institute.

What the Sundance Film Festival is Not
The first thing to know, if you are member of the general public, is that unlike your local film festival, however hip or indie, the Sundance Film Festival is actually not built entirely for you, the consumer.
It's an elaborate viewing edifice designed to showcase carefully culled and curated films, documentaries, features and shorts to industry viewers.
This year, 118 full-length features are being shown, representing about three percent of the over four thousand films submitted. (Harvard's acceptance rate is higher.) The vast majority, 103 of the 2015 Sundance films being screened are world premieres. About half are the work of international filmmakers, and half are by Americans, transforming Sundance into a global event. The ten-day festival is where film distributors of all stripes view, discuss and most importantly make deals for the films you and I will see (or not) on TV, cable, online and in theaters large and small. It's also a proving ground for international films' distribution.
Sundance is like a huge slingshot, a launching pad for newly minted, independently created films to find their way to audiences.

Public's Demand for Film Tickets Outstrips Supply - Or Does It?
Sundance feels vast. It gobbles up much of Park City. Events are held in the public library, the high school auditorium and local commercial movie theaters. Restaurants, bars and even stores on historic Main Street are transformed into venues for invitation-only parties, media events and music cafes. The festival sprawls into Salt Lake City, a 45-minute drive away (where movies are shown at Salt Lake Community College's 1,100 seat Grand Theatre, among other venues) and Ogden, even further.
If Sundance is a buyers' market in terms of film distribution, it feels like a sellers' market in terms of getting tickets for screenings. Of a guestimated 100,000 festival tickets, a sizable number go to industry people, VIPs, sponsors and participating filmmakers. Both volunteers and locals (who understandably get miffed when unable to get tickets to a festival that brings 50,000 visitors to their village) have special purchasing options, too.
But, the public is welcome. Only "twenty percent of our attendees are press or industry folks; the other people are film fans or aspiring filmmakers," says Sundance ticket guru Linda Pfafflin. And, a publicist for global premiers told me that especially at premieres, "filmmakers love having "real people" in the audiences to see what reactions their work elicits," up close and personal.
8 Ticket Strategies for Sundance
Here are eight great ticket-buying strategies for Sundance.
1. Register in September. Utah is ski country, and the process (and process it is) of buying festival packages or passes resembles slow motion slaloming through gates; you go through one, and then another, in a 5-step, 5-month process before you're done:
• In September prior to the January festival, you register online.
• In October, around Columbus Day, you receive an email with your personal "timeslot" when you can log into the Sundance website to select your ticket package.
• Later in October, you log in and make a commitment to how much money you will spend (ranging from a few hundred bucks to over a thousand) for your tickets.
• In December, after the Festival has released the names of the films being shown, you'll get another email notification of another timeslot in January.
• In early January, you log in during your timeslot and make your film selection online. Whew.
Buyers aren't guaranteed availability of anything, from 10-movie packages to all-access passes, to scoring tickets to your favorite indie director's latest flick. And, the pecking order for "timeslots" is randomized by a computer.
2. Make a contribution. But money greases all wheels, and to get a jump on things, you can become a member of the nonprofit Sundance Institute, the lesser-known powerhouse parent of its more famous offspring, the film festival. A partially tax-deductible $2,500 contribution advances your place in the line for packages and tickets. But you'll still pay for the tickets.
3. Make friends with a local. Local residents have their own ticketing options, so if you are on good terms with your uncle in Park City and he isn't using all his tickets, maybe he'll share his with you.
4. Volunteer. If you have more time than money, think about volunteering. An immense logistical infrastructure at Sundance is aided by a smiling army of some 1,800 volunteers, from college kids to retirees, some of whom are rewarded access to films. Twice as many wanna-be volunteers apply as are accepted. Start early; applications are due mid-August.
Tips on Selecting Your Tickets:
Allot a nice weekend in December or early January to study the Sundance schedule once it's released. Juggle a few factors: which films you'd like to see, the timing of the screenings (they run from early morning until midnight) and their locations. Transportation on festival shuttle buses is free, but despite the fun of standing cheek-by-jowl with other film enthusiasts, you won't want to arrive late to a film and get shut out.
Pick lots of favorites prior to choosing your films online. As a rule of thumb, for every film you'd love to see, find one or even two acceptable alternatives. Films get booked up fast. Make sure you have a Plan B.
Veteran Sundance volunteer Susan Lee Strauss shared some tips. Look for early morning screenings "because people party late at Sundance. A lot don't get up for the early movies." And, she adds, if your film of choice is playing at more than one location, put in your bid for the larger of the venues, namely Eccles, Marc and the library in Park City.
If you want to have less competition for tickets, consider "doing" Sundance in Salt Lake City, where films in every category are played (though you'll have less choice) and where you can find cheaper accommodations and food, less winter weather and faster airport access.
II. Last Minute Purchasers
Individual tickets go on sale right before the Festival officially begins, in January. Day-of-show tickets in 2015 cost just $20. Waitlist tickets cost $15, and if you don't get in, you aren't charged. Selection is catch-as-catch-can.
5. Get same-day tickets. Same-day tickets become available at 8 AM. In 2015, one intrepid college student trekked at 5 AM to the Festival Center in downtown Park City only to discover he wasn't the first; the line-leaders had partied late and then napped in sleeping bags near the box office -- a chilly proposition at 7,000 feet.
6. Use the e-waitlist app. As of 2014, festival-goers may register online for a waitlist via smart phone or tablet. You have to wait on line at the theater to see if you make the cut. Cash only.
7. Work the lines. Ticketholder lines start forming 40 minutes before a screening. Just walk up and down the line, asking whether anyone has extra tickets.
8. Wait until the Festival's last weekend to see Sundance award winners. One local resident told me, "I just wait until the last minute and buy tickets to see the winners."
If this sounds complicated, well, it is. It pays to study up on the ticketing options and rules, spelled out on the Sundance website. For instance, there's a cheap ticket package for 18 to 25 year olds and another for Utah students. It's also crucial to read the small print about cancellations, ID requirements and other rules of the Sundance game. If someone is found scalping or making a profit on resold tickets, they'll be barred from getting tickets to future Sundance festivals, relegating them to a special circle of indie film lovers' hell.
Getting tickets to Sundance requires, well, work. It takes almost as much time and attention as planning a trip abroad. But is it worth it? Absolutely. And now excuse me, but I'm late for my 8 AM premiere.
Popular in the Community