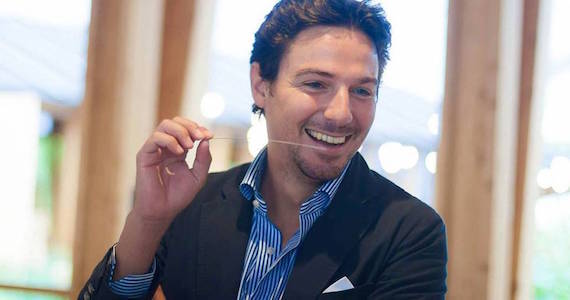 At this year's Pitti Fragranze, the yearly fragrance affair organized by Pitti Immagine inside the Stazione Leopolda in Florence, I wanted to deepen my love affair with perfume. No better way to do it, I thought, than by interviewing world-renowned olfactory artist, and what is known in the business as a "nose", Luca Maffei.
Don't let Maffei's young age, he's hardly thirty years old, and good looks fool you. He's already a powerhouse when it comes to designing fragrances. Maffei comes from a family "in the business" as he likes to say, and trained in Grasse -- the promised land of scents in the fragrance world -- with Françoise Marin. After an internship in the south of France, he returned to his native Italy and since 2011 he's been making waves in the perfume world. Along with his father Marco Maffei as well as Maurizio Cerizza, one of the most important contemporary Italian noses, Luca is now part of the team at AFM Atelier Fragranze Milano.
Winner of multiple awards, and creator of at least half a dozen best-selling scents, Maffei was at Pitti Fragranze this year with a few different perfumes, including 'Gelsomini di Capri' by Carthusia and 'Taersìa' by Gabriella Chieffo Profumi. He's also responsible for creating the signature scent for Alitalia, Italy's national airline, though the fragrance hasn't been unveiled at Pitti Fragranze.
Personal favorites include his 'Cologne Intense' for legendary French fragrance house Houbigant Paris. In his groundbreaking reinvention of the Eau de Cologne, Maffei pairs the typical Italian citrus notes with Neroli from Morocco and lavender with pink pepper and Indian jasmin. But then, for the final punch, he throws in darker, spicy notes of patchouly and oakmoss, with a deep touch of amber. The result is a sultry perfume that feel as fresh as it is sexy. It's the perfect date night scent worn with a little black dress, or by a man with jeans, a white shirt and a jacket.
Another winner is a fragrance of love called 'Secrets du Paradis Rouge' which Maffei created for French brand Jul et Mad. This latest masterpiece was unveiled during Pitti Fragranze and is the fifth chapter in the story of the brand's founders, a couple who decided to tell their love story through scent. But more on this magical perfume in the interview below.
So, why write about fragrances, since I'm mostly a film and culture writer, you may wonder? Well because I believe that the world is limitless and putting a wall up of any sort around us and our work, only creates unhappiness and limits our ability to dream. And, there is an undeniably evocative power in perfume. We all want to appear at our best, so this accessory is important as something that is representative of us, helps us to express ourselves at our most basic. Whether we admit it or not, and save a few who claim to be allergic to the stuff, the search for that exclusive perfume, a rich fragrance that immediately shows off the luxury of its raw material, is an important part of that never-ending quest for us to appear our best selves.
What I wanted to ask Maffei were the most basic questions, those that anyone who doesn't really know the eighth art, the olfactory art, would want to ask. I dared, and the answers now make me cherish the fragrances I own, and those I covet, even more.
What inspires a person to create a new perfume?
Luca Maffei: This is a beautiful question. Everything is inspiration. The passion that people have who work in this art, is the passion to communicate through the olfactory sense. The nose is like a translator, an interpreter, so we rarely create for ourselves, rather we make our capacity available to those who wish to create perfume and communicate something. It can be the wish to communicate an image, a feeling, a film, a memory or a landscape.
How is a new perfume created? What starts the process?
Maffei: It starts from an idea. And that idea can be associated to a memory, a moment, a trip, a recollection that lights up this desire to transform it.
At which point does the name of a fragrance come into play?
Maffei: I believe that often the name comes beforehand. It is the starting point, because there must be a continuity between the perfume and its name, the message it wishes to send out.
Obviously you can't name a perfume containing incense, something like "A Day at the Beach"!
Maffei: Obviously not! But then these are decisions made by the brand's creative director. We are briefed on a concept that the owner of the brand has decided to realize. That's why I was telling you that we are a bit like translators... I can take, for example, 'Secrets du Paradis Rouge' by Jul et Mad, a French brand who tell their love story through perfume and this is their fifth chapter. It's dedicated to their honeymoon in Morocco, in a riad, which has become their secret hideaway. Hence the name, the "secrets of the red paradise", Marrakesh is the red city, and inside the riad was filled with orange blossoms and all this brought us to the creation of the fragrance. These are all the messages, all the imagery that Jul and Mad wanted the fragrance to be filled with. So a nose then takes all this information and transforms it.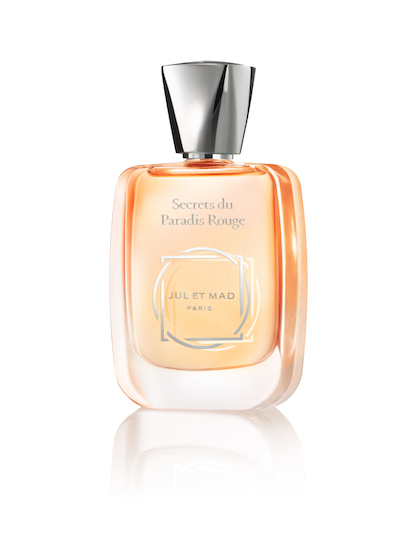 How long does it take to create a perfume like this?
Maffei: There isn't a standard rule. After all, a perfume is the combination of 50 or 60 or even 80 different components. So we must allow the right amount of time to find the perfect formula.
Does it ever happen, as it does to filmmakers, that once a perfume is finished there are some things that you would have liked to have said through it, and maybe some you didn't want to express?
Maffei: It can happen. The will to experiment never ends. So at times it can happen that you think, well maybe I could have done this in a different way. But then I think I'll do it next!
For you, what is the ideal perfume?
Maffei: All -- there isn't a single one...
Do you really love all notes?
Maffei: No, of course, everyone has favorites. I love woods, I love spices, and I love to use woods and spices together because they create contrast. A perfumer has at his disposal around five to six thousand different materials and to use them all would be impossible. So naturally the palette that we use narrows down to about two hundred raw materials which are the ones that are most liked, most attract us. Often we talk about the olfactory signature of a nose because there are combinations and raw materials that guarantee a good outcome and are liked, stimulate the creator and so he ends up using them almost always or starts from them to create through perfume.
When you are with fellow noses, perfumers, and you all smell something, what do you say?
Maffei: Those who see us from the outside, when we talk -- a fragrance designer or a perfumer, a dealer -- must think we are crazy. First of all, we smell everything and when we detect a scent, and someone asks, "is it good?" before saying yes or no, we start to say, "ah yeah, here there is some Hedione, there is Galaxolide, some orange blossom..." We talk through associations of raw materials and notes. And some have really unrepeatable names.
Images courtesy of Progettocaffeina, used with permission.
Related