Maybe it was because his mother's name -- like my mom's -- was Anna.
Or maybe it was because he loved the talk show format, or that he was unconventional, marching to the tune of his own sound bite. Or that he collected playbills, memorabilia (a Greta Garbo shoe and a Jack Benny violin), and sheet music. Or because I'm the Queen of Reminiscence, and he was the "King of Nostalgia." Or that he was the grandson of Jewish immigrants. Or that he had moxy, introducing himself to George M. Cohan as a teenager. Or that he loved silent films, Hollywood's Golden Age, Mack Sennett's Bathing Beauties, and jazz music. Or maybe because he loved to interview both the A- and D-listers.
But whatever the reason, I was a Joe Franklin fan. I 'd always wanted to be a TV host -- growing up in the 1960s with a family of talk show watchers. I became one too and joined my parents in their Bell Park Gardens, Queens living room with Mike Douglas, Merv Griffin, and Dick Cavett. But my all-time favorite? The double broadcast threat of radio and TV master Joe Franklin.
But Joe's skills soared way beyond the interview. And, after all, why narrow oneself to a single profession, when you can spread out? Literally. Joe's office was a tad chaotic, but to me, that simply reflected an open-minded style. In an age of niche and specifics, Joe Franklin stood out as an inter-disciplinary guy. But hey, why not be a Renaissance Man, a Joe of all Trades? As a writer/commentator/musician/ watercolorist/comedienne and talk show host, I salute Joe for spreading himself thick. A skits writer (The Kate Smith Hour); restaurateur; connoisseur of golden-age classics; author (Up Late; Classics of the Silent Screen); DJ; actor (Broadway Danny Rose), talk show host, and music programmer (selecting records for Martin Block's legendary radio show Make Believe Ballroom), Joe was ahead of his time. A trailblazing preservationist, he worked to preserve early silent films that were disintegrating into nitrate dust.
WIth apologies to Proust, Remembrances of Things Past is a jog down the streets of 1960s, featuring The Joe Franklin Show. At the age of 10, I was listening to his Memory Lane show on WOR-TV Channel 9. It was 1963, and I remember both watching Ed Sullivan introduce The Beatles and Joe Franklin nurture Jackie Mason. I was hooked. I wanted to be both a comedian and a talk show host.
Joe Franklin interviewed bizarre combos of guests, from celebs like Fred Astaire and Salvador Dali to Ed Sullivan-ish plate twirlers, blending Ronald Reagan and The Dancing Dentists. His eclectic mix intrigued me. After all, why should the stars get all the attention? And how could they become stars if they didn't get a shot? As a performer and unknown comic with a strange linguistic skill (talking backwards), I remember the thrill of being offered a spot on Arsenio, after submitting a home video. Ditto for The Steve Allen Show.
Joe Franklin gave many creative thinkers and artists a start, from rocket scientists to rock 'n rollers, from Barbra to Woody. For many, he was not only the King of Nostalgia, but the King of Exposure. Frankly, it seemed Franklin was intuitive; he felt the chemistry between opposites, like the anthropological mixture of Margaret Mead and a guy who whistled through his nose. Unlike the modern day Jimmy Fallons and Jimmy Kimmels, Joe Franklin booked his own guests. He simply had no use for talent coordinators. It took a gallant, non-egotistic soul like Joe Fortgang Franklin to shine the spotlight on the interviewee. Now, like mentor Joe, on my own radio show, I let the guest glow.
Ironically, on a glow-y, snowy January 1, ushering in 2015, I finally met Joe Franklin. I thought it would be a great way to start out the year, since Joe's long-running show won him the Guinness World Record for Longest Running Continuous On-Air TV Talk Show Host. He was the Grand Marshall of a rather offbeat New Year's event at NYC's Metropolitan Room's 60-hour record-breaking marathon -- which made the Guinness Book of Records for the longest variety show ever. A perfect match.

In a connect-the-dots world, the owner of the Metropolitan Room broadcasts a show just prior to my own radio talk show. I happened to be sitting catty corner from Joe's booth, so I asked him politely if we could take a picture; he was the epitome of old world gentlemanliness. He graciously suggested I could call him if I needed anything ("I'm still listed"). In a complete non-sequitur, he then asked how I stayed so thin. What more could a girl want?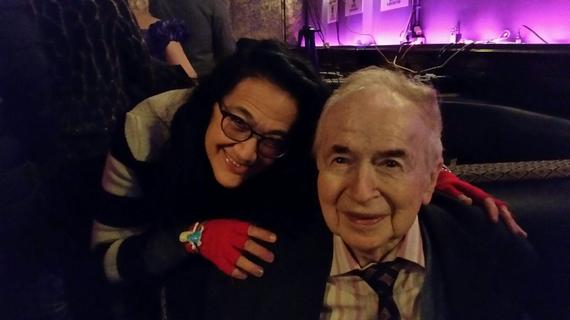 When he got up to the mic, I felt an immediate connection. I resonated with his straightforward style. Unlike today's comics and hosts sporting jeans and casual sportswear, Franklin wore a jacket and tie. His deadpan humor spoke to me, evoking Henny, Rodney, and the old Catskills comedians. Amidst a particularly grim spell of world news gloom, he was a ray of sandpapered sunshine. His delivery was impeccable: "I've been on stage since The Dead Sea was just sick!"
Often criticized for my sentimentality (poring over old Polaroids, home videos and Valentines Day greeting cards from my Mom and Dad), I found my match in Joe Franklin. On-air, he waxed nostalgic about Errol Flynn, Marilyn Monroe, Eddie Cantor. On stage, he remembered the way they used to put pictures of missing children on milk cartons, and described his new cause: putting pictures of missing transvestites on half-and-half cartons. Crediting Bob Hope, he made a toast: "Here's to our wives and sweethearts, ... in hopes they never meet!" He segued gracefully into a description of baldness: "if you're bald in the front it means you're a thinker, if you're bald in the back it means you're a lover, and if you're bald in the front and back it means you THINK you're a good lover!"
As I left the Metropolitan Room, just like Joe, I play a jazz standard theme song on my radio show -- Stan Getz' Moonlight in Vermont. Joe Franklin's TV show theme music? Another standard of jazz, a ragtime piano version of 12th Street Rag. In a final stroke of irony, Joe Franklin died, 23 days after New Year's, as in a silent film, at the age of 88, the very number of keys on the piano he so adored.
Calling all HuffPost superfans!
Sign up for membership to become a founding member and help shape HuffPost's next chapter