They both packed engagement rings -- secretly. Lisa was going to propose in Indonesia. Jenni beat her to it and popped the question in the Philippines. Then the couple trekked onward across Asia to Nepal, where I caught up with them at a famous Kathmandu pizza joint.
Fresh off a two-week Himalayan trek, the couple hardly showed any wear. "We've come up with ways to cope with all the aspects of travel," Jenni explains. They've had plenty of time to do just that.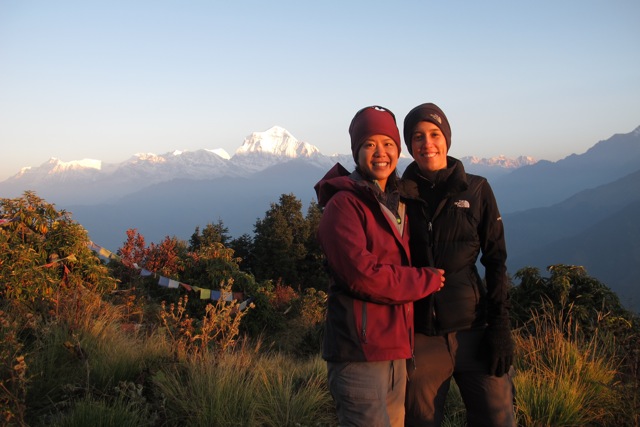 The couple met at an HIV charity bicycle race in San Francisco in 2007. A few years later, itching for adventure, they decided to drop their lives in the Bay Area and spend a year traveling the world. The only thing missing? A purpose.
"I had a friend who wrote her dissertation on the stories of cancer survivors around the world," Lisa says, "and it always sort of stuck with me that her travels were so meaningful because there was a common thread among the places she visited."
Thus was born their blog, OutAndAround.com, "stories of a not so straight adventure." Their mission, simply put, was to meet the world's "Supergays" wherever they went.
In Shanghai the couple met with a group of queer women. The group asked them to give a presentation, so they launched into a discussion of the LGBT rights movement in the U.S. and around the world, but it was brought to an abrupt halt by questions fired at them: "Are you going to have children?" "How?" "What happens if you get divorced?"
This trip has challenged the couple in many ways, including when it comes talking about their relationship with strangers or, as Lisa corrects me, "new friends."
"We didn't expect these questions," Jenni remembers, "so we just started answering them as best we could."
With that attitude, they embraced life on the road.
In Nepal they met with Sunil Babu Pant, the president of the country's leading sexual and gender minority rights organization (Blue Diamond Society) and a member of Parliament -- making him the first openly gay federal-level politician in Asia.
Pant told them the history of Blue Diamond Society and the Nepali LGBTI rights movement, including a landmark Supreme Court decision in 2007 and the government's promise to issue citizenship ID cards that allow transgender and gender-variant people to self-identify as "third-gender."
They also met Bhumika Shrestha, an emerging leader of Nepal's third-gender community and the Nepali Congress, one of the country's most powerful political parties. "We met her mom, we met her boyfriend -- she was so enthusiastic about showing us her life, so proud," recalls Jenni.
The couple stayed 40 days in Nepal, their longest stint in a single country yet. Throughout their stay, they heard stories of a new LGBT community center being built in Kathmandu, the first of its kind in South Asia. And they departed "content knowing that we'll return and can't wait to visit Nepal's LGBT center next time."
But on the ground, while Jenni and Lisa have found the conversations inspiring, they've also found the stories and experiences they've encountered enlightening and humbling.
"Here we were, a lesbian couple from San Francisco, thinking we knew everything about what it meant to be queer and out," Lisa says, her eyes wide. "We didn't. We don't. But what has been amazing is how open people are to meeting with us, sharing with us -- even just from a cold call or an email."
The couple alternates authorship of the blog posts, but a common honesty comes through in the stories and reflections they share. At heart, what they've done together is embrace the unknown and unpredictable through a common thread of a community that exists everywhere, despite differences.
And it has been a bit hectic throughout.
"We fought in LAX about marriage, whether we should even think about it. And that was the first layover of the trip," recalls Lisa. Jenni laughs, "Neither of us had a clue the other one was carrying an engagement ring."
The new year has African and South American adventures in store.
Related
Popular in the Community