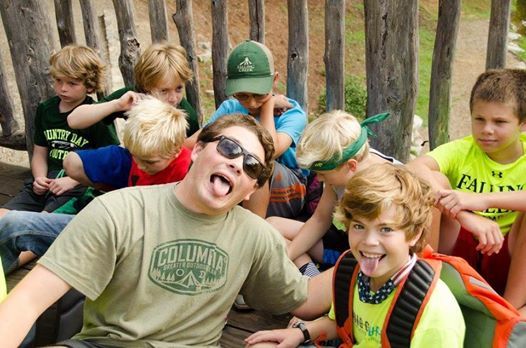 A little over two years ago, I fell in love with working with a kindergarten class and every time I pass that elementary school I am filled with a happiness that simultaneously reminds me of where I was in the fall of 2014. I have told this tale before but never in writing, the one about loss, hope, and new beginnings. I credit that room of students for putting me back on my feet and so I feel a dire need to say "thank you."
I started college much differently than most of my peers, and though this was as a result of a number of factors, the most notable of these was the death of my maternal grandmother, Cotten Parrott. Our relationship was one fueled by quiet understanding and similar viewpoints on life's essential values. She was a model of southern elegance as I've said before and her death came entirely unexpectedly. In fact, I'll never forget the moment my mom called me while I was packing my car to come home for the weekend shortly after the start of fall classes. I don't remember her exact words but I will always remember the screaming in the car on the way home after hearing her news, screaming that came from me and was aimed at no one, screaming that largely consisted of the words "no" and "Gaga" over and over and over again. Her life's celebration was a beautiful one but the impact of her unexpected death, along with everything else I found myself dealing with at the beginning of college, would weigh on me for months.
After a first semester that saw little more than depression, I came back from Christmas and quite literally stumbled on a flyer that asked me if I would like to volunteer in the Chapel Hill/Carrboro school system. About two weeks later I arrived in this kindergarten classroom first thing in the morning with a plan to do so once a week. By the end of the semester I was going in five days a week and would sometimes arrive before the students.
I don't know what it was about that class that turned my life around, but something about just being there gave me a new view on the world. I've actually never been able to articulate why being there changed me but what I can say is that it gave me an appreciation for the Chapel Hill/Carrboro community that many of my friends now know is palpable.
The students in that kindergarten class are about to be in 3rd grade, and as I look back and remember each student, I'm so thankful for every single one of them. Many of them probably don't remember who I am or how they met me, but I will never forget Carrboro Elementary for giving me a new take on life, a love of working with children, a new beginning that has since gifted me much more than I deserve. I believe in second chances because of that kindergarten class. I believe that loss can sometimes lead to hope, to love, to a new sense of direction. Thank you, Carrboro Elementary, for giving this college student the ultimate gift almost two and a half years ago.
Calling all HuffPost superfans!
Sign up for membership to become a founding member and help shape HuffPost's next chapter
This post was published on the now-closed HuffPost Contributor platform. Contributors control their own work and posted freely to our site. If you need to flag this entry as abusive,
send us an email
.