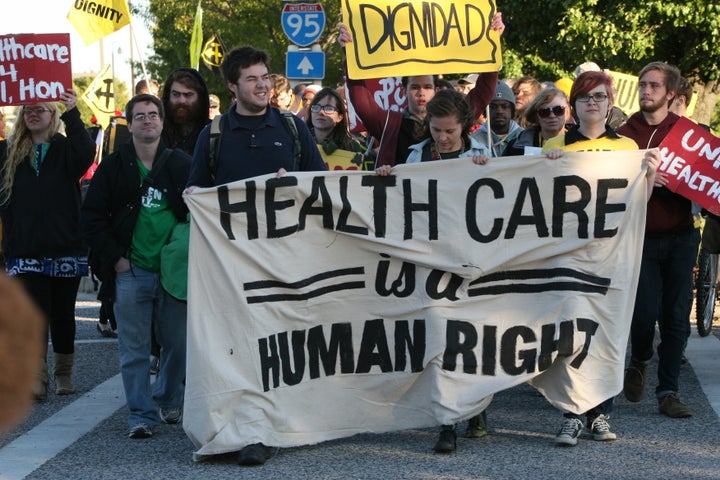 Twenty-three million people would lose their insurance. That's the big, bold headline coming out of the analysis released yesterday by the Congressional Budget Office on the current version of the American Health Care Act (AHCA), which the House voted narrowly to approve earlier this month. That's the number of people abandoned by moderate Republicans who got hoodwinked by a meaningless compromise and voted "yes" on the AHCA without waiting for the analysis of how it would affect everyday Americans. All 23 million of those people are watching to see how the Senate will respond.
Despite what some Beltway insiders might tell you, voters are paying close attention to what's happening in Washington. They want to know whether their representatives on the Hill are looking out for constituents like them, or for corporations and billionaires. Senators gearing up for a vote on their own version of the health care bill can take a moment and learn from the mistakes of their colleagues in the house.
Like the several failed iterations before it, the latest version of the American Health Care Act (AHCA) would decimate Medicaid as we know it. It would shift billions of dollars of Medicaid funding back on to the states putting critical benefits for seniors, people with disabilities and families with kids on the chopping block. This bill would slash health care coverage for those who need it most, and the moderate Republicans that were fooled into approving it will be held accountable.
And don't be fooled by disingenuous claims made by Republicans that this bill ensures coverage for those with pre-existing conditions. The Affordable Care Act already did that. This bill renders those protections null and void by allowing insurers to charge people with pre-existing conditions astronomical prices for coverage. As Rep. Chris Murphy noted, this law guarantees coverage the same way we're all guaranteed the right to own a private island – it's meaningless if you can't afford it.
The pre-existing amendment that right-winger Rep. Fred Upton (R-MI) added onto the AHCA in the eleventh hour was nothing more than an $8 billion bribe to moderate Republicans to abandon their promises to voters. To put it in context, the $8 billion the amendment provides is a small percentage of the more than $300 billion it would cost to provide even moderate assistance to those with pre-existing conditions seeking coverage. It is also equivalent to less than 1 percent of the nearly $1 trillion in tax cuts for billionaires included in the bill. It's worse than chump change; it's Trump change.
The Congressional Budget Office numbers show that for everyday Americans, this bill spells loss of coverage, higher premiums and skyrocketing out-of-pocket costs. Moderate Republicans in the House who were duped by Rep. Upton and his Freedom Caucus friends today are on the hook for the very real, very harmful impacts of the law they approved.
Republican lawmakers campaigned for the better part of a decade on a promise to repeal the Affordable Care Act, making dubious and downright dishonest claims along the way about the 2010 health care law and its impact on everyday Americans. But our representatives in Congress are also subject to a core promise inherent to holding elected office: to look out for the best interests of their constituents. The House's approval of this disastrous GOP health care bill proves that many Republicans in Congress have these priorities out of order.
After voting to strip health coverage from 23 million Americans, House Republicans went directly to the White House for a victory party with President Trump. Photos from that afternoon illustrate in living color how willing Republicans are to sell out their most vulnerable constituents to score political points. And voters will hold their lawmakers accountable for putting politics before people. On their phone lines, in their inboxes, at their town halls and, most importantly, in the voting booth next November, we will remind our representatives in Congress that their job is to look out for everyday Americans, not the president's billionaire buddies. As the Senate works to craft their own version of the health care bill, lawmakers should watch closely. Because the American people certainly are.
Dorian T. Warren is President of the Center for Community Change Action (CCCA) and Vice-President of the Center for Community Change (CCC).