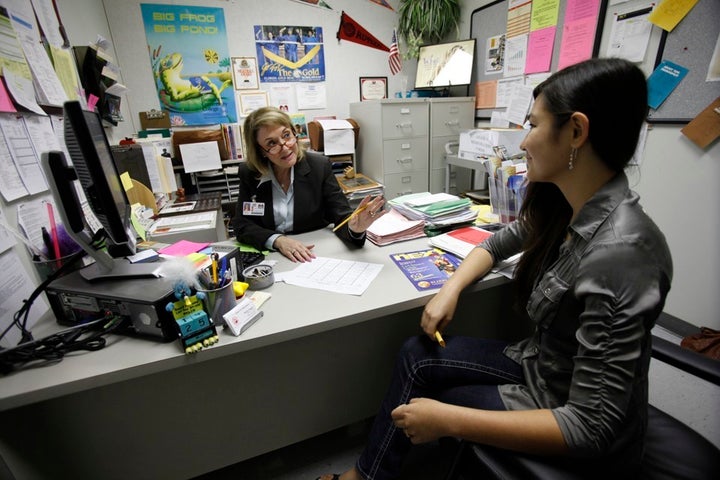 Public school systems across the country are facing attacks on their budgets as the movement to reduce funding and shift existing funds to charter and private schools gains momentum. There are enormous counselor-to- student ratios in most schools that prevent counselors from serving the broader student population at an optimal level. Universities and school systems should rethink and consider alternative counseling models to effectively reach more students.
It will be necessary to leverage assets that are currently in schools and at universities to assist more students. Too many students are not getting the services that they need in the current system. Different models should be investigated, interrogated, and piloted.
One potential model taps into the power and potential of the students themselves to help meet critical needs has been generated by a group of students at Sprayberry High School in Marietta, Georgia. The group created the concept of S.W.A.R.M. (Support With A Real Meaning) this Spring and hope to implement the program beginning in the Fall of 2017.
One of the group's creators, Kendall Flores, stated that "S.W.A.R.M. is a club dedicated to improving the mental and emotional well being of all students at Sprayberry High School. Our goal is to provide comfort and support to students in need, making sure that no one feels alone and that they always have someone to talk to. The students that will make up SWARM are ones that truly care about people and improving the lives of others around them, and need to be willing to step out of their comfort zones to make sure that happens."
An overview of how SWARM will work is that when a student comes into the counseling office and feels that their problem may be better addressed by a peer, then someone from the SWARM group will be called in to help guide them in the right direction. There will also be a "Black Box" where students can anonymously submit their problems. These problems will be discussed during monthly "lunch and learns" where students can help each other.
The group was inspired by students wanting to do something about a recent suicide and other issues that had occurred. They wanted to move beyond words into action. Flores stated that they initially emailed their school counselor to schedule an appointment to think through some of their ideas. They then went to their Principal to get the approval to move forward with the idea to move the support group forward.
After receiving support from the Principal and school administration, Flores got additional students to join her to devise an application for SWARM and help spread the word about the group. They made posters about SWARM and put them around the school advertising a "lunch and learn" where information would be presented. Applications were passed out during the "lunch and learn" with a deadline for submission.
A good number of students were excited about the initiative and turned applications in. SWARM organizers acknowledge that there are a number of implementation issues that still need to be worked out and are in the process of planning a number of different training sessions for students over the summer and other workshops during the course of the year. Among the implementation concerns that exists are developing a protocol to deal with very serious issues, confidentiality, and people just trying to use the group as a resume booster.
The idea of students playing a more active role in counseling efforts can also be expanded to the area of college preparation and readiness. In many schools across the country, there is a lack of effective ways for students to get information about the higher education admissions and financial aid process. Students often end up acquiring the information randomly through various connections. They sometimes get the information too late to adequately prepare themselves to take advantage of the full range of post-secondary options.
Students can be trained on assisting students with completing college applications, filling out the Free Application for Federal Student Aid (FAFSA), and preparing for the ACT and SAT. These students can then teach other students. Generating this kind of positive peer pressure can be a very powerful tool that can be cultivated and directed through efforts like SWARM.
Marcus Bright, Ph.D. is a Scholar and Activist