The recent box office bonanzas scored by such 3D releases as Avatar, Alice in Wonderland, and Toy Story 3 have inspired many producers to see what properties are adaptable to today's 3D film technology. Some have rolled out so-called 3D products whose use of the technology is pretty lame. Not every film studio has the artistic integrity and financial strength of Walt Disney Pictures, Pixar, or DreamWorks.
The result is that some so-called 3D films get rushed to market in a brazen attempt to cash in on a marketplace where people will buy anything that has the term "3D" built into its marketing campaign. Over the years, I've seen some pretty awful movies (Carnosaur, Rock Haven, Centurions of Rome, Adela, Ciao, The Blood of Rebirth). None, however, has been as expensive, as overproduced, as idiotic, as appalling, or as stupefyingly reprehensible as the giant steaming turd known as The Nutcracker in 3D (which will be released in theatres over Thanksgiving weekend).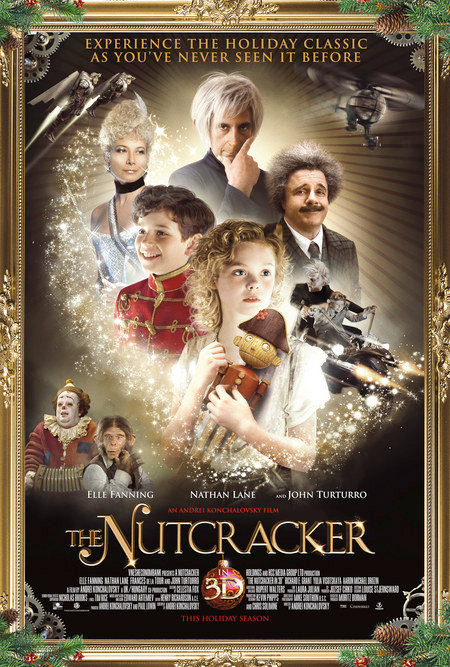 Poster art for The Nutcracker in 3D

How bad is The Nutcracker in 3D? Instead of handing out 3D glasses, they should be handing out barf bags and bedpans at the entrance to the theatre.
If you've ever wondered what 110 minutes of explosive diarrhea might feel like in 3D, by all means purchase a ticket to see The Nutcracker in 3D.
If you yearn to experience the artistic equivalent of esophageal reflux, by all means purchase a ticket to see The Nutcracker in 3D.
If your darkest fantasy is to watch Karl Rove drown the world's hopes for a brighter future in an endless supply of rancid smegma, by all means purchase a ticket to see The Nutcracker 3D.
If you want revenge on your ex, your mother-in-law, or a loathsome business colleague, by all means take them to see The Nutcracker in 3D.
If, on the other hand, you're a rational person with an ounce of self respect, don't spend a cent of your hard-earned money on the tsunami of fecal waste that is The Nutcracker in 3D. This is such a heinous and despicably greedy rape of a classic that to call Andre Konchalovsky's film a whopping piece of shit might unintentionally lend it some dignity. In far too many ways, The Nutcracker in 3D is like an afterbirth: something that (despite its purported nutritional value) should be severed and left behind so that life can go on.
Just when you thought that wretched excess could become no more wretched or excessive, along comes The Nutcracker in 3D, a film whose script (written by Konchalovsky) is so sophomoric that it makes Howard the Duck seem downright Shakespearean. The marketing campaign for The Nutcracker in 3D challenges audiences to "Experience the holiday classic as you've never seen it before."
According to the film's trailer, The Nutcracker in 3D is "based on the story and music of Tchaikovsky." However, for the sake of historical accuracy, it should be noted that this film is actually based on E.T.A. Hoffmann's story, The Nutcracker and the Mouse King, that was written in 1816. Tchaikovsky did not compose the ballet music for The Nutcracker until 1892.
Whereas The Nutcracker ballet that is beloved by millions focuses on the story of the Mouse King, Konchalovsky uses Hoffmann's subplot about the Mouse Queen as a jumping-off point to transform the mice into an army of vicious rats led by a campy John Turturro -- in a white Andy Warhol wig -- whose mother (the Rat Queen) is played by the same actress (Frances de la Tour) who portrays the drunk housekeeper.
Don't think that Konchalovsky limited himself to ripping off ideas and images from The Wizard of Oz. In order to appeal to adolescent boys, there are attack helicopters, Star Wars-like air taxis, giant robots stomping around the territory, a battle scene that looks more like a video game, and a scene straight out of Chicken Run.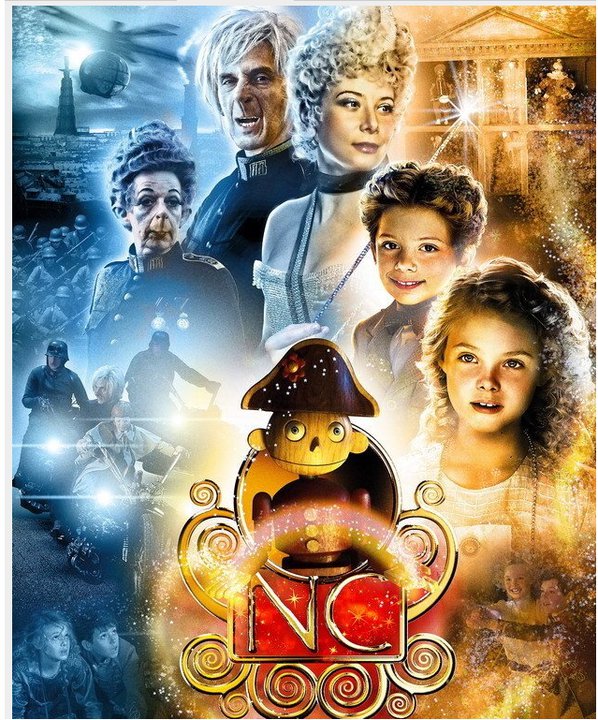 Poster art for The Nutcracker in 3D.

The Drosselmeyer character has been transformed into an Einstein-like Uncle Albert (Nathan Lane in one of the low points of his career). Mary (Elle Fanning) is, of course, delighted with the new dollhouse that contains such curious toys as Gielgud (who becomes a talking monkey). The Nutcracker gets nicknamed "NC" and there are numerous references to Sigmund Freud in Konchalovsky's script (which might seem inspired if it had been written for a high school or summer camp musical).
Once you hear Nathan Lane's Uncle Albert respond to a young boy's question by saying "If I tell you, I'll have to kill you," you might think there would be nowhere to go but up. But you would be wrong. So horribly, pathetically, pitiably wrong.
With the action set in Vienna in the 1920s, it's only fitting that the army of rats should be dressed like Nazi soldiers intent on "rat-ifying" adjacent territories. While reading through Konchalovsky's website, I came across some prophetic quotes from past projects:
"I am a person who craves for work, I take up projects thoughtlessly, sometimes irresponsibly (sometimes I think: how do I get out of this?) I like having several projects at a time. I am never haunted by the same film. I immerse into absolutely different worlds and enjoy doing it. I must make films about people whom I love a lot." (Ogonyok #51, 1988.)
"Cinema is cruel as it's too specific. The task of a film director is to leave room for fantasy." (Kultura, March 2, 2000.)
"I don't like to retell an idea. It should be hidden. It will show in a performance, and if it is not understood, that will be my fault. It is impossible to explain it anyway". (Kultura, March 2, 2000).
There were obvious warning signs that this film might be the Thanksgiving holiday's biggest turkey:
Compared to the websites for major animation releases, the website for The Nutcracker in 3D is surprisingly simple and small.
When I went online to research the film, I couldn't find anything resembling a press kit or production stills to be used with a review.
At the press screening I attended, even the children lost interest quickly.
The 73-year-old director cast his 37-year-old wife (Yuliya Vysotskaya) in the dual roles of Mary's mother and the Snow Fairy.
Perhaps it would be wise to apply Six Degrees of Kevin Bacon to The Nutcracker in 3D:
Nathan Lane starred in Mel Brooks' musical adaptation of The Producers on Broadway.
One of the highlights of the show was the musical number "Springtime for Hitler."
Nathan Lane plays ditsy Uncle Albert in The Nutcracker in 3D.
Although not labeled as "The Ballet From Buchenwald," in The Nutcracker in 3D, the Rat King's army is dressed like storm troopers
The surest indicator of this film's artistic bankruptcy may very well be Konchalovsky's use of so much music by Tchaikovsky from sources other than The Nutcracker. When someone adapting The Nutcracker doesn't even have enough faith in the source material he is using, it's a sure sign that disaster lies ahead.
Why should you avoid this film like the plague? The Nutcracker in 3D insults the intelligence of people who are just learning how to talk. Here's the trailer.
Popular in the Community