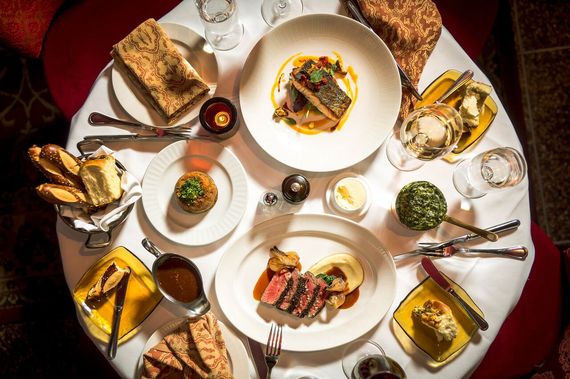 "You gotta get a gimmick," sang the strippers in "Gypsy," and it's a good philosophy in a business as traditional as that of steakhouse chains, whose scruffy décor largely follows clichés set long ago by NYC totems like Palm, Peter Luger and Smith & Wollensky.
The original owners of Strip House, Peter and Penny Glazier, (now with four locations, three in NYC, owned by BR Guest Hospitality) took the "Gypsy" ladies' advice by having architect David Rockwell fashion a room riotously red and festooned with hundreds of original Studio Manasse 1930s prints of burlesque stars. It's all meant in naughty fun, even though, after two decades, it has taken on a patina of nostalgic innocence, and no woman I have ever dined with here has ever taken offense to the décor.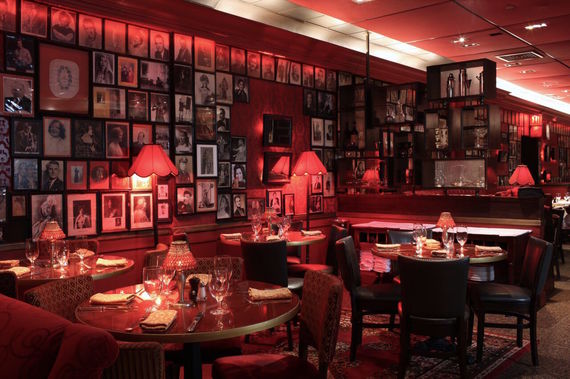 There are cushy, tufted banquettes, big tables with flip-up extenders, and thick white double tablecloths; the sound level is remarkably good in a room filled largely with shirtsleeve guys whose normal tone of voice is loud. The waiters are very friendly and informative, rather than mere menu reciters, and, since the menu, under Corporate Executive Chef Michael Vignola, doesn't change very much, you can be assured that most of the items have been brought to a consistent level of excellence in the cooking process. Ask for your meat with a good char outside and medium-rare inside, and that's what you'll get. Pity the bartender doesn't even possess a fruit press to make fresh juice for the cocktails (you can buy a squeezer for about ten bucks), despite their costing $16-$24.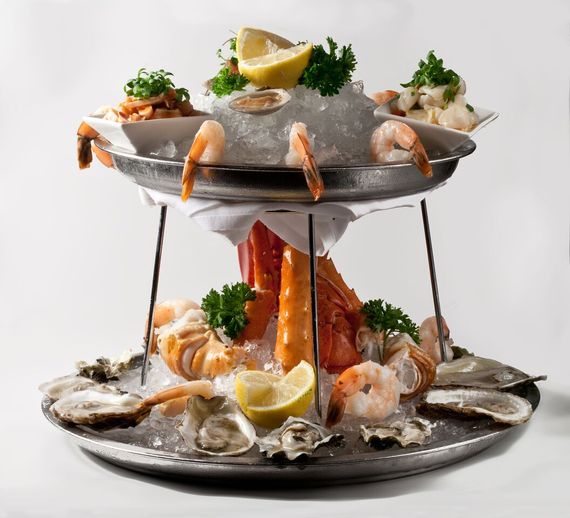 Aside from a couple of signature items, like the highly recommended bocce ball-sized goose fat-fried potatoes ($13) that will easily feed two people, dishes don't differ in name from most steakhouses around town. But I do think Strip House's roasted bacon ($18), with egg, crispy capers and a frisée salad, the very best I've enjoyed anywhere, and the lump crab cake, with potato salad, green beans, corn salsa and remoulade ($19), was as fine as any.
I've become spoiled down South by fresh shrimp, but if I can't get them I'll happily order the jumbo shrimp cocktail at Strip House ($20), as I would the jumbo crabmeat cocktail ($20). The spicy tuna tartare ($19) comes with generous chopped avocado, cucumber, wasabi roe and radish sprouts.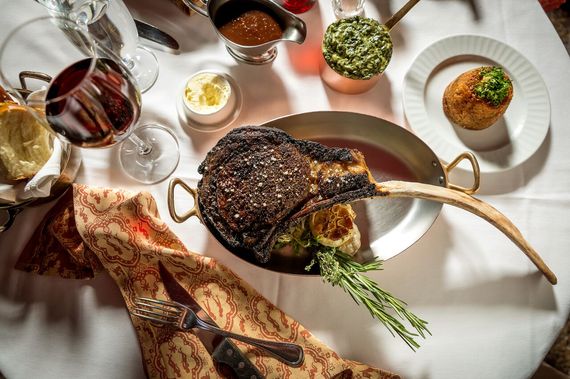 At a time when USDA Prime beef has become tougher and tougher to come by (just as enormous herds of supposed wagyu and kobe beef seem to be inundating steakhouses), the virtue of being a long time in the NYC market and having three locations there gives Strip House clout. So the beef has the intense flavor and juiciness you expect from the top of the breed, especially the New York strip ($49 for 16 ounces, $58 for a bone-in cut), but the dry-aged strip at 14 ounces ($48) is even better. The porterhouse for two runs $60 per person (you'll take some home), but the best dish on this section of the menu is a terrific Colorado lamb duo ($42), which comes as a roasted double chop and smoked shoulder. And, since all the steaks come naked on a plate, the inclusion of roasted squash, market bean fricassee and marjoram jus to this lamb dish makes it all the more appealing.
You really don't need the optional sauces ($3 each) for these meats, but you should indulge in the creamed spinach with black truffles ($13), the creamed corn with pancetta ($12), or the dry aged herbed onions with a citrus glaze ($14)--all of these to be shared.
Of course you don't need dessert, though they gussy the usual ones up a bit here, including pouring and flaming cheap Sambuca on top of an already blah baked Alaska ($14) that might otherwise be served at a child's birthday party. There's nothing at all wrong with the cheesecake ($12), or the warm chocolate brownie with vanilla ice cream and rich hot fudge sauce ($12), but the signature dessert here is a dense 24-layer chocolate ganache cake ($16) that is more a tour-de-force than a convincing argument that more is more.
The wine list offers dozens of wines by the glass among a formidable screed that includes a "Library List" of bottlings like La Tâche 2010 for $2,650 and Échezeaux Grand Cru DRC 2009 at $3,000, as well as a selection of large format bottles. Sadly, there aren't a heck of a lot of labels on the list under $100, and mark-ups are very high: $170 for Far Niente 2014, which sells for under $50 in a store? $140 for Gaja Ca' Marcanda Promis 2013 that costs $35-$40 retail? Whew!
For food alone, Strip House is as good as any in town and much better than most, but in ambiance and service it has achieved its own special status among gourmands, who will never be disappointed and always well treated. It's as much fun to dine there as it is to eat there.
Open nightly for dinner
STRIP HOUSE
13 East 12th Street (near Fifth Avenue)
212-328-0000