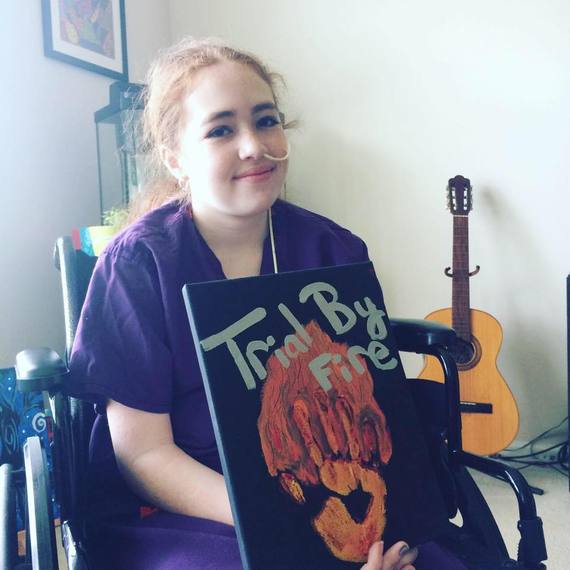 As I sit here and prepare to tell you the story of a handful of our fellow friends and family members - the ones we may doubt or think are crazy, well, they're are actually not. Like lots of others they're going through a struggle, and up until recently haven't been given a voice.
Only moments ago, before I sat down to begin telling this story, I was informed that one of those people had just passed away.
This young lady died from a pain so unbearable, that her immune system was compromised by it.
No matter the kind, pain is as inevitable as life itself; we'll all go through it a lot. Be it emotional, mental, or physical - it's going to happen. Some of us will just accept it as a way of life because we've been told that there is no other way.
How would you deal with that pain? Well, the first thing that enters my mind, as with millions of others, is to medicate. Aspirin, ibuprofen, or any other form of pain relief sold over the counter - boom, the pain is gone.
Sometimes it isn't that easy. A loathsome doctor's visit, accompanied by an opening of the wallet for an equally unsavory co-pay; advice that can sometimes be found more effectively on eHow; a prescription that requires more money to be spent; a trip to the pharmacy, and the grueling task of getting accustomed to the often more painful side effects of a prescription drug. Oh, and I almost forgot, sometimes another prescription drug joins its pals in your medicine cabinet to offset the side effects of a previously prescribed drug.
All this, again, while in a pain that burns like fire.
As ridiculous as this sounds, it's what we've been conditioned as a society to do to make the pain go away. It seems as though it's the only way.
What if you had to go through all of that rigmarole to arrive at no solution for your pain? You're still in pain and it feels like it's got your life clamped in vice grips. It looks like it's going to be another doctor trip, another co-pay, more meds with higher dosages, and yes, more meds.
Still in pain. Desperation starts to set in. Your friends and your family are beginning to doubt what you're going through, and honestly, you'd probably doubt yourself; if you weren't in so much pain.
What's there to do now? Where is there to go? Seek alternative treatments, read books, look at endless blogs and stories on the internet, only in between looking at WebMD - still, to arrive at no conclusion, and you're still in pain.
At this point, the pain is so unbearable that you can't work, your family and friends are trying to tell you, "It's just in your head." You're not earning any money, and because the doctors that you've visited have failed to identify the cause of your pain, there's a good chance you won't be eligible for any unemployment or disability benefits.
Meet Joe Caldart, a plumber by trade - was actually attacked by an animal at his job site. "I had numerous problems getting benefits, mainly from trying to explain what my condition was." Caldart said. "To add to it, getting attacked by an animal sounded far-fetched."
Joe visited with 13 doctors before he was finally referred to a pain management clinic in Baltimore to treat his specific type of chronic pain.
"Some of the doctors were not very nice at all and didn't want to be bothered with it." Caldart said. "Others tried to help, but were largely unfamiliar with it."
Diane Kordek, a working mother and sufferer of chronic pain, was injured in the operating room when a scalpel cut the nerves in her wrist causing permanent damage of the ulnar nerve. Diane's situation reached such a point of desperation that she began to look upon suicide as "an escape from torturous, unbearable pain, and a fear of becoming unable to care for my own daily needs." At one point, Diane couldn't even shower alone because of how intense the pain had gotten.
Randy Koehler, a chronic pain sufferer, also suffered severe nerve damage during injuries sustained over a 25-year period. During his second surgery, Randy had a dorsal column stimulator implanted sewing four electrodes to his cervical (neck) spine area, running four wires through a tunnel that they created all the way down to his neck and back to his right flank. Surgeons created a pocket out of fatty tissue to inset the stimulator into.
This has not happened just once, or even twice.
"I have had three stimulators implanted in me," Koehler said. "They die so quickly. I was told that the batteries would last three to five years, however, they die usually within 8-10 months because I have to turn them all the way up to get as much relief from the pain as possible."
Randy would only receive 15% relief from the stimulators and has since abandoned this mode of treatment.
"This is the most painful 24 hour a day, 7 days a week disease known to man." Koehler said.
Randy struggled to communicate his story to me the best way that he could, it was as painful for him to type or text as it was to simply talk.
These individuals are just a handful of a group that of more than 200,000 people who suffer from a condition known as Complex Regional Pain Syndrome (CRPS), or Regional Sympathetic Dystrophy (RSD). According to a review in Medicina Universitaria, CRPS is a chronic and painful condition that affects the quality of life of patients. It's normally caused by a traumatic event of the soft tissues involving the nervous tissue, although the factors vary and are not very well known - hence the dozen or more doctor visits that seem to be typical for most sufferers.
If you didn't know about it, you're not alone, present company is included. My understanding of chronic pain is pretty much limited to what everyone else's apparently limited understanding of it is - those poor people, always in so much pain. I hope their ability cope is not limited to prescription drugs.
"My mother suffers from CRPS." Charles Mattocks said. "The pain from this condition is rated the highest in the scale, higher than childbirth and amputation; there's nothing that can be done to get rid of it."
Mattocks' mother, the sister of late reggae legend Bob Marley, was diagnosed with the condition after a bad fall, two doctors and 8 months.
"There's some treatments that work a bit on some for a few weeks, but it can get very costly."
Charles, an actor, celebrity chef, and World Diabetes Advocate - has just become a documentary filmmaker. In his creating the documentary film, Trial by Fire: A Film Based on CRPS/RSD, Mattocks has given a voice to those that suffer a pain that few truly know.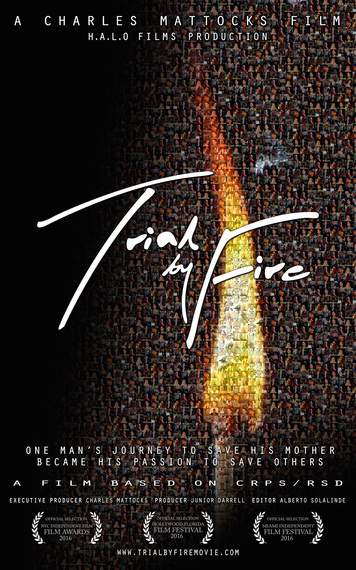 "I had learned about these wonderful people who are suffering every day with pain that burns like fire, all day, every day." Mattocks said.
Trial by Fire, edited by Alberto Solalinde and directed by Mattocks, has been an official selection of the NYC Independent Film Awards, the Miami Independent Film Festival, and the Hollywood Florida Film Festival.
Pictures are courtesy of and used with the permission of Charles Mattocks.
Calling all HuffPost superfans!
Sign up for membership to become a founding member and help shape HuffPost's next chapter