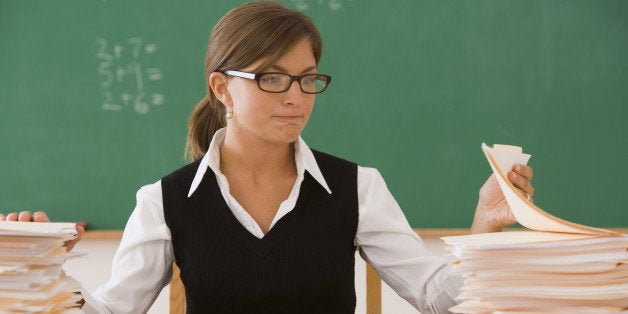 This past week I had the stressful experience of starting three kids at three new schools. In one situation, all the parents were expecting to have a teacher adored by the community, but instead discovered over the summer our children would be with a first year teacher. I admit this makes me a little panicky, but one can choose to look at the situation with the glass half full (they should be brimming with enthusiasm), or empty.
Most parents are slightly disappointed to get the new teacher, especially if you're replacing a beloved teacher they were excited to have. I empathize because this is a tough situation to come into, no one wants to feel unwanted, but there is one way to make it easier on yourself and boost your reputation with parents of young children...
In the 1980s, when I was in elementary school parents and teachers could expect to communicate a couple of times a year, back to school night and parent teacher conferences. With the advent of the Internet, text messaging, and social media, parents' expectations for teacher communication increased tremendously. Parents of young children, especially those transitioning from preschool communities to elementary schools, expect to hear from their children's teacher. Parents worry about their children and want to know they're ok. I know this means extra work for teachers of young children, but a little parent handholding goes a long way in making your job easier.
Given heightened expectations for communication, the night before school starts blast an email to the class, saying you are excited to meet their kids. Remind parents if they need to bring snack or water. Tell the parents that you look forward to meeting them. After receiving the new teacher, many parents start the school year with low expectations, so reverse the expectations immediately by showing them that you care about their kids and will go above and beyond to prove it. After the first day, blast out another email, expressing that it's "a great class." Two sentences of mass communication will alleviate worries and show parents you care.
If you want to receive extra credit and create allies for life, send a personalized email to a parent about something funny a child did in class. This lets parents know that you SEE their child as the special unique kid that he/she is.
I doubt parent politics was taught in your master's program. If not, it probably should be because I'm certain a group of parents can either be a teacher's greatest ally or greatest nightmare. Dealing with parents (both positively and negatively) is a huge aspect of teaching preschool and young elementary children. Trust me, extra communication will go along way to rally support behind you.
I know being a teacher is an exhausting job. You are overworked, underpaid, and not adequately respected for the gift you give our communities. I hate to add work to your plate, but I promise communication up front will go along way in ensuring a successful year teaching.
After the first week of school, I'm happy my daughter has the new teacher and we appreciate your handwork, enthusiasm, and dedication.