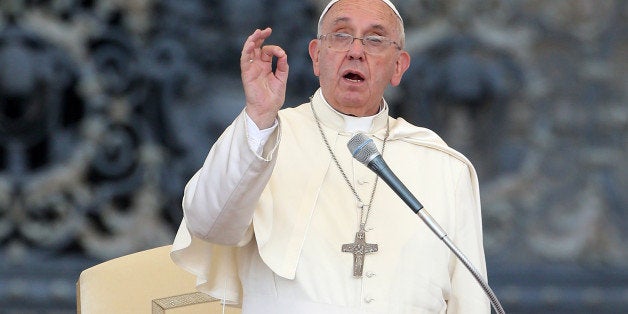 With Laudato Si, Pope Francis is replacing the Church's theology of dominion with an approach to life that Francis of Assisi would appreciate.
Francis of Assisi didn't become the world's most popular saint because of his preaching, the miracles he performed, or because he wrote great books. Francis was a man who cared -- for people, animals and created things. Rooted in a deep Christian humanism, the sort of caring that fed Francis of Assisi is also inspiring Pope Francis.
The Pope's Laudato Si is more important for what it says about caring for creation as a Christian virtue than for its emphasis on the need to simply protect the planet. "Praised Be" is the English translation of Laudato Si. "Praised be you, O my Lord and God, with all your creatures, and especially our Brother Sun... Praised by you, Most High, for Sister Moon and the Stars,... for our Brother Wind... for our Sister Water...," Francis of Assisi wrote in his "Canticle of the Creatures" between 1225-26, the first vernacular Italian poem in history. And now, in the second encyclical of this papacy, we are witnessing how deeply this Pope is connected to the great saint of 800 years ago.
Early in his conversion, Francis of Assisi (1181-1226) cared mostly for human beings. In his case, it was lepers. Following Christ's teachings, Francis was serving the poorest of the poor, clothing the naked and caring for the sick. But during his middle years we see him taking a greater turn toward the world. He begins to practice being gentle -- sometimes in seemingly insignificant ways -- in order to train himself to care more deeply.
Francis set out to be careful and gentle in practical but unpredictable ways. This is when he begins to save worms in rainstorms. This is when he gathers scraps of paper on the floor because they might contain words of Holy Scripture on them. He protects bees in winter and rescues fish from predators. If these small gestures sound insignificant, consider an anecdote from the first meeting in the early 1960s between the Catholic monk Thomas Merton and the Vietnamese Buddhist, Thich Nhat Hanh. A middle-aged Merton asked Nhat Hanh what he had learned in his first year in the monastery. Expecting some profound insight, Merton was shocked by the simplicity and practicality of the younger man: "To open and close doors quietly." This is gentleness that carries through into other aspects of his life.
Over time, Francis developed a reverence for every creature and thing he encountered, figuring that each had a mystery he couldn't possibly know, but that he was to respect. A man who opens and closes doors quietly is on his way to mastering the arts of caring, loving, humility, and kindness; he will feel kindship with what's around him, rather than seeking to dominate it.
Leonardo Boff put it well: "[Francis] demonstrated with his life that, to be a saint, it is necessary to be human. And to be human, it is necessary to be sensitive and gentle." Francis extended his gentleness way beyond animals, fish, and birds, in ways that Pope Francis realizes presage the sort of kinship with our environment that is not only Christian, but necessary for the human race.
Francis of Assisi would ask his brothers never to cut the whole tree when cutting wood, but to take off branches so the tree might regenerate. He instructed the brothers who cared for the community gardens to leave a strip of untouched ground surrounding the vegetable plantings, where tall grasses and wildflowers would grow to "proclaim the beautiful Father of all." He spoke with fruits and flowers, spring water and rocks, "as if they enjoyed the gift of reason." He walked reverently over rocks, Thomas of Celano says, as a way of showing honor to God. There were surely those who believed that Francis was addled, but he was conscious of rediscovering something that had been lost through centuries of civilization.
A Christian education doesn't usually teach us to walk gingerly, plant flowers, or think about the life of the tree that you are cutting for firewood -- or at least, not yet. Pope Francis is about to change that. Just watch: years from now, Laudato Si will mark the turning point. This ability to care in the particular was key to the sainthood of Francis of Assisi -- and it is a way of life that Pope Francis now says is necessary for all of us.