This Spring, The Pollination Project partnered with Levi Strauss & Co. to offer seed grants to youth environmental leaders. With extra support from our friends at Earth Island Institute's New Leaders Initiative, our shared goal has been to support the next generation of global environmental leaders who are advocating for the ecosystems upon which we all depend.

Please join me in celebrating these 20 inspiring youth leaders and the seed grants that we were able to give them. Visit the Pollination Project website to learn more about these Youth Environmental Grants.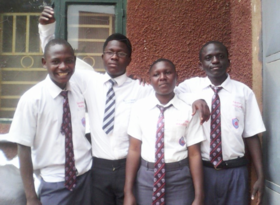 Ahumuza Ignatius and Alinaitwe Cleofash, 19
Art Planet Academy Student Recycling Award Project, Kampala, Uganda: Art Planet Academy is a youth-led climate-smart approach to promoting a waste management system through recycling/repurposing waste into artistic products. The Academy will run "The students recycling award" to promote innovativeness in this field.
Ako Peter Agbor, 22
Raising a Youth Workforce to Mitigate Climate Change, Buea, Cameroon: An initiative of Go Green Students International (GGSI) University of Buea, this project shares knowledge and skills on climate change adaptation and mitigation issues. They produced a student conference for over 100 students in May, 2015.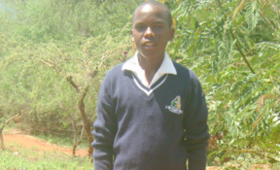 Amos Kitunga, 17
Reforestation through Fruit Tree Gardening, Machakos, Kenya: Although the landscape around Machakos, Kenya was once dotted by fruit trees most of the forests have been harvested for fuel and building materials, causing environment devastation and contributing to high rates of regional vitamin deficiencies. Amos is rallying youth from his village to build a local fruit tree garden that will provide a food source for the community.
Charles Orgbon, 19
Greening Forward, New York, New York: Charles' youth-led nonprofit hosts the International Young Environmentalists Youth Summit (IYEYS) where young change-makers gather to exchange ideas and develop innovative approaches to environmental advocacy. Their 2016 conference is expected to host 300+ youth leaders.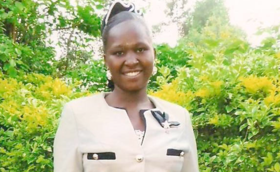 Alice Njoki Bundi and and Catherine Wangeci Njora, 22
Oko Misitu Yetu (Forest Restoration), Kerugoya, Kenya: Alice and Catherine are working with local youth volunteers in the Kirinyaga area near Mt. Kenya to reforest the region.
Hope Bailey, 21
Planting Seeds Vending Machine, London, Ontario, Canada: An urban farming social enterprise, Planting Seeds is installing seed vending machines in downtown London, Ontario as a way to educate people about the importance of seeds, as well as a way to distribute seeds to the community.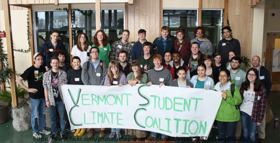 Francesca Hall & McKenzie St. Germain, 20
Vermont Student Climate Coalition, Burlington, VT, USA: The Vermont Student Climate Coalition (VSCC) is a network of Vermont students committed to fighting for sustainability and climate justice as a medium for intersectional social and economic progress. They are fostering a statewide student community that supports campaigns at both the institutional and statewide level and develops strong leaders to sustain long-term action for systemic change. Their statewide network has grown to 11 schools in the past year.
Julien Levy, 16
Seeding Malawi, California, USA & Malawi: Julien is working with partners in Malawi to plant school gardens that will feed 3,000 children during the school day while teaching permaculture principles to youth.
Kristen Chavis, 9
Go Green Earth Day, Los Angeles, CA, USA: A day-long educational and action-oriented event at a low income elementary school in Los Angeles, CA. The event included food donations, electronic waste recycling, hands-on activities to teach trash reduction, energy and water conservation and to build the school's Youth Earth Club membership base.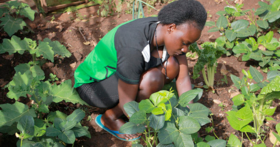 Namubiru Patricia, 19
Student Run Community Garden Project, Kikandwa Subcountry, Mityana, Uganda: Namubiru has already established a one acre community garden, and is using it as a hub for e for nutrition, health and farming education in the community. She is planning to host community events to learn about global agriculture issues, food security, indigenous seeds and crops and plant based diets.
Keneema Immaculate, 21
Queen Elizabeth National Park Agro-Forestry Project, Kamwenge, Uganda: Keneema's project is a cooperative carbon offset arrangement that combines carbon sequestering with rural livelihood improvements through small-scale, farmer-led agroforestry projects and replanting native trees on private small holder lands.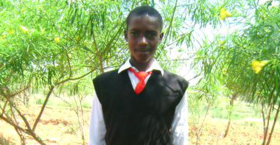 Marcus Muendo, 16
Promoting Environmental Conservation, Wamunyu, Kenya: Marcus is opening a local tree nursery to provide residents with reasonably-priced native fruit tree saplings, using the proceeds to purchase clean energy sources to replace kerosene for indoor use.
Maya and Asia Rinehart
Tanjung Harapan Orangutan Sanctuary, Pangkalan Bun, Kalimantan, Indonesia: Maya and Asia founded an international coalition to create an orangutan habitat preserve in the forests of Kalimantan, Indonesia. Working collaboratively with local non-profits and concerned villagers, they are helping local residents secure legal title to their lands in order to protect it from palm oil plantations developers. The land they save will be used for the establishment of an international research center and safe haven for endangered orangutans known as the Tanjung Harapan Orangutan Sanctuary.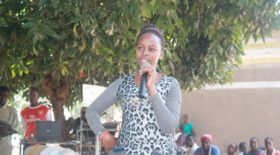 Nakitto Betty, 20
Community Water & Sanitation Hygiene Project, Kikandwa Subcountry, Mityana, Uganda: Less than 10% of households in Nakitto's region have access to clean water. This project helps to complete a hand dug well in Kasejjere village, as well as establishing water and sanitation committees and 6 community health educators, plus health agents to manage the day to day operations of the well.
Naaz Fatima, 13
Let's Clean, Vikansnagar, India: In small rural villages there are no garbage dumping facilities and villagers dump garbage out in the street. Naaz and her fellow students are working with local citizens to create a trash collection system while also teaching people about recycling. Her goal is to reach 6 neighboring villages in addition to her own.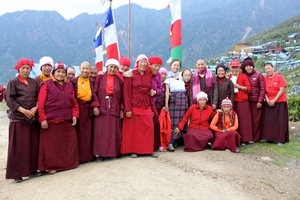 Tsechu Dolma, 22
Yulha Fund, Upper Mustang State, Nepal: Working with local schools, the Yulha Fund aims to strengthen mountain communities by fortifying schools, expanding local ownership and helps communities prepare for climate disaster. They have already partnered with a local school to build a greenhouse and orchard which are now part of the school curriculum, and are replicating the project with neighboring villages.
Padmanaban Gopalan, 22
No Food Waste, Combiatore, India: Padmanaban is a social entrepreneur who began to collect serve-able leftover food from local universities and large scale events and repackage it to feed to hungry people. His team has fed over 6,200 people since they started. Padmanaban won the Pollination Project's Visionary Award for our 1000th Grantee.
Noura Sayah, 20
Flying Gardents, Gab Al Tabbaneh, Tripoli, Lebanon: Flying Gardens create rooftop gardens in the most underprivileged areas of Tripoli, Lebanon. The gardens will have edible plants and vegetables that will provide self sufficiency and food security for residents of the building, as well as providing a safe playspace for children.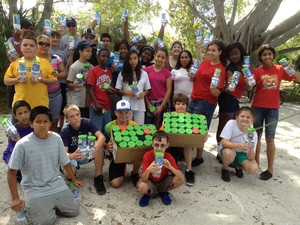 Sean Russell, 22
Stow It, Don't Throw It, Englewood, Florida, USA: A youth-driven marine and ocean conservation project that engages students in fishing line recycling and marine debris prevention. They also host a Youth Ocean Conservation summit to train youth how to launch marine conservation projects.
Weyaula Bernard, 18
Fruit Tree Planting in Schools, Bududa, Uganda: A student-driven effort to plant fruit trees on the deforested lands surrounding the school. The trees that students plant will protect their school from the elements and provide hungry students with food during the school day.
REAL LIFE. REAL NEWS. REAL VOICES.
Help us tell more of the stories that matter from voices that too often remain unheard.