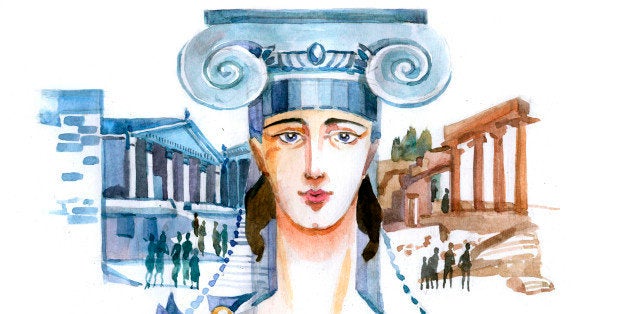 My Greek grandfather has been inside my head and heart more than ever lately with the entire situation in Greece coming to a recent vote. I know my papou would've been glued to the television watching and listening with great intent. His concern for his country would've been apparent on his face, through his words and in his hands passing one worry bead after another. The Greeks don't just feel they become consumed from head to toe, ear-to-ear and hand-to-hand with worry. They are a nation of politically minded people who are both proud and passionate of their heritage -- a heritage that gave birth to democracy, the Olympics, philosophy, theater, astronomy and so much more that the Western Civilization continues to use today and will never be outdated.
When I hear newscasters refer to Greece as a "country as big as Indiana so what does it matter," it breaks my heart. I'm also very disappointed in those voicing their "ignorance" on social media and calling the Greeks a nation of people who brought all this on themselves and who need to pay back their creditors. I know for a fact the people of Greece are not bathing in champagne and eating bon bons waiting for other nations to pay their bills. Unfortunately, for the Greek people it is the politically minded passion that created their status in the world of being in debt with high unemployment and chaotic times. I believe they desperately wanted to believe the politicians who have been most vocal promising change and better times. After the vote for change the sinister (a Greek word) politicians revealed their evil ways by stealing from the Greeks and taking them down a path of destruction.
OXI, NO -- many people -- make that millions of people (when it comes to voting the Greeks turnout in great numbers) -- chanted during the recent vote. Their voices were heard and in the end the Greeks will "start over." They are now independent. Honestly, I'm not sure if this is going to be good or bad, but I do know the Greeks will embrace it. They will strive to return to better days and my hope is that they will prosper.
Can they do it alone? Is going back to the drachma the solution? Will taxes be paid in a timely manner? What will it take for the Greeks to reclaim a status of independence and prosperity? I'd love to give them a springboard to take them to the stratosphere (from the word Greek word, tropo - to turn) where they can indeed prosper. Often, while grocery shopping, I think "wouldn't it be nice if one penny of GREEK yogurt sold went to Greece." Certainly, if we stripped away all that Greece has given to society our sense of being would most likely curdle.
My children's chapter book, THE OLD FORTRESS DOG, pays homage to Greece sharing with young readers my love for the people and beauty of their nation. Leonidas, a loyal dog, guards an ancient ruin with a young American boy's papou (grandfather) at his side. Leo is aware of the boy's sadness and uses his instincts and kind heart to gain the boy's trust and understanding. There is an underlying message for all in my story. Leonidas shows the importance of loyalty while the grandfather offers his wisdom for the young boy to discover his own strength and courage.
This is what I want for Greece.
Near my home on the grounds of a cemetery is a labyrinth. (This is a Greek word meaning a simple and therefore calming maze created for protection, meditation and resurgence.) As I walked through the labyrinth last night, I wondered what it might be like to be living as a Greek in Greece now. Imagine standing in lines at the ATM waiting for less than $70 of cash to come out a day (presently the banks in Greece are closed for two weeks) or hearing other nations and foreigners refer to you as "lazy credit evaders" when all you want is to provide for your family and remove yourself from the current chaos. In the midst of their most valued tourism season, my cousin, like many of the Greeks this month, is facing more and more cancelations for her summer rentals located on the Greek Island of Corfu. A lack of tourism is adding to the already depressed economy.
Like their highly sought after Mediterranean diet the Greeks are simple, pure and homegrown. Plato said, "People are like dirt, they can either nourish you and help you grow as a person or they can stunt your growth and make you wilt and die." I pray the former is true for the people of Greece. A people, not by modern day's definition "resting on their laurels", but rather seeking to regain prosperity.
Calling all HuffPost superfans!
Sign up for membership to become a founding member and help shape HuffPost's next chapter