Fernanda Santos is chief of the Phoenix Bureau of The New York Times and the author of The Fire Line: The Story of the Granite Mountain Hotshots and One of the Deadliest Days in American Firefighting, slated for publication on May 3, 2016 (Flatiron Books/MacMillan).
Santos has reported in three languages, in Latin America and the United States. She began her career in journalism in Rio de Janeiro, Brazil, her home country. Santos says that this is where she "bore witness to violence, inequality and immeasurable hope." And it is in those scenes, Santos found her "passion for telling true stories."
Santos kindly agreed to take time from her busy schedule to answer a few questions about her work and upcoming first book.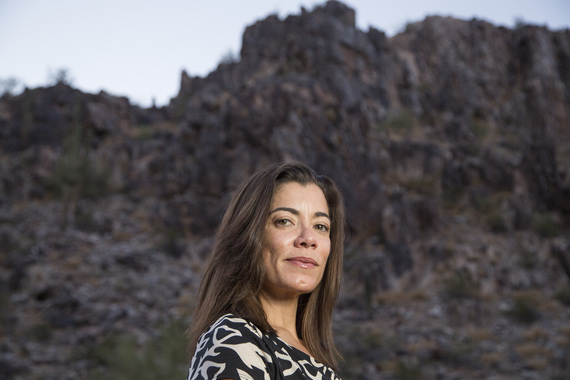 Fernanda Santos
(Photo credit: Nick Oza)
How has your multilingualism shaped your career as a journalist?
SANTOS: It has opened doors -- into homes and lives of people who have been part of my stories and into each of the newspapers I've worked for since arriving in the United States in 1998. It has given me a point of distinction: I speak languages other than English while most of my colleagues do not. It has allowed me to have an honest understanding of cultures and customs that are still so foreign to so many mainstream reporters in this country, even as the country becomes increasingly more diverse. Multilingualism is an asset -- my secret weapon, as I call it.
When you want inspiration, who are some of the writers you turn to?
SANTOS: It's mostly stories that inspire me, not necessarily writers. I'm attracted to stories that are centered around people, whatever the story may be. There are some writers who always deliver, though. Katherine Boo, of the New Yorker, is one of them, and also Dan Barry, of The New York Times. I'm often moved by the emotions packed into the stories that Anne Barnard, another colleague of mine, writes about Syria. I read anything by Alma Guillermoprieto and listen to anything by Maria Hinojosa, who report with their hearts.
Your first book comes out next year and is about the 2013 Yarnell Hill Fire in Arizona. What was it about this story that convinced you it deserved longer treatment beyond a column or series of columns?
SANTOS: Reporters and editors seemed mostly concerned about assigning blame -- the question in everyone's mind was, who sent 19 firefighters into a canyon full of unburned brush as fire moved their way? My curiosity was centered on a different question: Why did none of the 19 firefighters try to run? They died together, side by side in a space of roughly 20 feet by 30 feet. If those were young, strong and ambitious men, as all accounts pointed to, why was it that they chose to stay together? That required me to learn about each of the men, which I did, to understand the culture of loyalty they had all bought into. Once I figured that out, the fateful choices they made in their final moments started to make sense to me, and "blame" acquired another meaning.
[To learn more about Fernanda Santos, visit her official website.]
Popular in the Community