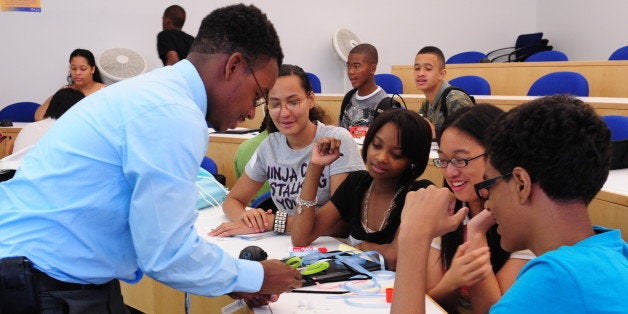 How can we steer young people toward a peaceful future? The answer may lie in mentors who help youth to think entrepreneurially.
Since I was five years old, I spent my childhood in and out of foster homes after my parents developed drug addictions on the south side of Chicago. My world changed when I met my mentor at 17 years old. He was the Dean of my school -- Michael McGrone Sr. -- and he taught me a new way to think, to be, to make sense of myself.
Learning the entrepreneurial mindset -- innovation, critical thinking, risk-taking -- shows kids how to overcome adversity and deal with the complexities of life. And mentors play an outsized role in helping youth learn this mindset. For young people, and especially inner-city kids, the entrepreneurial mindset has very little to do with entrepreneurship. It's about going beyond the guidebook and recognizing that there's no cookie-cutter way to success. Everyone has adversity; you need to work your mind to figure out how to overcome it.
My mentors constantly modeled these skills and reminded me of their significance.
Before I met Mr. McGrone, I had been through many different grade schools and foster homes, some abusive physically and emotionally, and I had no time or energy for anything except dealing with immediate circumstances. Mr. McGrone talked to me about the things that served as impediments to my growth. And he was there for me, unconditionally -- he had a wife and kids, and when I ran away from my last foster home, he opened his home to me.
Mr. McGrone told me "I'm going to make sure with every breath of my body that you succeed... If you need me my door is always open." This type of mentorship -- I'm going to reach out to make sure you have everything you need to be successful; if there are people smoking and selling drugs in your neighborhood, I'll do everything I can to steer you in the other direction -- will show a massive turnaround in how kids perform in school and in life.
Another mentor of mine, Mr. Taylor, shared Mr. McGrone's spirit. One day something happened that upset me and I walked out of school early. Mr. Taylor followed me. He asked me if I thought it was okay to leave school whenever I wanted to, and then he took me two hours west of the city, to St. Charles detention center. We spent the night. He said, "If you keep leaving school, this is where you'll end up. We might as well start now."
This kind of caring defined my mentors.
Many people say it's the mentee's job to find the mentor. But for the kids who need mentorship most, that's impossible. It's the mentor's responsibility to intervene in environments where kids are struggling -- to show students different ways of being. In inner cities, kids look up to the people helping them get by day-to-day, most of whom are gang affiliated and in the drug trade. Mentors show kids that there are other life-paths, other ways to survive.
I was lucky in that learning business through NFTE -- the Network for Teaching Entrepreneurship -- I learned so many important life lessons with my mentors. Creating and pitching my business plan was just a vehicle to figure out other things in life. With the support of my mentors, and the lessons I learned in and out of the classroom, I made the journey from foster care to Yale.
That's why I continue to strongly speak out for teaching the entrepreneurial mindset. My mentors made a big difference in my success, and they are, in my view, among the best gifts you can give a young person. It's my hope that I can show kids today that it is possible to follow your dreams and achieve a life that's beyond imagination. I know I can only keep the gift of mentorship if I give it away.
This post is part of a series produced by The Huffington Post and the 92nd Street Y, founders of #GivingTuesday, a global day of giving that will take place this year on December 1. These stories highlight the work of organizations and people around the world who are committed to giving back and doing good this #GivingTuesday.
Calling all HuffPost superfans!
Sign up for membership to become a founding member and help shape HuffPost's next chapter