Here to spread a little peace on tax day, this is the Playing for Change: Peace Through Music video including the fine baritone of New Orleans street musician Grandpa Elliott Small on Stand By Me. It's probably reached your in-box by now, but giving it one more listen beats spending April 15th at a tea party. The collaboration is courtesy of the team at PlayingforChange.com to benefit worthy causes including AIDS charities in Africa.
The dizzying array of performers includes street musicians as far flung as the Netherlands, France, Brazil, Moscow, South Africa and the Congo. Washboard Chaz and Roberto Luti also represent in New Orleans. Nine million viewers have seen the video on YouTube already, and Director Jonathan Walls described the inception of the project HERE on HuffPo last spring. Mike Ragogna described the next wave HERE, PlayingforChange will soon publish and promote music to a global market with a portion of the profits funding music schools.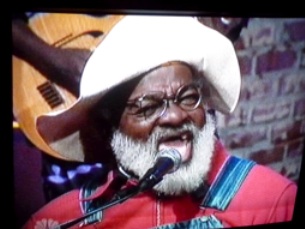 After wrapping up a tour with the Playing for Change band including a set on The Tonight Show with Jay Leno, Grandpa Elliott could be back in his regular Royal Street spot in time for our festival season. If so, tip him well and request If I Were a Rich Man if you're a theater fan - his version is an experience not to miss.
New Orleans legend Wardell Quezergue produced his hit "I'm a Devil" in the early '60s, a song in which Grandpa Elliott occasionally jumped out at the audience in a red suit complete with red shoes, red socks and a pitchfork. On July 19th, the Ponderosa Stomp Foundation will honor Wardell's lifetime of achievements at Lincoln Center. These latest successes couldn't have happened to two finer New Orleans musicians.
The documentary Playing For Change: Peace Through Music premiered at Tribeca Film Festival and Songs Around the World will be available on DVD through Amazon.com on April 28th.
Calling all HuffPost superfans!
Sign up for membership to become a founding member and help shape HuffPost's next chapter