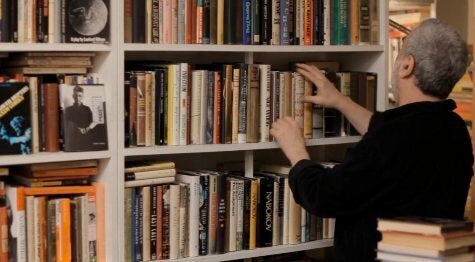 If you're looking for Brazenhead Books in New York City, you might run into a problem. In a grand tradition usually reserved for the fake ID or other illicit business, Brazenhead is hidden.
Photography director Andrew Watson, in a succinct 3-minute video for DIY mecca Etsy, captivates with an account of a visit to this hidden bookshop and a meeting with owner, Michael Seidenberg. Seidenberg doesn't often give interviews, running an illegal business and all, but a 2008 profile in The New Yorker reveals him to be all about the books; a creative entrepreneur who acknowledges that in his line of work, it's not always about the money. This current reincarnation of Brazenhead might not attract many visitors, but the ones that it does attract are sincere in their enthusiasm. Watson's video does little to dispel that image of both Seidenberg and his bookshop.
"I wouldn't have thought I'd like to have a bookshop in a location that no one knows about," he confesses to the camera. "But once I did it, it just seemed realer than everything else."
As for Watson, after shooting over an hour of footage to compile the video, don't expect him to brag about the secret location of Brazenhead, he found his own reward in interviewing such a unique subject.
"I think the most important thing I learned from Michael is how rewarding it is to live your life by your own terms."
Popular in the Community