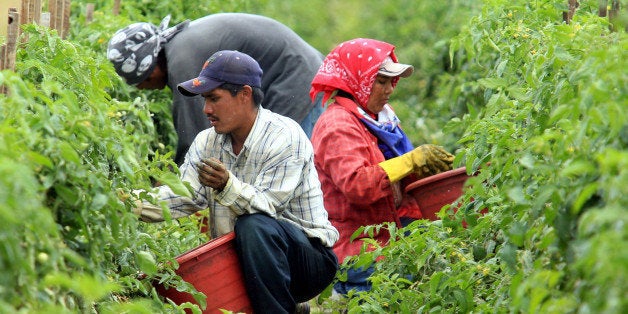 At this year's Clinton Global Initiative in September, actress and philanthropist Eva Longoria took the stage to recognize two Americans, Lucas Benitez and Greg Asbed, for their work in exposing and addressing farmworker exploitation. A longtime advocate of farmworker rights herself, Eva remarked that she had never been a farmworker nor had her parents.
"I chose to advocate for farmworkers," she said, "because I eat food."
Eva was in fact presenting this year's Clinton Global Citizens Award to these two gentlemen, co-Founders of the Coalition of Immokalee Workers, a workers' rights group based in southern Florida's tomato growing region. The CIW have spent over 20 years battling issues from the rampant sexual harassment of female farmworkers to modern-day slavery in the fields. Along the way, they developed a remarkable program that binds every player in the tomato supply chain to a Code of Conduct that ensures the fair treatment of workers. This Fair Food Program is revolutionary and has turned the fields of southern Florida from "ground zero for modern-day slavery" to a place with no forced labor.
As producer of my upcoming documentary, Food Chains, Eva continued her remarks by asking "in an age where there is so much interest in food -- everyone seems to be soy-free or gluten-free -- why is there still very little interest in the hands that pick that food?"
This year's Food Day is dedicated to addressing that question. Nearly all of the produce we eat in the United States is handpicked. Machines don't harvest our fresh lettuce, peaches, cherries, carrots, etc. People do. And as one can imagine, that work is difficult.
For her 2011 book, The American Way of Eating, author Tracie McMillan spent three weeks in America's garlic capital, Gilroy, California, shuffling on her knees, yanking, clipping and trimming garlic roots. She developed tennis elbow, had horrific bruises on her thighs which she used to steady the large pruning shears, and, since farmworkers are usually paid by the piece, earned a grand-total of $21 for her day's work. "My thighs look as though they've been attacked by an enraged but weaponless toddler," she writes.
"My hands, swollen and inundated with blisters the first few days, have acclimatized, but there's a worrisome pain shooting up my right arm," she continued.
The CIW's Fair Food Program not only addresses the treatment of workers, but helps to ensure they're paid a fair wage. Large buyers of tomatoes like Whole Foods, McDonald's and Walmart each pay an extra penny per pound for their Florida tomatoes. That penny is passed on to workers as a bonus -- in some cases, doubling their wages.
After three years of implementing their code of conduct and wage program, the CIW and participating growers are ready to launch a consumer-facing label that will help those who have interest in the hands that pick their food to know that at least their tomatoes were humanely harvested.
So on Food Day, look for the CIW's new Fair Food Label in participating Whole Foods stores, and demand that retailers like Wendy's and Publix, which have not signed the Fair Food Program, do so.
REAL LIFE. REAL NEWS. REAL VOICES.
Help us tell more of the stories that matter from voices that too often remain unheard.