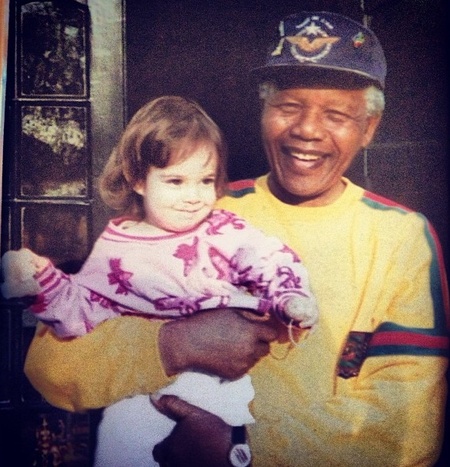 Top photo -- The interviewee -- Sasha Zients with Nelson Mandela in the 1990s.
Bottom photo -- Mandela with Sasha and her parents Mary and Jeffrey.

As we say goodbye to Nelson Mandela, there are many reflections about his leadership and profound impact on the world. For me, what is most compelling about Mandela is his gift for driving collaborations across seemingly unbridgeable divides. He had a spirit that fueled those around him to do the seemingly impossible. He inspired us to reimagine bright new futures instead of being shackled by the ills of current realities.
Our society needs collaboration, positivism and reimagination, especially as we face daunting challenges across the social, environment, and political domains, and as we become more polarized in our perspectives. What can we learn from Mandela?
The pieces I've read thus far cast Mandela in the context of great events, actions and other remarkable leaders. But I am curious about the ordinary everyday human interactions that made him extraordinary. I am interested in how he influenced people, even children, to embody the ideals that he is known for.
So, when I saw these picture of Sasha Zients, a Duke freshman who is engaged with our Fuqua/Coach K Leadership & Ethics Center (COLE), I asked her to share the story of her and her family's interactions with Mandela to help us see his greatness through the lens of his ordinary, but meaningful everyday actions.
This conversation with Sasha was conducted and condensed several days after Nelson Mandela's passing.

Sasha, what is your family's connection to South Africa?
My grandfather, Clive Menell, was a prominent South African businessman and my grandmother was a local politician in Johannesburg. Her cousin, Helen Suzman, was the only woman in the South African Parliament, and for 12 years, was also the only opposition seat to apartheid in that parliament.
My grandparents knew a fair number of people in the struggle against apartheid and had many friends who were members of the ANC. They hosted dinners in their home and had the freedom to do what they wanted because they were wealthy whites who were part of the system and were not persecuted because of this. But my grandparents understood the responsibilities associated with privilege and the need to use that to make the world better.
This perspective of connecting privilege with responsibilities and your focus on helping others impressed me at our first meeting. Your family history gives insight into why you do what you do . So, how did your family come to know Mandela?
When he got out of prison, he needed a place to hide from press. His Chief of Staff, Barbara Masekela, who later became ambassador to the United States, suggested that he stay with the Menell family in Johannesburg. So, he stayed with my family for about two months. That's where he became friends with my grandfather.
Tell us about these pictures of you and Nelson Mandela.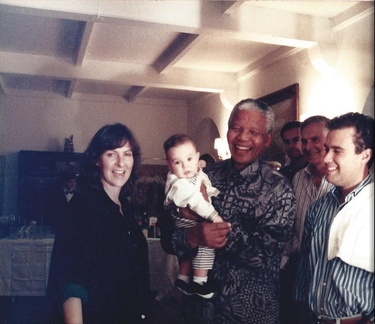 My interactions with Madiba were when I was very very young. At that time, my grandfather was dying of cancer. My memories and the stories my family tells are of him showing up to my grandfather's bedside regularly. He was President then, and he came to sit with my grandfather and tell jokes. He would also sit with all the grandchildren and play with us. He was like a grandfather to us.
Amazing. He clearly valued the human connection, relationships and appreciated the people in his life...
Yes, he was one of the most sensitive people anyone in my family had ever met. My grandmother was so struck by how sensitive he was when my grandfather passed away. He spoke at my grandfather's funeral and that meant a great deal to my family. It's the compassion piece of it. My admiration for him comes from knowing that personal side of him along with the great part he played in history.
So, key to his effectiveness as a leader is the sum of his everyday acts of kindness. It's the compassion. It's about being there as a friend and giving meaning to ordinary actions. It's easy to think that greatness requires grand acts and circumstances. At the end of the day, though, the little choices that we make and our everyday interactions are just as important.
Yes. To validate that, when I go to South Africa and meet small children, they call him Tata -- that means "grandfather." They talk about him (even though they have never met him) as someone who cares about them, knows about them, and wants them to succeed. When he met people, the way he portrayed himself publicly was as someone who was available and accessible, which is what a good leader should be.
Our society doesn't often think about engagement with children in the context of leadership. Can you talk about Mandela's focus on kids as part of his leadership?
He cared about children because he understood it was really important to prepare the next generation. At my grandfather's funeral, Mandela said "Our young people are the nation`s greatest asset, and education therefore has immense power to shape the character of our society."
His focus on children as a priority for society was so great that it was his last wish to build a specialist Children's Hospital in Johannesburg to provide equal access to state of the art medical attention to sick children from throughout the region. My mom, who is very involved with the hospital, has said the hospital is a fitting legacy for Madiba. He always said that the measure of a society can be found in the way that it takes care of its children.
Madiba would often go to schools to visit with the children. He would show up to a lot of things that no one thought he would show up to, like children's presentations.
He consistently demonstrated, through his actions and words, how important this is. Through the small acts, he also modeled for others how they can actualize that priority.
We need to underscore this idea -- that as citizens, it's our calling to recognize and unleash the potential of every human being in the service of society. The education of our children is key to that. You and I are co-writing a piece on educating children and how the responsibility goes beyond our schools. What you just shared about Mandela highlights that being educators should be a part of all of our job descriptions, especially that of those in leadership roles.
Yes, he was a leader who wanted the whole society to care about education, not just people who were in the education jobs.
He mobilized people to do that well through his words and actions. They were inspired to work with children and the Children's Fund because he prioritized it. I don't think people recognize that.
People see him as a visionary but they don't see how pragmatic and strategic he was as well.
Being a visionary is also about being practical and understanding the interdependencies of the long term and the short term. He connected the dots in terms of educating the next generation and how showing how important that is to the present. Knowing all of this about Mandela, how are you applying these lessons and insights in your life?
For him, the future is about collaborating with people across all spectrums and turning around something that was hurting all of our souls.
So, if I am going to lead, I also need to know how to follow and be humble. I understand that I might have certain leadership skills. But, there are also skills that I lack, and I need others to be part of the team. I can also help mobilize others. Every person has something valuable to bring to the table.
What Mandela did really well was finding others people's strengths and passions and raising those up. I saw how he did that with my grandfather. Even though my grandfather was in the mining business, he wasn't passionate about that. He was passionate about children. So Mandela discovered that and then invited my grandfather to work on the Children's Fund. He found the right thing for people and I think that's why he was so successful as a President.
Thanks, Sasha. You added another layer of insight into Mandela's leadership.
Mandela blazed the way for others to do extraordinary things because he saw the human potential in everyone -- from the privileged to the disadvantaged, from the adults to the children. And, key to his leadership was the ability to identify that potential, understand what they care about, and then, unleash that potential for the greater good. He did this effectively by valuing relationships and people, and modeled this for others through his everyday actions.
For other reflections on Mandela's leadership see pieces by my Duke colleagues L. Gregory Jones and Jason Byassee.
Related
Popular in the Community