"Sorry, no electricity," Germano, the lodge owner said, " the line is down." We had just arrived at Tariri Lodge after a flight to Manaus (where we took a tour of the famed opera house), a two-hour car drive and a forty minute boat ride. You can only get to the lodge by boat. There are no roads.
It was hot; high 90s and 99 percent humidity.
"You wanted a real jungle experience," Sam said. This was not an air-conditioned retreat; turns out it wasn't even a fan-conditioned retreat. We went to our thatched stilted cottage where we rifled through our suitcases, throwing clothes everywhere, looking for the coolest possible thing to wear before going fishing.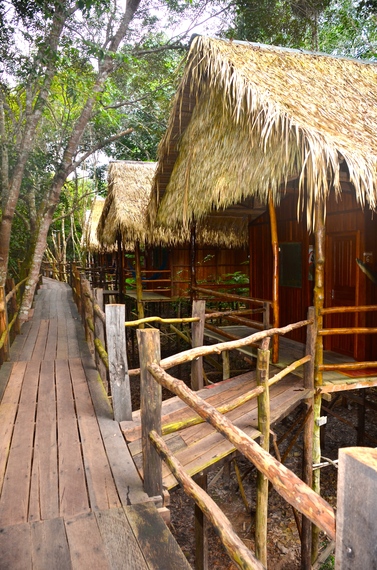 Tariri is a family run lodge deep in the Amazon. Germano, a native Brazilian indian, his wife Fabiola and three generations of the family manage everything from the cooking to the tours of villages, walks in the jungle and fishing.
"Just be sure to lock your door or the monkeys will get in," Fabiola said. The monkey got into everything, including Sam's pockets, but the babies were damn cute.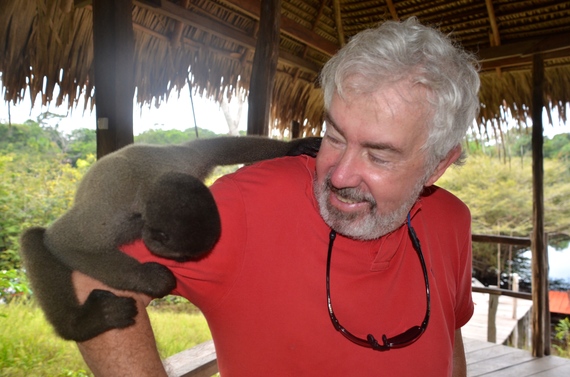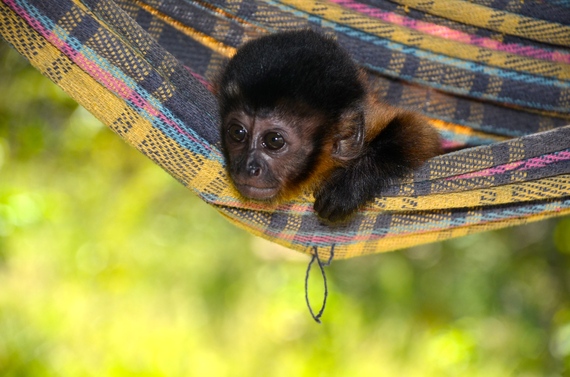 I was surprised to see the fishing bait was chicken and meat. Surprised, that is, until we caught the first fish; a shiny little silver thing with strong jaws and incredible teeth: piranhas, apparently they are delicious in soup.
Next we went on a jungle walk in the thickest jungle I've ever seen. Germano and his father cut little paths with their machetes so we could avoid the wasps nests on the ground. (This was not entirely successful. I was stung once, Sam five times. Several days later, his swollen ear still gives him the appearance of a professional boxer.)
Germano cut into a rubber tree showing us the viscous fluid that oozes out; the liquid gold that brought the barons to the Amazon, almost destroying its people. He banged on a hollow tree that sounded throughout the forest and showed us how his people used to communicate. "We call it the telephone tree," he said. "And this is the Chicle tree, the origin of Chiclet gum." From another tree, he picked a nut that had a worm hole in it. Inside was a little white worm that he told us the indigenous people could survive on when they were lost, along with the water vine.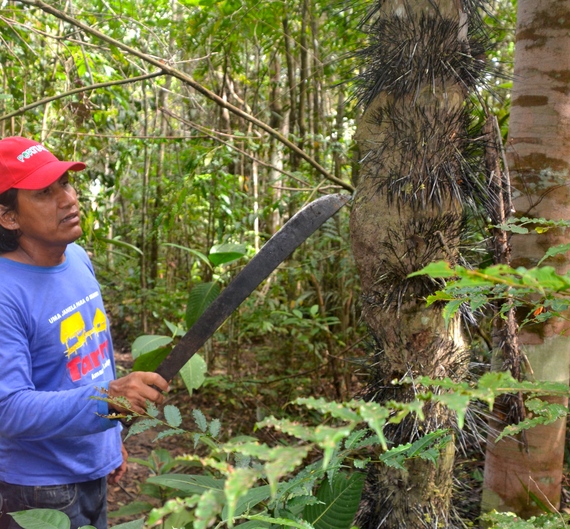 "Try it," he smiled, handing it to me.
"Why not?" I said. Later, I thought of lots of reasons.
Before heading back to our humid, airless cabin to clean up our mess of strewn clothes and take a cold shower (a really, really cold shower), Germano said, "What you need to do is keep your suitcase closed at all the times. That keeps the spiders and scorpions from getting in."