They came from all over New York and even Texas and Boston for what widows and colleagues call "our family" for ceremonies, a reunion and conversation at Engine 40, Ladder 35 on Amsterdam Avenue and 66th Street near Lincoln Center.
The 15th anniversary drew at least 200 participants spilling onto the sidewalk to honor 12 of the 13 firefighters who were fatally trapped during their rescue operation at the South Tower of the World Trade Center on September 11, 2001.
The sole survivor, Kevin Shea, buried alive under the rubble, attended with his girlfriend and said they spend much of the year in Nicaragua. Looking fit and handsome in his uniform, Shea, a college graduate, officially retired in 2004 after answering phones and doing other chores as he was recovering.
His injuries were multiple, a fractured neck, a severed thumb -- and he said the operations had left him infertile. He said his neck was no longer painful.
"I live in the moment," he said happily chatting with those visitors who knew who he was.
Captain John Carbone read out the names of the deceased in four separate ceremonies with a roll call formation among the firehouse's members: 8:46 when the first aircraft crashed into the North Tower; 9:03 when another aircraft hit the South Tower; 9:59 when the South Tower collapsed; 10:28 when the North Tower collapsed.
"We do this every year but it is bigger this year," said Carbone, who was a fire marshal 15 years go. "A lot of companies have people in certain neighborhoods in Manhattan who feel close to it."
Some 343 firefighters died on 9/11 and another 127 died of related cancers in the ensuing 15 years. The Lincoln Center station was among the hardest it.
Angela Callaghan, widow of Captain Frank Callaghan, the ranking officer killed in the South Tower, was a math teacher and now lives in Ulster County. She has attended the ceremonies every year since 2001.
"I have to come and see my guys. I love these guys. It's like one big family. Some are promoted but they come back. We all feel better when we see each other," she said. "I feel this is my place."
She has not remarried as several of the widows have done but she admits to having a boyfriend. Her children are all grown and she has a grandchild. She recalls that her son, who was in high school 15 years ago, then completed college and spent 10 years in the Marine Corps. "He was a kid and now he is a man."
When I spoke to her 10 years ago, she described her pain because many bodies could not be recovered.
"We just never got them back. And that was hard for the men. The one thing that they kept saying to me over and over again was 'Ang, we are looking for them, we are looking for them.'"
"They had never before not been able to recover their men. They had buildings collapsing. They always go and bring them out. They wanted to do that and they couldn't and that was one of the hardest things for the guys," she said
I live three blocks away and 15 years ago I visited the firehouse after our building had put up a notice of the tragedy and some of us donated money to the families. My neighbor, the late Pulitzer Prize-winning author, David Halberstam, recorded the bravery on a human scale in his best-selling 2002 book, Firehouse. He wrote:
The aftershocks of the tragedy have persisted not just in the grief for the men who were lost, but also in the guilt among the survivors, who have continued to wonder not just why they lived, but whether it was wrong to have done so. There have been acceptable days, and there have been bad days, when the pain was almost unbearable.

The first responders who did not make it:
• Capt. Frank Callahan
• Lt. John Ginley
• Firefighter 1 Gr. Bruce Gary
• Firefighter 1 Gr. James Giberson
• Firefighter 1 Gr. Michael Otten
• Firefighter 1 Gr. Kevin Bracken
• Firefighter 1 Gr. Steve Mercado
• Firefighter 1 Gr. Michael Roberts
• Firefighter 1 Gr. John Marshall
• Firefighter 3 Gr. Vincent Morello
• Firefighter 3 Gr. Michael Lynch
• Firefighter 6 Gr. Michael D'Auria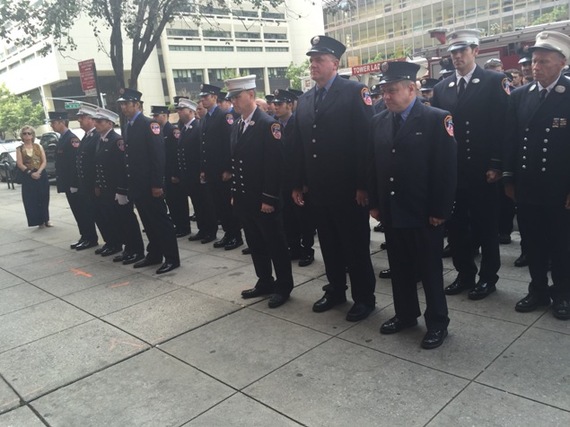 REAL LIFE. REAL NEWS. REAL VOICES.
Help us tell more of the stories that matter from voices that too often remain unheard.