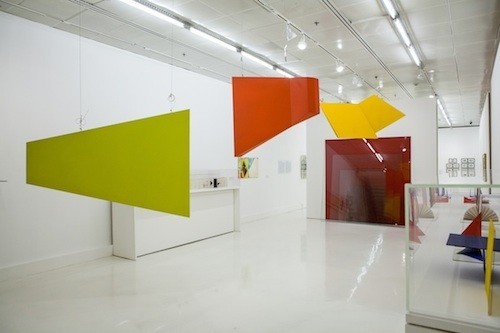 The Inhotim Collection is billed as "the only Brazilian Institute with a world-class collection of contemporary art continuously on display."
Set in Brumadinho in southeast Brazil, it was founded by industrialist Bernardo Paz, who bought up the land surrounding his farmhouse to prevent developers destroying the landscape and opened it to the public in 2006. The botanical gardens which came to fill these grounds now include natural art pavilions, showing work from the likes of Yayoi Kusama, Anish Kapoor and Steve McQueen. The grounds are punctuated with everything from primary-colored vintage cars and geodesic domes to sonic installations and glass domes.
This new show at Itaú Cultural in São Paulo represents the first time that a part of the Inhotim collection has left the center. Around 50 artworks have been selected as a cross section of the Inhotim experience, with pieces dating from to the 1950s up to the present day.
An important part of Inhotim's ethos has been that it moves beyond the usual limitations of a static gallery and the work selected here ties in with that. There are re-enactments of historical performances by LA artist Channa Horwitz (1932-2013) by Sesc Companhia de Dança, and a series of artist talks to compliment the exhibition.
The work in the first floor gallery is divided into four thematic segments: neo-concretism; conceptual geometry; action art and the body and the avant garde work of Japan's Gutai group. In each of these sections, older works are juxtaposed with contemporary pieces to highlight the web of influence and inspiration between them. Meanwhile, in the lower level galleries are a series of installations and moving image works divided into themes like "illusion and perception" and "sound and image." Artists include Anri Sala, David Lamelas, Michael Smith and Jorge Macchi.
The exhibition's title is a reference to "From The Body To The Earth," an event that took place in 1970 at the opening of Brazil's Palacio das Artes and is regarded as a key point in the history of Brazil's avant-garde. Rodrigo Moura, Inhotim's Director of Art explains the importance of the artwork displayed here both in its own right and in terms of Brazil's creative history and Inhotim's development. "They are works that point out possible paths in the history of art over the last 50 years," he says. "(Works) which have allowed Inhotim to be what it is."
"From the Object to The World" is on view at Itaú Cultural in São Paulo through May 31, 2015.
--Justin Quirk is an ARTPHAIRE contributor, and the Editorial Director of HOUSE magazine, as well as a contributor to The Guardian, Esquire, Shortlist, Stylist, Grazia and The Sunday Telegraph. Quirk is based in London and explores the writing world in the realm of arts and culture.
Sign up for our weekly newsletter to get the best of ARTPHAIRE delivered straight to your inbox!
PHOTO GALLERY
A Pioneering Contemporary Collecion Travels to Sao Paulo