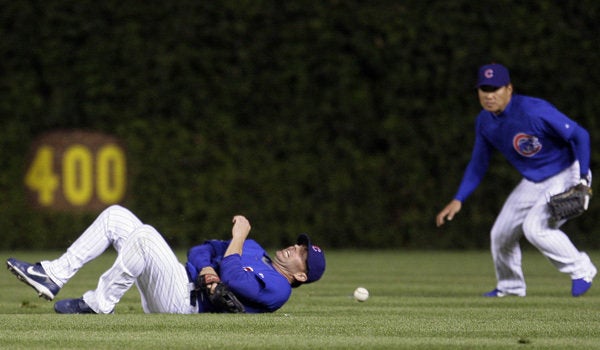 If you're a Cubs fan, you're probably not sure what to think right now. Do you want to blow up this team? Blow up Wrigley? Blow up Alfonso Soriano's Bentley? (Note: Don't do that.)
Do you want to bring back Fred McGriff and his Tom Emanski fielding videos? Send Lou Piniella a milk carton with Reed Johnson's mug on the side? Give Ron Santo a hug?
I understand. You're having a tough time right about now. The economy's in the toilet, your 401(k) is worth as much as Neifi Perez's autograph, and the White Sox are still playing while the Cubs are scheduling tee times in Scottsdale.
It's hard being a Cubs fan, I get it. Hell, even Sarah Palin would abort this team.
Cubs fans have been through a lot, and that's in this week alone. Now you've got to extend your self-absorbed obsession with this "century of failure" I hear so much about. So before I get any further, I'd like Mayor Daley's rubber stampers on the city council to pass an amendment banning any Cubs fan from claiming their team has a drought longer than their own lifespan.
So if you're 100, you can whine about the team not winning in 100 years. If you're 22, stop complaining. I'm a Pittsburgh Pirates fan. They haven't had a winning season in 16 years. As far as modern history goes, I've got you beat (more on that later).
The Cubs' three-and-out drive would be funny if it weren't so sad, and if we didn't all make it so much worse.
In retrospect, I think everybody got a little bit ahead of themselves. Yes, the Cubs were the best team in the National League and had a roster that was, on paper, competitive with any team in the American League. But maybe, just maybe, debating, and announcing, that bar ban on clinching games was a little much.
(I wasn't out for Game 3, but I have to ask: Did Slugger's stop serving after the seventh on Saturday? It was a clincher, right?)
And maybe the downtown divisional series rally was unnecessary. Did we need to bring in our brightest star, the great Jim Belushi, to emcee? Did we need to listen to a motivational speech by Tribune Co. suit Crane Kenney? And how about poor Blago? The only joys in this guy's life are free home repairs and Cubs wins, and he might be bereft of both for the next 10-to-20.
As for Kenney, the most ironic thing about that now-famous invitation to the Greek Orthodox priest to exorcise the spirits of the home dugout was Kenney himself helped dispel the real curse of the Cubs: Low expectations. He signed off on a multitude of deals that made the Cubs real contenders, and he should be rewarded for that (Palin says that reward will come in heaven. Should the Cubs actually win it all on his watch, I think it should come at Club O.). Unfortunately Kenney succumbed to the myths that perpetuate that lovable loser tag that is as outdated as a stadium with no instant replay, and once again the Cubs made a mockery of their institutional failings.
So yeah, the holy water was pretty stupid. So were the "It's Gonna Happen" signs, the post-game "Go Cubs Go" singalongs, and the Cubs selling Eddie Vedder's warbled theme song on their Web site. (Remember, Eddie didn't say they'd go all the way this year. He said "some day.")
I'm not John Kass, I'm not against a little dose of "hopium." Hope's a great thing to have. So is a sunny, Ernie Banks outlook. But the Cubs weren't beset by hope all season, they were besieged by the constant repetition of the highest of expectations - Win it all! In five games, if you can! - and this Cubs team found them a little too hard to live up to in the end.
There was no harbinger for this house of cards collapse, no signs that we all missed. This year's Cubs were truly a different team than the ones that have disappointed generations of fans - well-built, stocked with veterans, up-and-comers, and All-Stars seemingly at every position. This was a team that could've won it all.
Why they got so tight, so well-puckered in their nether regions, is anybody's guess. As Lou would say, "Go ask the players."
The players won't admit it, they never do, but it all got to them - the collective pressure of a championship-starved fan base. I don't believe in curses, fate or tight uniforms on managers, but I do believe that's it's hard to field a ground ball when you've got the weight of 42,000 people on your back.
After game two, first baseman Derrek Lee said the team filters out all that "background noise." If you believe that, I've got some NLCS tickets to sell you.
The painfully public yearning of this fan base permeated the park in games one and two. I was there. I could feel it. You could almost feel the pressure weighing on Carlos Zambrano's hulking shoulders as his infielders treated ground balls like they were covered in goat hair. You could almost see the players' rectums tighten as they drove ground ball after ground ball into infielders' mitts.
Now, all the naysayers are popping up, reminding everyone that the Cubs can't win simply because they're the Cubs. As a rule, I reject this line of thinking.
These Cubs have little connection to the 2003 team and none to the 1969 (well, except Santo), 1984 or 1989 teams. The uniform is just laundry, folks. The team's old-school GM, Jim Hendry, did away with Andy MacPhail's small-budget ways and spent like drunken sailor in a Chinatown rub-and-tug: Getting a little bit of everything.
He mixed high-priced talent (Soriano, Aramis Ramirez and Lee) with homegrown future studs (Ryan Theriot and Geovany Soto) and solved his center field dilemma with castoffs Jim Edmonds and Reed Johnson (Johnson never played against LA, likely because the Cubs needed Edmonds' lefty bat. Johnson hit .280 against right-handers and .333 against lefties. I'm just saying.)
This was a team built to win, so why didn't it? Well, outside of not hitting, not fielding and not pitching, I'm not sure. I guess it was because of an old goat, a black cat and a dude in headphones. Curses!
***
I watched the last game at home. My wife went to bed in the fifth, sad and alone, as I stayed up to watch the bitter end.
My first real sports disappointment came by myself, also on a couch, watching a late-night playoff game.
It was 1992 and I was in eighth grade.
I grew up in Steubenville, Ohio, an old steel town that was known for three things: poverty, gambling and high school football. A late devotee of sports, I wound playing junior high football as an undersized receiver/defensive back. I followed our high school team fervently, the mighty Big Red, and as I got into my pre-teen years, I became a big fan of the Pittsburgh teams, located 30 miles away.
That year, I was consumed with the Pirates making the World Series. I knew the small-market Pirates were foundering. Barry Bonds was leaving to make big bucks on the free agent market (What happened to that guy? Good hitter, but too skinny. Needed to bulk up.)
The Buccos, losers in the NLCS two years running, were locked in a tug of war with Atlanta for the second straight year. I watched Game 7 by myself in our small den with the lights off and my family asleep.
As the game dragged on, I was having trouble staying up, falling in and out of sleep. As the Braves stormed back, I remember being nervous that Stan Belinda came in relief in the ninth with the bases loaded.
One run scored, making it 2-1, and Belinda re-loaded the bases. With two outs, Francisco Cabrera came up. I had never heard of him. No one had. But I'll never forget his name now. Cabrera's hit dropped in front of Bonds in left. David Justice scored and the slow-footed Sid Bream, a former Pirate, followed him, chugging around third, sliding in before Bonds' throw reached home. The Braves erupted, running on the field at Fulton County Stadium and celebrating madly.
I remember thinking, "They're really going nuts for tying the game. ... Hey, why is Andy Van Slyke sitting down in the outfield? It's tied...Oh fuck." (Years later, I found out Van Slyke had told Bonds to move up a little, and Bonds told him to go fuck himself.)
Since that loss, the Pirates haven't had a winning season, tying them for baseball's all-time record for futility. Wrap your mind around that. The franchise, a proud, old outfit that goes back to Honus Wagner's days, still hasn't recovered from that one play.
The Bucs have been so bad for so long, that in 1997 both city newspapers ran 10-year retrospectives on a team that finished four games under .500.
While Cubs fans have the right to moan and groan about fate's cruel hand bitch-slapping them once again, you can point to four playoff appearances in the last 10 years, a nine-figure budget and endless opportunities in the future, and smile a little bit this Monday morning.
In my world, Sid Bream is always chugging around third and he always scores.

Calling all HuffPost superfans!
Sign up for membership to become a founding member and help shape HuffPost's next chapter