Venice Beach is home to a plethora of artists and creative people. Noted artists such as Ray Bradbury, Judy Baca, Philomene Long, Manazar Gamboa and Eva Cockcroft have all been part of the legendary art community by the sea. Numerous art groups have also arisen from the local community. One such group attracting notoriety is Venice ARTBLOCK, created in 2013. Endorsed by cultural and civic organizations, ARTBLOCK is a grantee of the Arts Activation Fund, created by Mayor Eric Garcetti. The artist run organization encourages Venice artists to open their studios and participate in the free event presented twice a year. An inclusive event, it spotlights artists of all disciplines who contribute to the quality and character of Venice.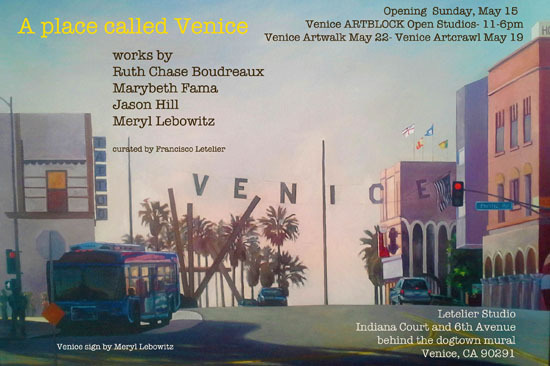 Flyer photo by Meryl Lebowitz, Venice 6 AM, 20" x 16" oil on canvas, 2016

Longtime resident and founding member Francisco Letelier has curated a group show entitled "A Place Called Venice." The new realism exhibition showcases the work of artists who depict Venice in their work. The selected works accentuate the importance of recognizing Venice as a place of historic cultural landmarks. Letelier said he organized the exhibit with the hopes of capturing the elusive spirit of Venice through realist works. "A Place Called Venice" includes works by: Ruth Chase Boudreaux, Marybeth Fama, Jason Hill and Meryl Lebowitz. According to Letelier, "The grouping of artists recaptures the sense of place and creativity that have been a guiding principle in Venice since founder Abbott Kinney first imagined it."

Ruth Chase Boudreaux is an artist, born, raised and educated in Venice. "ArtBlock is a crucial part of keeping the spirit of Venice alive," said Chase Boudreaux, who is participating in the event for the first time. "Without events like this, the Venice community that we know and love would disappear."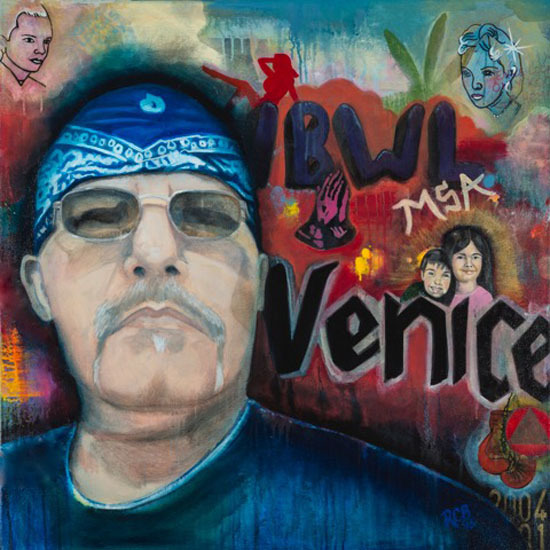 Ruth Chase Boudreaux, Not Just Me Anymore, acrylic on canvas, 3 x 3', 2016, Inspired by the life of Fernando Manzanilla

Her West of Lincoln painting series, awarded a grant from The Carl Jacobs Foundation pays tribute to a population of people who shaped the history of an untamed community, while preserving their historic significance. "The West of Lincoln Project began after painting a self-portrait, then realizing the challenges of my own childhood provided me with a brave and resilient spirit. Now, I am on a mission to tell the history of Venice through it's people." http://www.ruthchase.com/

Marybeth Fama creates intimate paintings of everyday life. Imbuing a magical quality to the commonplace, the artist has recorded iconic places and people for decades. With faultless craft, Fama captures scenes that are often overlooked, pushing viewers to recognize timeless characteristics of Venice life.
"For 32 years Venice has been my home and it has grown and evolved. I feel compelled to create images that are emblematic of the ways I have known before they all change or disappear; from my deep attachment to this neighborhood named Venice. " https://www.flickr.com/photos/marybethfama/
Jason Hill offers hand-painted photographic prints of the Venice Art Walls that capture the vivid, saturated color of the iconic public art walls in a unique style that is both timeless and reminiscent of Venice's early days of surf and skate culture.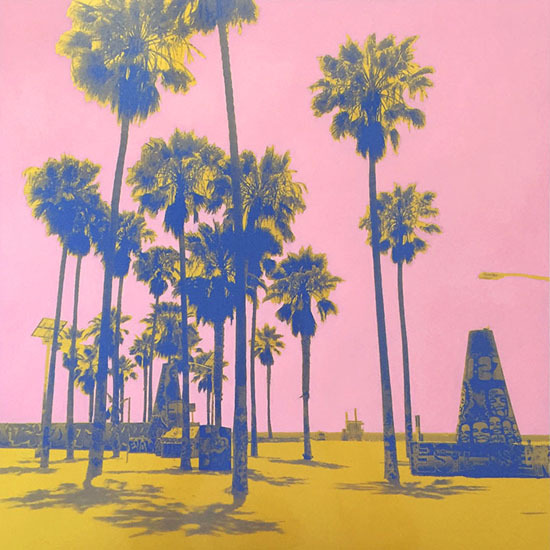 Jason Hill, Venice Art Walls, 20"x20", acrylic on metallic photo print, 2015

Widely recognized for his graphic design and illustration, Hill is the creator of Venice Stories, fumetti comics based on Venice Beach history, featuring interviews with local personalities published in the Argonaut newspaper. http://jasonhilldesign.com

Meryl Lebowitz demonstrates her perfected mastery through paintings of Venice streets, neighborhoods and vernacular architecture, inviting viewers to celebrate, remember and imagine a place called Venice. Her subjects are familiar, but their appeal is universal. Originally from Vermont, but now based in Venice, her award winning work can be found in collections throughout the United States.



Meryl Lebowitz Venice Stroll, 20" x12" oil on canvas, 2016
"This is my first year in the Art Block," said Lebowitz. "Since we first came here 5 years ago, I have been studying this place...its streets, its foliage, its people, its light. What a unique, multi faceted, layered, ever changing environment! My work has always been about a moment in time, and it's apparent, in a place that's changing so quickly, I will never run out of painting possibilities." http://meryllebowitz.com

Celebrate "A Place Called Venice" along with the collaborative spirit of Venice Art Week. The exhibition will be open for viewing at three Venice events starting with the Venice ARTBLOCK (free event) on Sunday May 15th from 11:00 a.m. to 6:00 p.m. Then the public has a second chance to see it during the Venice Art Crawl, a free event on May 19 from 6:00 p.m. to 10:00 p.m., and the exhibition will also be a part of the Venice Art Walk ($50 studio tour) on May 22 from noon to 6:00 p.m. http://www.veniceartblock.com http://www.veniceartcrawl.com/
http://theveniceartwalk.org
Calling all HuffPost superfans!
Sign up for membership to become a founding member and help shape HuffPost's next chapter