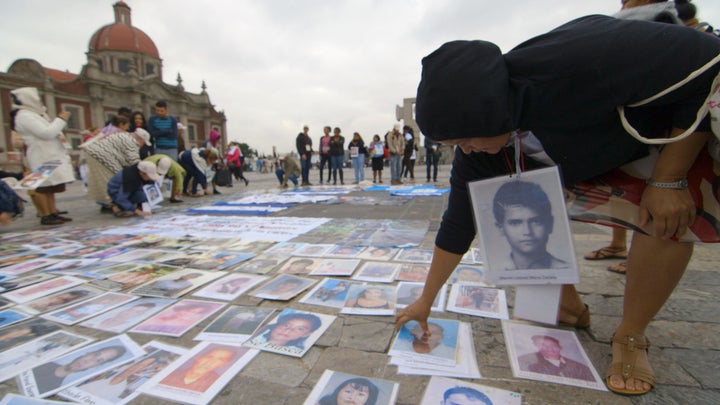 What if you didn't know where your son or daughter was? What if they vanished without a trace? This is the case for the "Caravan of Mothers of Disappeared Migrants". Meet Marialuisa Ernst whose film, A Place of Absence follows these women who are searching to find their missing sons and daughters who have disappeared literally into thin air.
According to the UN, approximately 500,000 people cross Mexico's southern border every year. The majority come from Central America's Northern Triangle (Guatemala, Honduras, and El Salvador). Many face grave horror as they make the courageous attempt to flee their countries because of the devastating conditions they are forced to live in with such economic inequality. While on their journey to flee 20,000 Central American immigrants vanish per year. They encounter much danger which leads to their disappearance such as human trafficking, being kidnapped by criminal groups, sex trade, being arrested for crimes they didn't commit, corrupt state institutions, and the even greater human rights abuse of murder.
The Caravan of Mothers is an organization of brave Central American women, who embark on an epic yearly bus journey throughout Mexico in a desperate search for their sons and daughters that have disappeared on the grim journey to the United States. For the last thirteen years the Caravan of Mothers have created empowerment for these poor, indigenous peasant women that have become political and human rights activists by forming this alliance to find their loved ones.
A Place of Absence encapsulates the horrendous travesty that these women face on a daily basis. Not knowing where a loved one is has been compared to the equivalency of torture per the UN. This documentary follows the director's search for the remains of her uncle who disappeared by the Argentine regime in 1976. The experience shook her world and was a common daily vibration in her life that leads her to travel with the brave women of The Caravan of Mothers of Disappeared Migrants. "As long a person is missing they have no identity. They do not exist," says Rafel Videla, Argentina dictator. One might ask what would create such a huge capacity in a person's heart to self-fund this documentary to share with the world in search of helping others find their loved ones. Well, you see Marialuisa Ernst was only six years old when her uncle disappeared during the Argentine regime in 1976. Growing up, his absence was a constant presence in her family. For 35 years they searched and followed the trail of his vanishing, led only by vague clues and whims. It was while documenting this personal journey in her family that Marialuisa learned about The Caravan of Mothers, which would shift her focus to a much wider story of searching, an unbelievable story of grave inhumanity that still exists today that needs telling. It is time to take the lid off and open the public up to the real face of immigrants who are in desperate need to start a new life. These people who are God's children just like you and I are living in unimaginable circumstances, under political terrorism, poverty, and torture. They walk in faith with the hope of starting over and while forging ahead to a new life step by step they vanish into thin air never to be heard of again. It is Marialuisa's hope to help these mothers bring their children home dead or alive so that at least they can bury their children with the dignity we all deserve in order to rest in peace.
Did you know since 2001 more people have died crossing the border than in the September 11, 2001, terrorist attacks and Hurricane Katrina combined? According to the NY Times "More people have died illegally crossing the southwestern border of the United States in the last 16 years than were killed in Sept. 11, 2001, terrorist attacks and Hurricane Katrina combined. From October 2000 through September 2016, the Border Patrol documented 6,023 deaths in Arizona, California, New Mexico and Texas, while more than 4,800 people died in the Sept. 11 attacks and Hurricane Katrina."
A Place of Absence seeks to address the issue that government and law enforcement both in Mexico and the U.S. are complicit in these disappearances, as they are in effect turning a blind eye to what is undoubtedly one of the West's greatest human rights crises. A Place of Absence seeks desperately to change that dynamic, both by shedding light on this human rights disaster and putting pressure on government officials to fix it.
This film will take you on an inner journey to mirror the emotions of the migrants and their families. It will explore the drama of illegal immigration, the dire conditions, the extreme poverty these people face and the danger that exists with the gangs and wars within their own countries that drive these migrants to begin the perilous journey to the United States in the first place.
Above all this film will shed light on the other face of the migrant; that of their mother whose tireless quest will go with no stone unturned, no door un-knocked and no matter how much time it takes they will continue the search until they bring their babies home dead or alive.
The Mothers Caravan are women who have united as one to show us what true social justice warriors look like. Imagine visiting countless mass graves, or wondering if your child's ashes have been thrown into the ocean? This is their daily life. Finding their child in jail is an actual relief. These women have shed light on the global struggle that hundreds of thousands of people are facing and we are completely in the dark, until now. We are all human beings and it is a time we understand the truth behind immigration and have a compassionate heart. These women will inspire you to become an activist in your own life and fight for what matters to you. To learn more about The Mothers Caravan click here www.aplacefilm.com.