One resource, buried underground and in finite supply, is increasingly becoming the lynchpin of modern economies. There is fierce competition for its use and we don't know how much of it can be exploited sustainably. It is not oil. It is groundwater.
By 2030, almost half of the global population (that's 3.9 billion people) is expected to experience severe water scarcity. This is predicted to shave six per cent off GDP in the driest regions. As the food riots of 2008 demonstrated, it also spells potential disaster for food security, as irrigation for agriculture uses the lion's share of water supplies.
Groundwater, found in sand and rock under the earth's surface, provides a critical lifeline for water-stressed communities where rainfall and river flows fluctuate. In fact, groundwater already irrigates more than 40% of irrigated land. It contributes to the health of local communities, ecosystems and economic growth, through its reliable, steady supply. Yet an increasingly variable climate and growing populations have accelerated demand for groundwater beyond sustainable levels.
In some areas of the world, such as the Middle East and South Asia, we are at risk of running groundwater reserves dry. Due to its "hidden" nature underground, groundwater has not historically received the same level of attention as surface water, nor had the same sustainability measures applied to it. But after explicit recognition for groundwater at the climate talks in Paris in 2015, society is more ready for a rethink. What do we need to do to sustain this vital commodity?
It will start with good policy. Around the world, many governments have begun to implement new measures as a response to local crises, such as farmers no longer being able to access dropping water levels putting their livelihoods at risk or local communities receiving unsafe water supplies due to groundwater contamination.
In southwestern India, aquifers are already overdrawn, thanks in part to heavily subsidised electricity rates for pumping groundwater. Researchers are now piloting a scheme which subsidises solar pumps instead and allows farmers to sell excess power to the local electric company. By offering farmers an incentive not to overpump, as they can get cash for excess energy, this approach not only protects groundwater reserves, but also reduces energy footprints and curtails carbon emissions related to pumping.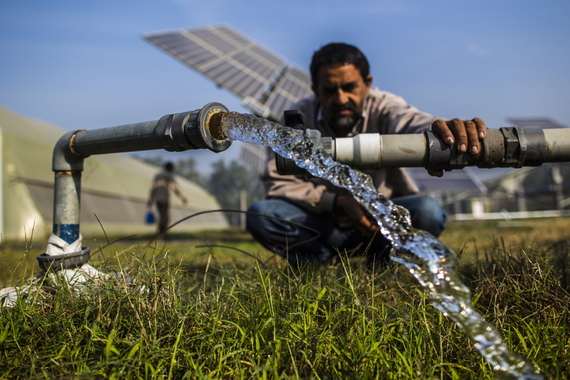 (Credit: Prashanth Vishwanathan, IWMI)
In Quinxu County in China, home to 193 villages, water levels were falling 1.6 metres per year. To tackle this, the county government modernised all irrigation wells and equipped them with pre-paid smart card readers. Since groundwater was declared a state property in 2002, water quotas were fixed for various sectors, townships, and villages, and within them, for farmers. A 'water price ladder' that differentiated the price for the domestic, industrial, service and agriculture sectors was enforced. The price rose sharply if the quota was exceeded. Overuse of groundwater reserves decreased dramatically as a result, while food production was only partly compromised.
In Morocco, the water table of the Saïss deep aquifer has fallen by anannual average of 3 metres over the past 20 years. The government has invested in a number of initiatives to address this, from capturing surface water and directing it to replenish aquifers, engaging farmers locally in managing groundwater collectively, and giving subsidies to farmers to implement smarter systems that use less water such as drip irrigation. However, these water-efficient technologies can also increase the overall area of irrigation carried out, which benefits individuals but does not necessarily lead to the expected water savings. Such complexities must be recognised and managed accordingly.
But the hard work doesn't stop with good policies. We have a colossal challenge to ensure that they translate into action and sustainable and equitable outcomes. Solutions will differ in each region of the world (some regions like parts of sub-Saharan Africa and eastern India even need to step up use of groundwater for agriculture rather than limit it) and there are many trade-offs and competing goals at stake. That is why the Groundwater Solutions Initiative for Policy and Practice (GRIPP) has identified common elements of success that can inform global action.
To begin with, we need a better understanding of the global state of our groundwater. We must invest in regionally specific research, and build the capacity of local communities to monitor and safeguard their own groundwater reserves and its use. New ICT technologies are also showing much promise. For example, the International Water Management Institute has begun to use drones to monitor the water scarce area of Anuradhapura in Sri Lanka. Satellite observations are being used to measure water productivity. These could be indirect ways to map groundwater abstraction as irrigated surfaces in rural areas expand.
Rule-enforcement is also going to be vital. No matter how sophisticated or forward-thinking policy and legislation is, if it is not well enforced, depletion will continue. Pairing enforcement with incentive structures for changing behaviour (either to increase use or constrain over-abstractions) can be an effective path forward.
Long-term partnerships at the country level to manage tradeoffs with other sectors, such as agriculture, health, energy and the environment will also be important to achieving locally-appropriate solutions.
Within GRIPP, we work on documenting practical lessons learned from policies and tested solutions in groundwater management at a global, national and sub-national level. These are made easily accessible to decision makers, and pave the way for solutions to be shared across continents.
To be clear, there is generally enough water to fulfil our needs. But a global, interdisciplinary effort will be key to the way we manage groundwater, to ensure that this vital resource can play its strategic role in water and food security and remain sufficient for generations to come.
Related
Popular in the Community