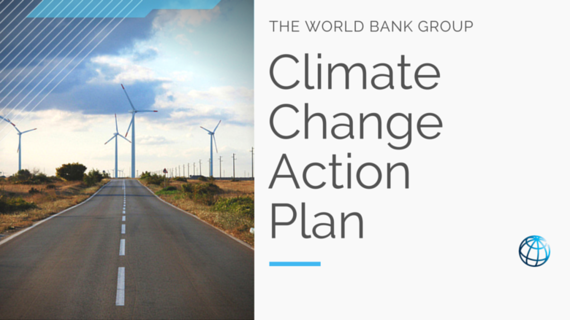 When the rains came to Senegal's capital and largest city, Dakar, in 2009, the people in Cite de Soleil were up to their chests in water. Even today you can still see the water marks on the walls. People who live there today still talk of the stench, the diarrhea, and the chest ailments suffered by the children.
Travel along the coast and the impact of increased erosion on tourism spots is all too evident. Go inland and you see people having to cope with significant droughts and shorter growing seasons. It's all too evident that people, particularly poor people, are already suffering the effects of weather-induced stresses.
And looking forward, the climate models suggest that this will only get worse with more extreme rainfall likely in Dakar, stronger coastal erosion, reduced fishing opportunities, and more extreme drought conditions inland.
Senegal is trying to tackle these issues, often with the help of the World Bank. One project is putting in place infrastructure to help manage the floods. It seems to be paying off. People say that when the rains came in 2014, the water washed away quickly. They were able to return to their neighborhoods and reinvest in housing. An agricultural project is helping people use new varieties of seeds with a shorter growing season.
These examples illustrate the importance for people and countries for more action to help them adapt to a changing climate. And it's experiences like these that influenced the thinking behind the World Bank Group's new Climate Action Plan, with its emphasis on rebalancing our work, with a greater focus on the need to build up the resilience of people and countries to adapt to a changing climate.
At its heart, it's an action plan that's intended to help the 140 developing countries who work with the World Bank Group deliver on their ambitious promises in the historic Paris agreement reached last December on climate change. As part of the Paris process, countries committed to implement their national plans, known as NDCs - Nationally Determined Contributions - to put help curb global warming.
Soon leaders will gather in New York to formally sign the agreement. The agreement's main aim is to keep the global temperature rise well below two degrees Celsius and to drive efforts to limit the temperature increase even further to 1.5 degrees Celsius above pre-industrial levels.
To reach those goals, we know we must bend the curve of emissions. That's why in our action plan, we've laid out a target to help developing countries add 30 gigawatts of renewable energy over the next five years- enough to power 150 million homes - to the developing world's energy capacity.
And it's why we're aiming to invest US$1 billion to promote energy efficiency and resilient building in cities responsible for two-thirds of the world's energy consumption. We will also work with over 30 cities to come up with lower carbon city plans to help deal with the influx of people to urban areas.
We all know that such changes will require massive amounts of private sector investment. That's why we're aiming to mobilize $25 billion more in commercial financing for clean energy over the next five years. It's also why IFC, our private sector arm plans to increase its climate financing by 50 percent to $3.5 billion per year by 2020 and why it plans to increase its mobilization of private finance to $13 billion a year by 2020. And it's why too, we'll continue to help countries to axe damaging fossil fuel subsidies and put a meaningful price on carbon pollution, which has the potential to redirect trillions of dollars of investment into a cleaner greener future.
But between now and when the Paris agreement comes into force in 2020, it will be vital to do more - as the experiences of Senegal illustrate - to help developing countries adapt to the changing climatic conditions impacting so many people.
We know if we don't act, climate change threatens to drive 100 million more people into poverty in the next 15 years. We have to boost people's resilience so they can cope with the changing climate. And with natural disasters on the rise, we've recognized the need to do more.
We're working for universal access to early warning systems. So by 2020, the goal is to provide 100 million more people in 15 developing countries access to early warning systems. We're also expanding sovereign risk disaster financing and aim to provide 50 million more people with social protection to better to cope when disaster strikes.
We'll be developing tools to help cities become more resilient, piloting a new approach in 15 cities by 2020 integrating a number of elements such as infrastructure development and investment, land use planning, and disaster risk management. And we've set a target to quadruple funding over five years to make transport systems more resilient to climate change.
But as we all know, and our plan recognizes, we can't overlook one of the most basics of human needs - food. With a changing climate, we need climate smart agricultural systems. We'll be developing investment plans for at least 40 countries by 2020. We'll be working to boost high efficiency and low energy use irrigation schemes to help farmers grow crops and also help spur greater use of hybrid crops that can withstand different climate patterns in the future. We will also work to restore degraded lands, to protect communities in at-risk deltas and coastal zones, and support investments in forests in ways that both provide livelihoods to poor people and protect valuable carbon sinks.
Climate-smart land use can not only put more money in the pockets of farmers, but can also increase food production. More than one billion people on the planet are now undernourished, and the world needs to produce at least 50 percent more food by 2050, in tougher climatic conditions. So our ability to feed the world's future population depends on us all becoming climate smart.
To get the kinds of impact we all aspire to, will need action at scale. So as well as our own increased climate financing, we will work to help governments not only translate their own ambitious national plans into reality but also build climate resilience into their overall policy-making, planning and budgeting systems. And we will be collaborating even more with other partners to increase our impact.
It's a tough and ambitious agenda, but we know that without such action now, we will not be able to deliver on our ambition to eliminate extreme poverty and increased shared prosperity. We owe it to the children in Senegal and elsewhere around the world.
Calling all HuffPost superfans!
Sign up for membership to become a founding member and help shape HuffPost's next chapter