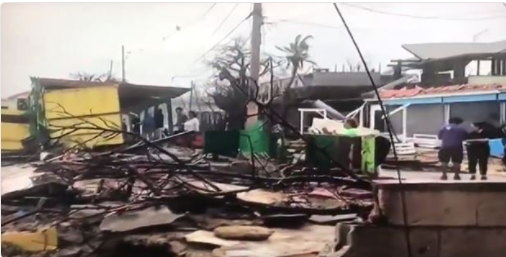 INTERVIEW WITH U.S. CONGRESSWOMAN NYDIA VELAZQUEZ
Congresswoman Nydia Velazquez (D), representing New York's 7th District of Queens, Brooklyn and Manhattan, is meeting on Monday with leadership of Congress to discuss a request for a new supplemental relief package for both Puerto Rico and the Virgin Islands. The effort to get the package passed is "going to be tough" she told me in a phone interview this morning.
Also on Monday, she will be meeting with officials from FEMA to accelerate aid. Citing the overwhelming demands of the storm on the main island, she says that aid to Vieques and its sister island Culebra needs to increase quickly. "I will do everything I can to with FEMA to be more aggressive" in helping the two outer islands, she said.
The Congresswoman shared the following updates:
*The port of Fajardo, the gateway to to Vieques and Culebra, is now functioning and the ferries are operational. However the safety of the ports of Culebra and Vieques has to be established by the U.S. Army Corps of Engineers.
*There are some private planes bringing supplies between Vieques and Ceiba Airport (on the eastern coast of Puerto Rico). These flights need to approved by government agencies.
*The U.S. Coast Guard in collaboration with FEMA have delivered modest amounts of relief aid in the form of water and meals. This began on Saturday, as previously reported.
*Later today (Sunday) in New York City, the Congresswoman will join New York Governor Andrew Cuomo to announce a statewide relief campaign. She said Jet Blue has made a significant commitment to bring relief supplies to the battered islands.
Congresswoman Velazquez has a vacation home in Vieques. Like virtually all other home owners who are off island, she has no report on its status. She has had a home there for the past 5 years.
Update 9/24 8:00 EDT: The Puerto Rican TV station WAPA reports that Coast Guard with FEMA has delivered on Saturday 1400 meals and 750 liters of water.
Update: As of end of day Saturday, September 23, there has been no sign of federal, Puerto Rican or NGO relief arriving, and those left on the island say they have not seen any police presence and fear a breakdown of civil order. This as supplies of gasoline, food and medicine are dwindling and no new supplies have reached the island of 9,000 people. Islanders have no way to leave the island. We have learned that a shipment of relief supplies organized by Bronx Borough President Reuben Diaz, Jr. will arrive on Tuesday.
The Caribbean island of Vieques, once a U.S. Navy base and firing range, and now a popular tourist destination seven miles east of Puerto Rico, bore the full impact of Hurricane Maria. With the main island reeling from the storm's impact, the tiny island and its 9,000 inhabitants has widespread damage, and with no significant air or sea links to the outside world.
Off the grid: With cell and phone service down, I was contacted earlier today via satellite phone by Angie Adams, a longtime resident and a tour operator. She said that there was very little or no government help and the situation is desperate.
Angie and others are organizing direct shipments from the U.S. mainland to Vieques' via Mosquito Pier, a former Navy pier. A ship has set out from Florida, she says. The Vieques airport is partially functioning, although its control tower is damaged. On the main island, the nearest regional airport to Vieques at Ceiba (former Roosevelt Roads Naval base) has a clear runway and some private planes are taking a trickle of supplies to the island.
The island's electrical grid is severely damaged. In normal times Vieques has just 8 utility workers. Angie says the need for electrical and communications repair workers is urgent. She hopes they can come directly to Vieques, perhaps on a military transport.
Reporting on her drive around the island, Angie says that virtually all the trees on the south side of Vieques, facing St. Croix, have been stripped bare. Concrete structures (mandated after the catastrophic Hurricane Hugo) have remained largely intact albeit with many shutters blown out. The older wooden homes and structures have been largely destroyed. The majestic herds of semi-wild horses that roam the island, have been devastated, as many animals died in the storm.
At the beach town of Esperanza, on the south side of Vieques, the storm hit with winds over 175 mph. The town was heavily damaged, and a 200-yard stretch to the east, connecting Esperanza to the main road has vanished, , replaced by sand dunes. Other roads were being cleared. There's no news yet about Vieques' bioluminescent bay, one of only a handful around the world.
Ferry service, the lifeblood of the island, is not functioning, as the port of Fajardo, which supplies Vieques, has been destroyed, she said.
Adams says that to the best of her knowledge, there have been no deaths on the island.
Islanders understand the main island is crippled, but want the world to know that Vieques is in desperate shape. What's left of the local government has declared a curfew 6:00 pm until 6:00 am.
My wife and I have owned a home in Vieques since 2004. Built with reinforced concrete, it has withstood the storm. But many others were not so lucky, and rebuilding this beautiful island will take time, money and planning.
A fund to support relief and recovery on Vieques has been set up by Kelly Thompson, publisher of the Vieques Insider magazine. The Go FundMe page can be found here.
A list of residents "safe" from the storm is listed here. It is quite limited at this point.
To contact the writer, email andy@beet.tv or text 1.917.881.8139 and follow @beet_TV on Twitter
Calling all HuffPost superfans!
Sign up for membership to become a founding member and help shape HuffPost's next chapter
BEFORE YOU GO