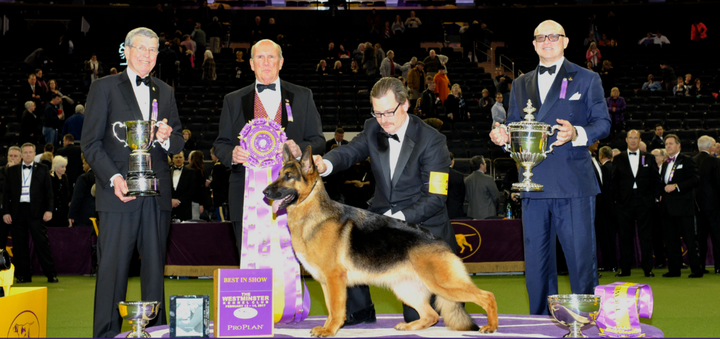 I'd been drinking wine and was happily engaged in the 141st Westminster Kennel Club Dog Show. More importantly, I had forgotten that it was Valentine's Day. Rumor, the German Shepherd, had just won Best in Show when her tuxedo-clad owner, breeder, handler Kent Boyles, said it: "We're just going to relax and hopefully find an appropriate husband for Rumor."
It was then, with that husband talk, I remembered what day it was. I find Valentine's Day exhausting. Maybe because I didn't have a date for the first time in a couple years. Maybe I'm bitter.
Regardless, I do hope they find Rumor a nice husband – she's Best in Show for God's sake. If she can't find a nice husband, then what hope do the rest of us have?
My pick to win was Adrian, the elegant Irish setter. Almost seven years old, he was a grandpa on the circuit, but there was something about him. He was gorgeous, his shiny red coat hanging almost to the floor, shimmering as he leapt around the stadium. There was an affability to him, subtle confidence in his demeanor, natural athleticism, of course – he looked like a good boy. They're not known as the most intelligent of dogs, but his handler, Adam Bernardin, said differently.
"He's not dumb," said Bernardin, "He's smart. He just chooses to listen to what he wants to."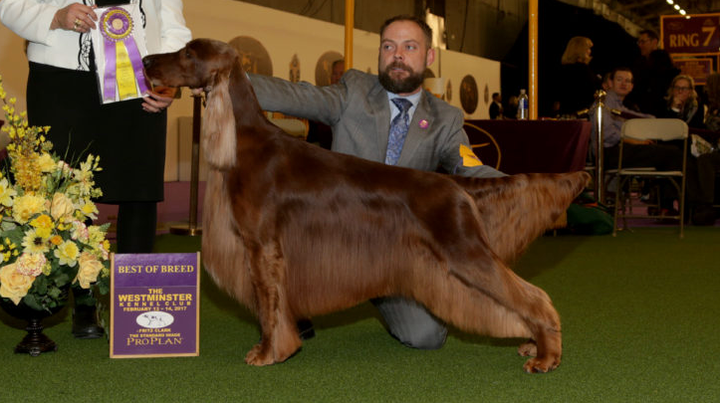 Then there was the Pekinese named Chuckie, dressed like a little monster, only his adorable under bite visible amongst the overcoat of hair. He looked like he'd just stolen the long lavish coat from a rich old trans-Atlantic divorcée backstage. At one point, I thought he may have it in the bag – they didn't even make him walk out. He was carried by handler, breeder, and co-owner, David Fitzpatrick. An air of royalty hung suspended around him, and for good reason, for his father, Malachy, won Best in Show in 2012. Perhaps, the pressure got to Chuck. Probably not, though. Despite the announcers incessantly telling us viewers that these dogs know when they've won, I'm not convinced. I saw Chuckie backstage post-show, lounging on a blue ice pack, tongue hanging as he panted and waited for more treats. The loss didn't seem to affect him.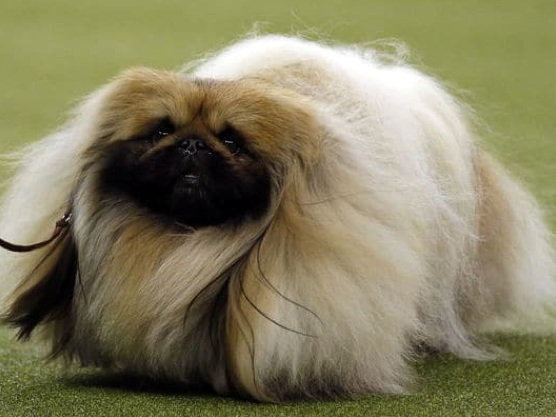 Duffy, a Norwegian Elkhound, was handled by Patricia Trotter, 81, who bought her first elkhound in 1949. She's won the hound group at Westminster eleven times, but has never taken home the coveted Best in Show ribbon. I was worried Duffy might knock Trotter over as they circled the green carpet, but she handled the dog easily. It was impressive to see her trotting leisurely around the stadium with an elkhound, a dog known for its talents in bringing down big game like moose and deer and, of course, elk.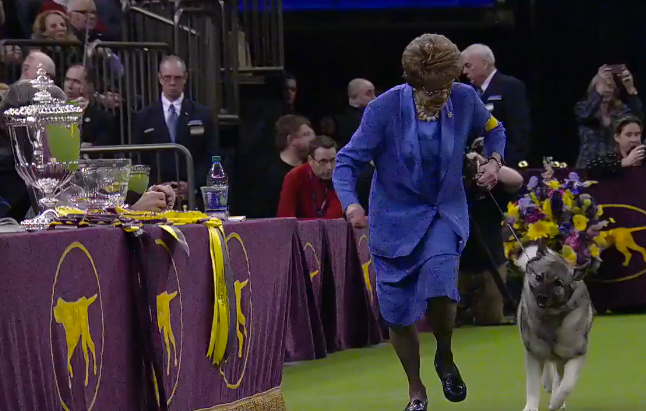 Aftin, a miniature Poodle, was groomed in classic Poodle style and joined the rest of the field as winner of the non-sporting group. The balls around its feet and tail are meant to serve as paddles as it swims, almost like buoys. Of course, the miniatures are not doing much swimming, more an activity done by their Standard counterparts. Aftin was robotic and polished. She could have won, I thought — although, I think I may have thought that about every dog as it came out and did its thing.
Two more dogs completed the field: Devlin, the boxer, and Tanner, the Norwich Terrier. If you remember back to the 2000 mockumentary comedy film Best in Show chronicling the journey of several owners, breeders, and handlers at Westminster, then you may recall it was Eugene Levy's Norwich Terrier – and two left feet – that strolled to the victor's circle. With its little potbelly and mighty strut, the Norwich is always a crowd favorite. This was not it's year, however.
Each dog was now a prime candidate for breeding. They would all find suitable mates and produce litters of puppies following this success. How convenient they should find such forced love on Valentine's Day.
Devlin, the Boxer, was top three in my book – behind Adrian the Irish Setter and Rumor the now champion German Shepherd. Following her win of the working group, Devlin gained short-lived fame after she leapt into the arms of handler, Diego Garcia, and kissed him.
That's the field, all probably worthy of the top honor.
It was tense, I tell you. The judge, Thomas Bradley, was thorough and asked each competitor to take a second solo trip around the green carpet. Bradley said before, he'd been sequestered in a hotel room for the last five days. No calls or television. Doctor's orders. He walked into last night's judgment with fresh, untouched eyes.
Moments before the judge's decision was made, the camera panned to Rumor who had taken up the most stoic, statuesque pose I'd ever seen a dog strike. It was that classic German shepherd attack stance, poised and discerning of the movements around her. She'd won it then and there. I knew it, and now so did the judge.
Rumor was favored to win it all last year, but failed to do so. Her handler, Kent Boyles, planned on retiring her when she turned five, which she did shortly after the 140th Westminster Kennel Club Dog Show. Unable to hang it up, however, Rumor and he went around for one more go.
It worked out and she's now Best in Show. She now holds the title as the best of the best. Is there the human equivalent to this Westminster Dog Show? Is it Miss Universe? Or Mr. Olympia? Could it be the Olympics? Should it be politics?
I'm not sure, but it was a good show. At least, it distracted me from Valentine's Day for a few hours.
REAL LIFE. REAL NEWS. REAL VOICES.
Help us tell more of the stories that matter from voices that too often remain unheard.
BEFORE YOU GO