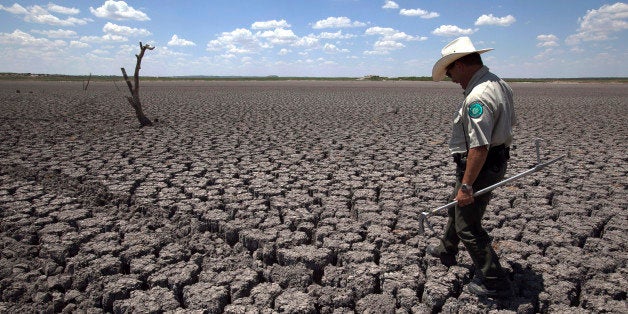 Global leaders are convening in Paris for the 21st Conference of the Parties ("COP21") to address one of the most transformative issues of our time - climate change. The Pentagon calls it a threat multiplier. Among some academics, it's a stressor. In 2011, millions of Egyptians and Syrians knew it simply as hunger. Today, Europeans know it as the influx in migration to the region.
But, by any name, climate change is contributing not just to melting ice caps and rising sea levels, but also to drought, food shortages and, ultimately, to global instability. As illustrated around the world, humanity's future hinges in large part on our ability to feed a growing and increasingly urban and wealthy population amid variable and extreme weather conditions.
All told, 7.3 billion people today use up 150 percent of what the Earth's natural resources can supply. Our consumption is outpacing the planet's renewable productivity by about 50 percent. By 2050, the world's population will near 10 billion and the amount of food we need to produce will roughly double. To meet that demand, we must double net food availability by 2050. The effects of climate change will only make this task that more difficult given its inextricable link to food production.
Consider that converting forests, grasslands, wetlands and other natural habitats to grow crops, farming fish and raising livestock all release carbon into the atmosphere. And, the land that remains does a significantly poorer job reabsorbing all that carbon. Not to mention, as we have seen in China and Syria, as well as in California and the Midwest, record-breaking high temperatures are driving drought conditions that make producing food significantly more difficult and expensive. Droughts are particularly problematic because 70 percent of the freshwater used by people globally is used to produce food.
But the impacts don't stop there. Agricultural sprawl has impacts. When terrestrial producers expand production onto more marginal areas and increase their use of fertilizer, pesticides, and irrigated water, runoff increases as well. And these materials flow into rivers, lakes, bays and oceans, causing stress in marine ecosystems including increasing coral bleaching at lower water temperatures. Rising temperatures and ocean acidification further threaten marine life, disrupting economies and communities that rely on seafood for commerce and food and nutrition security.
The short answer - there is no silver bullet.
We will need to work simultaneously on increasing productivity, access, and efficiency while reducing waste and shifting consumption. For each calorie we produce, we must use less land, water and energy, discharge less fertilizer, pesticide and greenhouse gas, and squander less of what we grow. Indeed, to that last point, we waste one in three calories globally or about 1.3 billion tons of food each year. That's four times the amount needed to feed the 800 million people who are malnourished or about half of all the additional food that we will need to feed everyone by 2050.
To help producers adapt, we must keep all possible options on the table.
This includes the availability of science-based solutions. Climate change will demand the use of climate smart agriculture that applies genetics and marker-assisted breeding to increase productivity, improve drought tolerance, and increase disease resistance.
Trade will also become an important fixture of any successful food security strategy in a world where food production is increasingly affected by weather variability. However, increased and shifting global consumption levels will only complicate our reliance on global trade. Eight countries dominate our international food trade, exporting about 65 percent of the world's cereal grains and 85 percent of oil seeds. Yet, in 2012, four of the eight countries experienced drought, causing global food reserves to reach an all-time low.
While producers, consumers, financial institutions, the scientific community and the world's most powerful food companies all share a responsibility in tackling these challenges, it will take the political will of global leaders to drive a global climate change agenda. We must move beyond isolated crises from one country or region to the next and pledge to address the climate challenges that threaten global food security and the wellbeing of our planet.
This year's climate change conference is a critical step toward our global leaders realizing this long-awaited commitment.

Jason Clay is Executive Director of the Markets Institute at World Wildlife Fund and a member of the DuPont Advisory Committee on Agricultural Innovation and Productivity.
Related
Popular in the Community