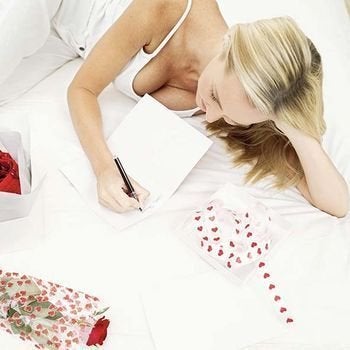 For a time, if you were lucky enough to be on Robert Frost's Christmas list, you could count on a card in the mail each year. Each married a Frost poem with a simple but beautiful rendering of the natural world or the New England landscape (you can view a slide show of the cards here, or if you're in New York, go see them in person at the new Poets House), and I can think of no better gift for a poetry lover at Christmas.
But these days, unless you have hundreds of dollars to dole out on eBay--and you can find these cards on eBay--you'll have to settle for something a little less spectacular. I've done my best to collect a few ideas.
David Starkey of the Santa Barbara Independent listed ten poetry books he finds fit for giving this season. The new Wallace Stevens, Selected Poems from Knopf stands out for me. It sets the mood for enjoying one of the truly great poets of the 20th Century. Here's Stevens' famous lyric "The Snowman," in case you aren't familiar:
One must have a mind of winter
To regard the frost and the boughs
Of the pine-trees crusted with snow;

And have been cold a long time
To behold the junipers shagged with ice,
The spruces rough in the distant glitter
Of the January sun; and think
Of any misery in the sound of the wind,
In the sound of a few leaves,
Which is the sound of the land
Full of the same wind
That is blowing in the same bare place
For the listener, who listens in the snow,
And, nothing himself, beholds
Nothing that is not there and the nothing that is.
And speaking of great books, the online store at The Academy of American Poets is offering an autographed copy of our current Poet Laureate Kay Ryan's book The Niagra River from Grove Press for just $15. Here's an excerpt from her poem "Chinese Foot Chart":
Every part of us
alerts another part.
Press a spot in
the tender arch and
feel the scalp
twitch We are no
match for ourselves
but our own release.
Each touch
uncatches some
remote lock. Look,
boats of mercy
embark from
our heart at the
oddest knock
The Academy website has some other interesting gift ideas. There's a "Wallace Stevens Scansion T-shirt" for poetry geeks (and I mean that lovingly) and you could be the first woman on your block to wear an Emily Dickinson baby doll T. And while it might be a little heavy for Christmas, I also like this timely (and gorgeous) broadside of James Merrill's poem "Page from the Koran" overlaid on a replica page of the holy book. Here's the poem:
A small vellum environment
Overrun by black
Scorpions of Kufic script--their ranks
All trigger tail and gold vowel-sac--
At auction this mild winter morning went
For six hundred Swiss francs.
By noon, fire from the same blue heavens
Had half erased Beirut.
Allah be praised, it said on crude handbills,
For guns and Nazarenes to shoot.
"How gladly with proper words," said Wallace Stevens,
"The soldier dies." Or kills.
God's very word, then, stung the heart
To greed and rancor. Yet
Not where the last glow touches one spare man
Inked-in against his minaret
--Letters so handled they are life, and hurt,
Leaving the scribe immune?
For a limited time, you can even get if framed for free.
The Poetry Speaks collection always makes a great gift, offering audio recordings of poets from Walt Whitman to Sylvia Plath reading their work. It's one that I've happily received before. Now if someone would just pony up the $800 for my limited edition Robert Frost card, I would squeal like a twelve-year-old opening an Xbox.
Related