Every child who comes into this world arrives in a state of helpless innocence. If that child is lucky, they will be raised by loving parents who try to provide a safe and healthy path toward a promising future. Unfortunately, there is no way of predicting how or when that child's idealism will be tarnished by reality.

Whether disillusionment results from an act of aggression, a natural disaster, substance abuse, or domestic violence, the loss of a child's innocence can be an unexpected and traumatic event. For others there is a slow but steady erosion of hope and joy. This decidedly more incremental process may be due to increased responsibilities, a growing sense of maturity, financial stress, personal tragedies, the onset of disease, empathy for others, or a growing awareness that the deck is stacked against them.
Harvey Milk often insisted that "You've got to give them hope." President Barack Obama ran on a platform of "Hope and Change." But there are times when the proverbial arc of the moral universe does not bend toward justice, but continues to ignore the people who seem to be standing in its way.
The Bootstrap Theater Foundation recently presented the world premiere of a compelling environmental drama with music at Z-Space Below. Written by Sharmon J. Hilfinger & Joan McMillen (and directed by Tracy Ward), Arctic Requiem: The Story of Luke Cole and Kivalina tells the tale of a San Francisco-based environmental lawyer who took up the cause of Inupiat villagers living in Kivalina, Alaska. A former member of Nader's Raiders, Luke Cole founded the nonprofit Center on Race, Poverty, and the Environment (CRPE) in order to assist marginalized communities in fighting the imposition of environmental and health hazards by profit-driven corporations. Cole also taught environmental justice at UC, Berkeley, UC, Hastings College of the Law and Stanford Law School.
Numerous documentaries have helped to focus attention on the growing perils of climate change.
From 2006's An Inconvenient Truth, 2007's Everything's Cool and The 11th Hour to 2009's Earth Days, The Age of Stupid, and A Sea Change, concerned filmmakers have been trying to make audiences understand how dangerously close our planet has gotten to a tipping point that could prove fatal to life on earth.
From 2010's There Once Was An Island: Te Henua e Nnoho and 2011's Last Call At The Oasis to 2012's The Challenge of Venice and 2015's The Messenger, audiences have learned of the challenges facing humans and other species which could ultimately lead to mass extinction.
While certain kinds of edutainment can be achieved in film, audiences experience a vastly different sort of dramatic impact during a live performance. That's not to suggest that a play about the environment can't run aground on lofty intentions, guilt tripping, or a willingness to resort to theatrical styles (interpretive dance) that could diminish an audience's sympathy for the project.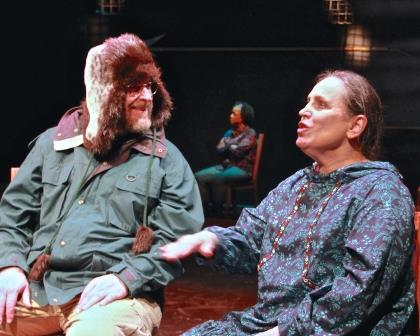 Damon K. Sperber (Luke Cole) and Lynne Soffer (Lucy) share a
moment of friendship in Arctic Requiem (Photo by: Vicki Victoria)
Thankfully, the ambitious and commendable Arctic Requiem avoids such creative hurdles by concentrating on:
An oppressed racial minority belonging to a 10,000-year-old Eskimo culture that faces the loss of its habitat due to environmental pollution and climate change.
An Inupiat myth that casts a raven as a trickster who not only creates the world, but exists in all dimensions of time.
An easily identifiable corporate villain (Teck Resources) determined to build the world's largest zinc mine despite the risk to a pristine environment. Teck's legal staff follows a typical path of moving the goal posts for those who would dare to sue them while trying to pit one group of plaintiffs (most of whom are employed at Teck's Red Dog mine) against another.
Government malfeasance by easily corrupted federal officials.
An idealistic lawyer from San Francisco who comes to Alaska on a quest for environmental justice and is willing to spend six years working on a case involving the Clean Water Act. On February 26, 2008, Luke Cole filed a Global Warming lawsuit (Kivalina vs. ExxonMobil Corp.) which sought reparations for the first climate change refugees in the United States.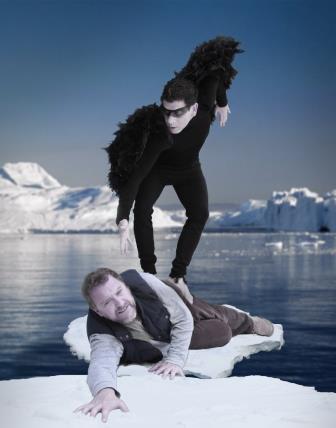 The Raven (Gendell Hing-Hernandez) guides environmental
lawyer Luke Cole (Damon K. Sperber) in Arctic Requiem:
The Story of Luke Cole and Kivalina (Photo by: Vicki Victoria)
Working on a unit set by Guilio Cesare Perrone that included blocks of ice hanging above (and melting into) onstage pools, the six-actor ensemble demonstrated the trials and tribulations of villagers living on a barrier reef island located about 70 miles above the Arctic Circle. With Damon K. Sperber as Luke Cole and Lawrence Radecker and Michael Torres as two of Kivalina's troubled male villagers, Cathleen Riddley and Lynne Soffer alternated between portraying two of the female plaintiffs and two of Teck's manipulative lawyers.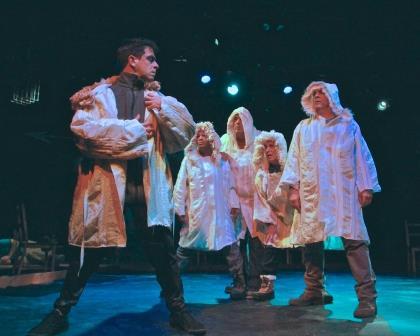 Gendall Hing-Hernandez (Raven) with the cast of Arctic Requiem:
The Story of Luke Cole and Kivalina (Photo by: Vicki Victoria)
While Soffer provided some beautifully poignant moments as Lucy, the strongest acting came from Gendall Hing-Hernandez (who effortlessly switched between portraying the Raven, a local judge, a representative from Teck Resources, and several other roles). Musical accompaniment was provided by Joan McMillen on piano and Helen Newby on cello.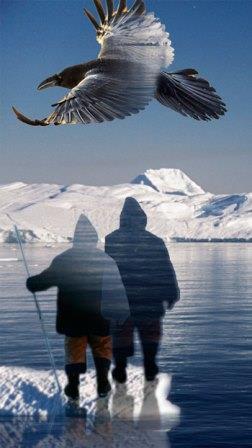 Poster art for Arctic Requiem: The Story of
Luke Cole and Kivalina (Photo by: Vicki Victoria)
Arctic Requiem: The Story of Luke Cole and Kivalina is one of those rare cause-related dramas that leaves viewers with a tremendous sense of respect for the actors and creative team as well as empathy for the people they are depicting onstage. By weaving a musical element and a whaling narrative into the production, the creative team was able to give life to a tremendous amount of information and legal maneuvering, thereby crafting a powerful drama that never lost its grip on the audience.
In rare instances, a person's loss of innocence may be due to a catastrophic event (the assassination of President John F. Kennedy, the terrorist attacks on 9/11, Hurricane Katrina). More often, however, it is marked by the passing of a more personal milestone. That moment may be as exuberant as a young man getting laid for the first time or as bittersweet as his doting mother realizing that her teenage son is no longer her little boy.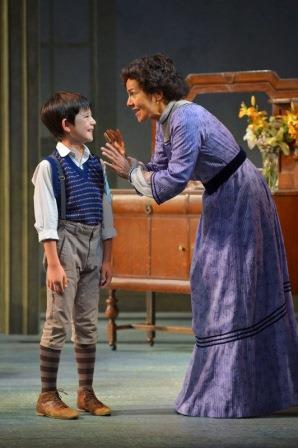 Brandin Francis Osborne (Tommy) and Rachel Ticotin
(Essie Miller) in a scene from Ah, Wilderness!
(Photo by: Kevin Berne)
The American Conservatory Theater recently offered a new production of Ah, Wilderness! Eugene O'Neill's comedy premiered on Broadway on October 2, 1933 (at what is now the August Wilson Theatre) with a cast headed by George M. Cohan. In 1934, Will Rogers starred in the first national tour when Ah, Wilderness! was presented at the Curran Theatre in San Francisco.
Set in Connecticut on July 4, 1906, the play focuses on life within the tightly-knit Miller household as it is affected by the sturm und drang raging within the soul of its middle son, Richard (Thomas Stagnitta). O'Neill's original subtitle for the play was A Nostalgic Comedy of the Ancient Days when Youth was Young, and Right was Right, and Life was a Wicked Opportunity. However, as director Casey Stangl notes:
"Richard is a young man who is not only falling in love for the first time, he is also very smart and has a very analytical and complex mind. He's attracted to radical political ideas that are different from the sense of conformity that surrounds him. You can feel that sense of rebellion, of wanting to break out of the confines of this small community that he's in, which is also something that O'Neill greatly felt."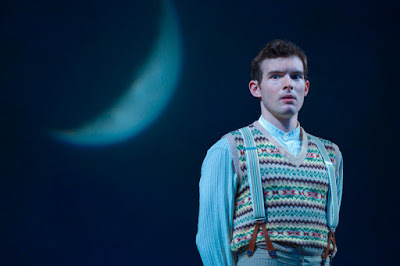 Thomas Stagnitta as Richard Miller in Eugene O'Neill's
Ah, Wilderness! (Photo by: Kevin Berne)
While hormones rage through his 16-year-old body, Richard has been devouring all kinds of "dangerous" books to feed his romantic, idealistic soul. Quick to passionately regurgitate newly-acquired bits of wisdom (with or without their original context), his emotions can vary wildly from moment to moment. He may ardently profess his devotion to his girlfriend, Muriel McComber (Rosa Palmeri), or think she's a silly goose unworthy of his attention and affection.
Although Richard's 19-year-old brother, Arthur (Michael McIntire) -- a handsome college jock who considers himself to have become a man of the world -- may feel no need to corrupt his impressionable kid brother, one of Arthur's classmates at Yale, Wint Selby, (Matthew Capbarat), offers Richard an opportunity to experience a Fourth of July celebration that (instead of mere fireworks) includes booze, loose women, and a chance to blow his parents' curfew to smithereens. For a constipated mama's boy accustomed to playing by the rules, who could ask for anything more?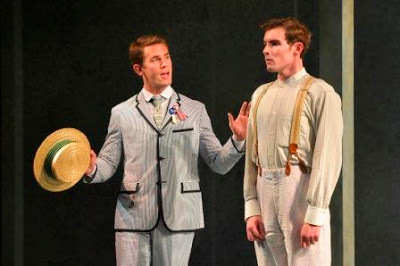 Matthew Capbarat (Wint Selby) and Thomas Stagnitta (Richard
Miller) in a scene from Ah, Wilderness! (Photo by: Kevin Berne)
Despite the fact that there was plenty of history being made in 1906 (the eruption of Mount Vesuvius, the San Francisco Earthquake, the sale of the first Victrola, the launch of the RMS Lusitania -- as well as the deaths of Susan B. Anthony, Henrik Ibsen, Pierre Curie, and Paul Cézanne), the Miller household seems to have been carefully insulated from anything more disturbing than the fact that Aunt Lily's long-term boyfriend whom she refuses to marry, Sid Davis (Dan Hiatt), has gotten drunk again.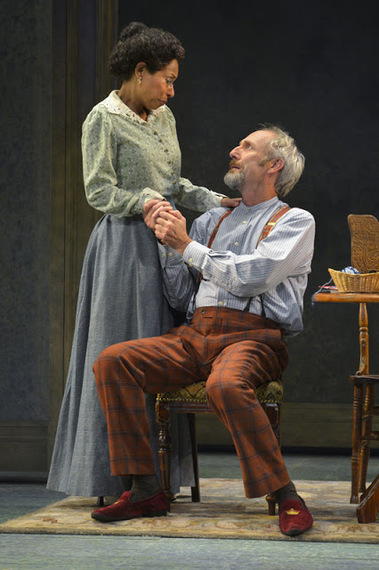 Margo Hall (Libby) and Dan Hiatt (Sid) in a scene from
Eugene O'Neill's Ah, Wilderness! (Photo by: Kevin Berne)
This is all the more surprising when one considers that Richard's father (Anthony Fusco) owns the Evening Globe, where his challenges include (a) dealing with a threat by local businessman David McComber (Adrian Roberts) to pull all of his advertising from the newspaper because of the bad influence Richard is having on his daughter, and (b) the occasional need to hire his brother-in-law, Sid (currently working as a reporter for The Waterbury Standard) if he loses another job because of his drinking problem.
At home, Nat is forced to deal with the constant fussing and fretting of his wife, Essie (Rachel Ticotin), over Richard's whereabouts and her youngest son, Tommy (Brandin Francis Osborne), who is eager to set off some firecrackers on the Fourth of July. By contrast, her daughter, Mildred (Christina Liang), and the family maid (Jennifer Reddish) seem to require little supervision.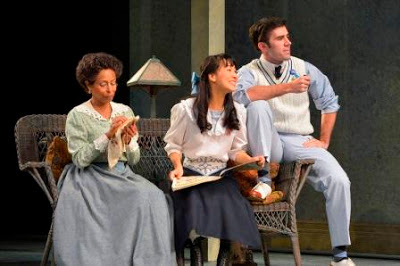 Margo Hall (Lily), Christina Liang (Mildred), and Michael McIntire
(Arthur) in a scene from Ah, Wilderness! (Photo by: Kevin Berne)
As family dramas go, Ah, Wilderness! is rather benign, a glimpse of turn-of-the-century America back when drugs, violence, sexism, and racism were not tearing apart the bucolic appeal of Connecticut's small towns. To help capture the ethereal air of the Miller household, set designer Ralph Funicello and lighting designer Robert Wierzel used a set of scrims to set the tone for the production. As Funicello explains:
"The play depicts a time that is about 40 years after the Civil War. It's quite easy to realistically build the interior of a house, but it's not so easy to build realistic exterior spaces. The challenge of the scene on the beach was something that drove the whole design. I wanted to create a set that would accommodate the beach scenes within the context of the rest of play."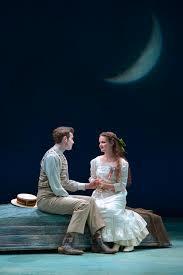 Thomas Stagnitta (Richard Miller) and Rosa Palmeri
(Muriel McComber) in a scene from Ah, Wilderness!
(Photo by: Kevin Berne)
"In order to do that, I concentrated on blurring the sharp lines of realism. A dreamy haze permeates the whole play. My intention for this new production revolved around the idea that scenes would unfold in a fuzzy, dreamlike, memory-infused environment. I then calculated how much detailed architecture (a spare set with only the essential furniture) I would use and how much of it would be abstract. I decided not to use doors in the construction of the set so that the characters can float in and out of rooms as they please."

O'Neill's play requires a fairly large ensemble, several of whom must play young characters. While veteran actors Anthony Fusco (Nat Miller), Margo Hall (Lily Miller), and Dan Hiatt (Sid Davis), contributed handsomely to the production, Rachel Ticotin (Essie Miller) was often difficult to hear, leaving some important gaps in her interactions with other characters. Having inherited the production on short notice following the tragic death of Mark Rucker, Casey Stangl was fortunate to have numerous young actors available from American Conservatory Theater's Master of Fine Arts Program. As she explains:
"One of the reasons why I think this play is difficult to do (or why it's not done that often) is the fact that it requires so many talented young people. For our production, there is a confluence of young actors who not only are at A.C.T. and who are available and talented, but who have also been in this program together for almost three years and have a sense of family about them. They all know each other and have each other's backs. They know the best and worst of each other. That's just like being in a family and adds a lot to the potential depth of this production's ensemble. The connectednsss of the M.F.A. Program actors is only to our advantage in terms of creating this tight-knit community that makes up the universe of the play."
With Caitlan Taylor appearing as Belle (a prostitute), Arthur Wise as a bartender, Matthew Baldiga as a salesman, and Michael McIntire as Arthur, the younger members of the ensemble included Christina Liang as Mildred, Jennifer Reddish as Norah, Matthew Capbarat as Wint Selby, and Rosa Palmeri as Muriel McComber. However, the evening was dominated by a beautifully layered performance from Thomas Stagnitta that was a huge triumph for such a young actor in embodying a complex and conflicted character onstage.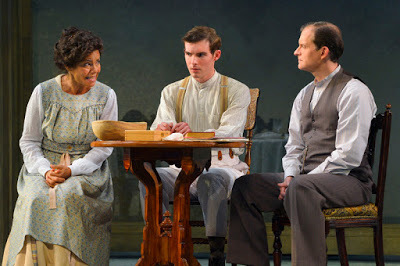 Rachel Ticotin (Essie), Thomas Stagnitta (Richard), and Anthony Fusco
(Nat) share a tense family moment in a scene from Ah, Wilderness!
(Photo by: Kevin Berne)
Calling all HuffPost superfans!
Sign up for membership to become a founding member and help shape HuffPost's next chapter