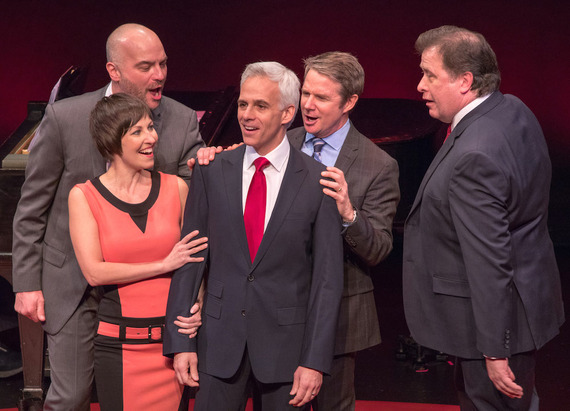 By Miles Harter, ZEALnyc Contributing Writer, January 13, 2017
Theatre can be an excellent vehicle for audiences to enjoy and learn from the entertaining depiction of historical events. Mark Felt, Superstar, a new musical at the York Theatre Company, as part of its New2NY Series and presented as a staged reading, is perfect. It has just the right mix of thought-provoking content, history, music, whimsy, and humor.
Mark Felt, Superstar takes us back to the 1970s and the Watergate scandal, but also relays a timeless story of tragedy and ambition. One does not have to be a history buff (or over age 50) to appreciate the Watergate story and the brilliant approach of this musical. By way of brief background, in 1972 Republican operatives broke into the Democratic National Committee headquarters at the Watergate Hotel. The break-in and ensuing cover-up was directly linked to many of President Richard M. Nixon's aides. Two Washington Post reporters, Carl Bernstein and Robert Woodward, conducted an intense investigation, which included many contacts with an informer, who provided "deep background" for their investigation. That person received the moniker "Deep Throat." Ultimately, many of Nixon's aides went to jail, and Nixon himself resigned in August 1974. For more than 30 years, the identity of "Deep Throat" was unknown -- Bernstein and Woodward refused to identify their source. But in a bombshell revelation in 2005, a man named Mark Felt, then in his 90s, who had been the FBI Deputy Director for part of the 1970s, identified himself as the whistleblower known as Deep Throat.
The book of Mark Felt, Superstar and jazzy music and lyrics, were all written by the very accomplished Joshua Rosenblum, who also serves as the musical director. Rosenblum deftly relates the story of Mark Felt, through delicious dialogue and wonderful musical numbers, ranging from purely comical to poignant, transporting us back into recent history. A bonus for the audience at the stage reading was observing Mr. Rosenblum's expert piano playing for the show that he obviously has so lovingly created. The program includes a passionately written "Author's Note," in which Mr. Rosenblum expresses his views on the crisis of faith in government in the 1970s, and the current state of political affairs.
The very talented cast of five perform superbly. They play a total of 24 different characters, each with the appropriate amount of humor or sadness. Many of the colorful and evil characters of the Watergate scandal make cameo appearances--the actors simply hold up a picture of the character and assume the role. The photographs provocatively remind (or introduce, as the case may be) theatregoers to the Watergate cast of characters, alternatingly causing shudders (like the picture of John Mitchell, the convicted former Attorney General under Nixon) or guffaws (like the picture of Mitchell's wife, the colorful and garrulous Martha Mitchell).
The star of the show is Neal Mayer, as Mark Felt, who even bears a resemblance to the pictures of Felt. He gracefully inhabits the role, becoming both sympathetic and tragic. Vanessa Lemonides skillfully assumes several roles, and is luminous as Audrey Felt, Mark's wife. She brings down the house in one number, called "Audrey Felt," singing wistfully about what Audrey Felt felt.
Mark Felt, Superstar reminds us that the system actually worked in the 1970s. The show also serves as a reminder of what we can and must do today to assure the continued success of our liberal democracy.
Mark Felt, Superstar, presented by the York Theatre Company at the Theatre at Saint Peter's, 619 Lexington Avenue. Limited engagement runs through Sunday, January 15, 2017. Book, music, and lyrics by Joshua Rosenblum. Directed by Annette Jolles; musical direction by Joshua Rosenblum; lighting design by Brian Nason; scenic consultant, James Morgan; production manager, Nick Puglia. Cast: Peter Benson, Will Erat, Vanessa Lemonides, Neal Mayer, and Michael McCoy.
Cover: (l. to r.) Vanessa Lemonides, Will Erat, Neal Mayer, Peter Benson and Michael McCoy in 'Mark Felt, Superstar;' photo: Ben Strothman
_____________________
Miles Harter, a Contributing Writer for ZEALnyc, writes about theater performance and lifestyle events.
For more features from ZEALnyc read:
For all the news on New York City arts and culture, visit ZEALnyc Front Page.
REAL LIFE. REAL NEWS. REAL VOICES.
Help us tell more of the stories that matter from voices that too often remain unheard.